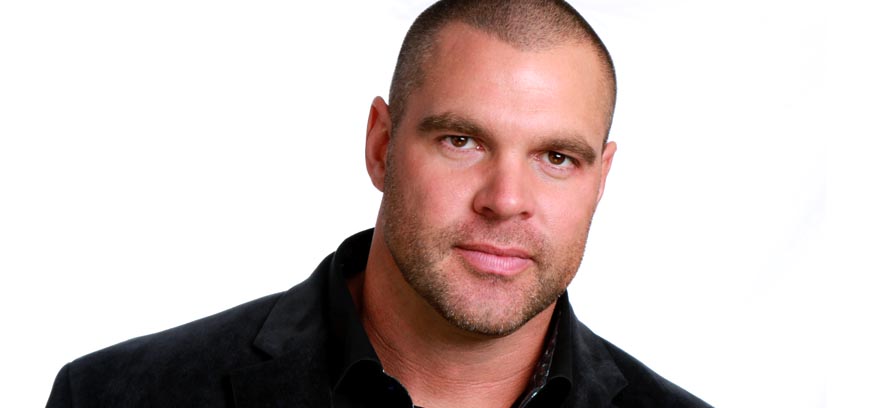 Jason Cyrus
Self Hypnosis and Self Empowerment Expert
As the author of The Unconscious Coach, naturotherapist and hypnotist, Jason Cyrus has dominated and transformed the field of stage hypnosis over the last decade with his unmatchable stage presence, unique style, positive attitude and charisma. In his wildly entertaining keynote presentation shows audience members how to achieve the unthinkable – and how you can put the scientific principles to work in your business and personal life.
Born in the small coal mining village of Minto, NB and son of country music legend the late Joey Knight, Jason Cyrus has always been loved for his big heart, quick wit, great sense of humour, family values and charismatic personality. Like a true Canadian boy, Jason has always had a love for hockey and combined this with talent and skill. During his hockey career, Jason played on AAA hockey teams and received many awards including MOST VALUABLE PLAYER and HIGHEST POINTS. His success led to an invitation to try out for a Junior A hockey team in Ontario. His hard work and dedication earned him a position on the team which led to many other opportunities.
Cyrus fostered his love for magic and hypnosis at a very young age and is now called "Canada's Stage Hypnosis KING" by the country's entertainment capital, Niagara Falls. He began touring major theatres/casinos in Canada and very quickly became one of the hottest tickets in town. Audiences were blown away and people came from everywhere, packing the theatres each and every year.
In 2016, he developed a very powerful keynote speech titled "Achieve the Unthinkable" combining entertainment with a message that is leaving corporate companies, high schools, professional organizations, trade agencies, universities and non-profit groups completely blown away.  He shows how you can put scientific principles to work in your business and personal life by using the power of hypnosis, imagination and visualization. You will quickly find out why he is called the ACDC of speakers ("No one wants to go on after this guy" says Devin Harris of Investors Group) with his life changing message.
In addition to his stage shows, Cyrus is a certified Naturotherapist (Academy of Naturopaths and Naturotherapists of Canada), unconscious coach and clinical hypnotherapist (National Guild of Hypnotist). He is able to help his clients reach their true potential while enhancing and improving their lives. The success and popularity of his shows have increased his clientele as people travel from far to see him privately. Jason Cyrus enjoys all aspects of his career. He enjoys performing and speaking in front of large audiences, he also finds working on-on-one with clients very rewarding.
Here are some of his credentials:
Naturotherapist (N.D.) with Academy of Naturopaths and Naturotherapists of Canada
Member of the Canadian Association of Professional Speakers (CAPS)
 Certified Hypnotist with the International Hypnosis Association
Certified Hypnotist with the National Guild of Hypnotist
Topic Presentations
Personally or professionally, we all set goals. We all want to reach our goals to succeed in our lives. Whether it be meeting a monthly quota, losing 20 pounds, quitting a nasty habit or furthering our training and education, we all want to improve. We know the path, we know how to get there. We have the desire. We have the passion. We want to do it.

What is standing in the way of reaching our goals? It seems that no matter how strong our desire is to reach our goals, we are met with challenges, distractions and complications.  Obstacles always seem to get in our way and ultimately impede success. In this entertaining and engaging keynote, Jason Cyrus shares personal experience and insight as he explains what's holding most people back from accomplishing their dreams—along with scientifically proven ways to overcome them. The truth is, there is a way to reach our goals, accomplish our dreams. Some people think that getting what we want, getting what makes us happy is reserved for the highly talented and highly educated men and women. This is simply untrue. However, successful people are unique. What sets them apart from everyone else is their ability to practice visionary thinking. Those who can imagine happiness, success and a better world are free to shape the future. Those who cannot only wonder what it would be like.

LEARNING OUTCOMES:



Programming yourself for success


The power of self-hypnosis


Using Visionary Thinking to become a High Achiever and reach your goals


How easily fears can be overcome


How to get and stay motivated using your Imagination


Embrace Faith and believe in yourself


Energy Psychology.


"Diggin Deep" is a great companion workshop to Jason Cyrus' keynote address "Achieve the Unthinkable". This presentation is jam-packed with useful and practical information on how to succeed. He shows you how to understand your clients, develop instant rapport and to get what you want! Today's business challenges won't respond to last century's tips, tricks and techniques. Those skills and information are not wrong; they are simply incomplete for today's market. It is time to use an approach tailored to this new situation, and for that you need a new skill set that combines persuasion, psychology and Neuro-Linguistic Programming (NLP).

LEARNING OUTCOMES:



Understanding the Conscious and Unconscious Mind


Identifying Visual, Auditory and Kinetics people


Instant Rapport


Power Language


How to get what you want.


Check Availablity
Travels From
Moncton, New Brunswick
BOOKS
SPEAKERS' TOPICS
Check Availablity