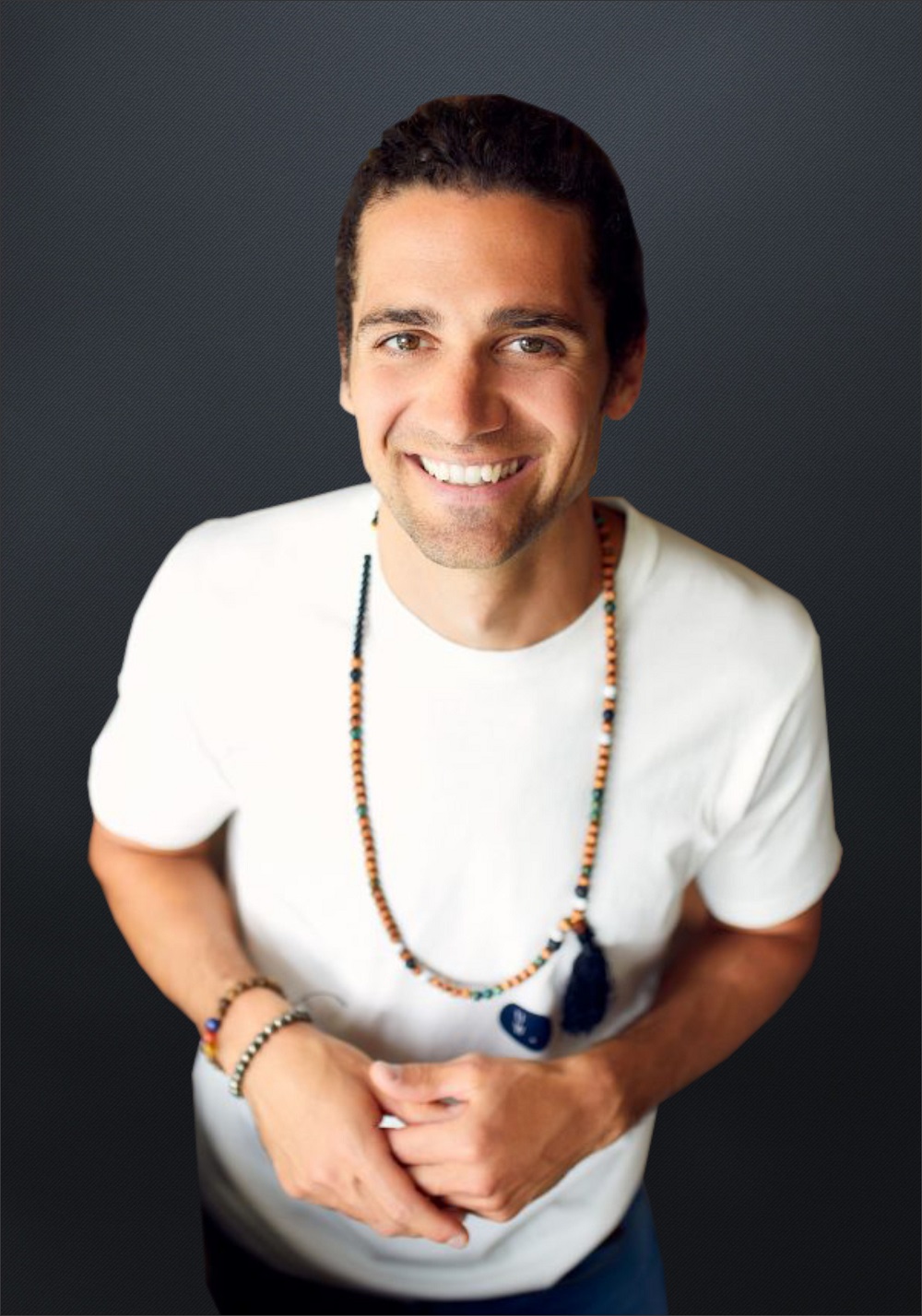 Travels From:
Brampton, Ontario
Keynote speaker Brandon Evans wakes up new habits & routines for employees health and wellbeing to increase happiness & energy for performance in the workplace. Brandon Evans has spent twenty years coaching, mentoring, and working with individuals & communities who are looking to invest in their health to succeed and grow their mind, body and spirit to become physically & emotionally wealthy and maximize their productivity at work.
Expertise in
Employee Management
Health and Wellness
Leadership
Mental Health & Mental Wellness
Peak Performance & Productivity
Personal Development & Growth
Resilience & Adversity
Business Management
Speaker Types
Campus & University Speakers
Conference Keynote
Education & Teachers
Guest Panelist & Guided Q&A
Health and Safety
Inspirational
Lifestyle & Health
BRANDON EVANS BIOGRAPHY
Brandon Evans is a Speaker & Storyteller who thrives on motivating others to succeed and grow. His presentations help simplify the health and wellbeing of any organization looking to connect with, engage, and motivate its employees. From meditating with the Dalai Lama to escaping possible pirates in the Indian ocean, chief elevation officer Brandon Evans' stories of adventure are only outmatched by his passion to inspire everyone to live their best life. He also holds over a decade of frontline firefighting work, which has allowed him to bring a great deal of crisis and trauma-informed expertise to his coaching. Brandon is a proud husband and father of two children, who inspire him every single day to want to make a better world.
Voted one of Brampton's Top 40 Under 40, Brandon Evans has spent more than twenty years coaching, mentoring, and working with individuals and communities who are looking to invest in their health. His core vision is to help parents simplify their health and to work toward improving the well-being of every community he can reach. Brandon co-founded Heart & Hustle Fitness; a gym whose popularity has skyrocketed since it opened in 2018 – winning a Business Excellence Award from the Brampton Board of Trade.
He has also recently expanded his platform: a Mentorship Practice called Dad PoD (Power of Dad). Dad PoD is a community of fathers who are looking to lead their families with love and presence, working towards generating the best possible health for their families. Through Dad PoD, Brandon mentors these fathers with their overall emotional, physical and spiritual wellbeing, as well as business and personal goals; it's a holistic approach.
Health and Wellness
Brandon has been on a deep exploration of health and what it encompasses for the last 15 years. Brandon will open your mind to what health actually is and he will give you the tools to find it in every facet of your life. By uncovering the truths of what good health is, we begin to realize what is holding us back from achieving it, and what opportunities are right in front of us. Your journey towards health has already begun, long ago, and Brandon helps you recognize and appreciate your own adventure so you can start being healthier and happier NOW.

Brandon uses his four pillars of health to help simplify life by identifying what we need now to avoid burnout and become mentally and physically healthy. Each pillar is tied to stories of his life, from travelling through the homeland of Al-Qaeda, almost being pirated in the Indian ocean, and sitting with the Dalai Lama.

What you are left with is a sense of belonging and empowerment that will be with you forever.

Keynote Presentation

Workshop Session

Half Day Training
Feel Good! Fitness from Home/At the Office
While Brandon owns a gym, he understands that you don't need one to exercise. In offices and homes all over the globe, people are sitting more than ever. Brandon is passionate about getting people moving. Why? It gets the juices flowing and releases all the "FEEL GOOD" chemicals to make you happy, focused and energized in all areas of your life.

"Sitting is the new smoking". A major contributor to lack of production, injury, and lack of physical wellbeing is the fact that we spend way too much time sitting. In this presentation, Brandon goes over how to create the habit of exercising right from your desk. Without needing any extra time from your busy day.

Keynote Presentation

Workshop Session

Half Day Training
Mental Health
As a professional firefighter for over 10 years, Brandon Evans has experienced things that most only see in the movies. Brandon has dealt with his own PTSD (Post Traumatic Stress Disorder) in ways that most haven't even heard of. parenting, firefighting, and entrepreneurship all come with a great deal of stress, so why not learn to manage the stress instead of being stressed out all the time. Brandon doesn't just share his stories of heroism and escaping Pirates (yes you read that right), but he openly discusses the therapies he has used to overcome PTSD and step into the best version of himself. This session is filled with emotion, encouragement, and love – Love is a magical tool and Brandon shows you how to inject it into all areas of your life.

Keynote Presentation

Workshop Session

Half Day Training
Productive Minds Productive Work
Father, husband, speaker, storyteller, entrepreneur, firefighter, coach, writer, open water swimmer, trail maker, and water skier…. This is just a shortlist of the wonderful things that take up the hours of Brandon's days. He can't afford to waste time and neither can you, you're too important.

Brandon believes that the best way to create productivity is through happiness, and the best way to create happiness is through our health. We spend too much time stressing out over stress – Brandon will teach you how to get things done so you can get to doing the things you want to be doing.

Brandon will teach you how to align your life and get unstuck. Lack of productivity is usually caused because of a blockage in a specific area of one's life or of a business. He will show you how to identify the blockages and free up space to get you back to life.

Keynote Presentation

Workshop Session

Half Day Training
Brandon brings a level of passion and energy to his keynotes that is only rivalled by his expertise and knowledge of Health. He has a unique ability to share complex ideas in a simple but highly compelling way, and his passion for helping people to live better and more fulfilled lives is contagious.
Brandon Evans CAN DELIVER CUSTOMIZED PRESENTATIONS WITHIN THE FOLLOWING AREAS OF EXPERTISE & TOPIC THEMES
Expertise in
Employee Management
Health and Wellness
Leadership
Mental Health & Mental Wellness
Peak Performance & Productivity
Personal Development & Growth
Resilience & Adversity
Business Management
Speaker Types
Campus & University Speakers
Conference Keynote
Education & Teachers
Guest Panelist & Guided Q&A
Health and Safety
Inspirational
Lifestyle & Health
Motivation
Psychological Safety
Staff Appreciation & Employee Recognition
Youth Leadership & Students
FAQs ON BOOKING Brandon Evans
Brandon Evans keynote speaker is an expert presenter and has a wide range of experience speaking to a wide variety of audiences and organizations. Brandon Evans delivers keynotes, workshops & training sessions. They may also host or emcee events. Hire Brandon Evans from Brampton, Ontario for your event to inspire the audience to take action and make change in their work and their lives. Your workplace will benefit from our keynote speaker and their keynote talks and speeches will shift the mindsets or behaviours for the audience members in Canada. 
Interested in Booking Brandon Evans for an event?
Are you looking to hire Brandon Evans for your event? Brandon Evans Brampton, Ontario is a dynamic and engaging speaker that offers audiences researched content paired with expertise and a dynamic speaking ability. Brandon Evans is also a Canadian corporate consultant and coach and facilitates workshops and training sessions for a corporate audience. Brandon Evans is an expert keynote presenter and speaks on wide variety of topics. Hiring a great speaker for your event is important and working with a thought leader like Brandon Evans from Speakers Canada's roster will engage audiences into the content of the presentation to bring awareness and a fresh perspective for their approach to their work and their lives. Book Brandon Evans to educate, motivate and activate the audience through an interactive and entertaining presentation at corporate meetings and gatherings.
Known as a popular key note speaker in Canada, Brandon Evans creates life changing experiences for the participants with practical insights and strategic advice they can implement right after the session. Working with a one our leading expert speaker like Brandon Evans from Brampton, Ontario offers organizations a fresh perspective to assist the people of the organization. No matter if it is a government, association, or business crowd, Brandon Evans is a perfect speaker for your event. Through unique practical insights for trending topics and years experience speaking to different organizations, Brandon Evans focuses on changing individuals to make better decisions at work and their lives. No matter if you are holding an in person or virtual event, having an influential speaker such as Brandon Evans will engage, motivate, and activate the audience to make a change in their lives and inspire action for results to meet organizational goals. Your workforce will benefit from Brandon Evans's presentations and speeches, with measurable results set to shift the people of the organization and core direction of the company. Book Brandon Evans speaker for your annual general meeting, conference, summit, or convention in Canada.
HOW MUCH DOES IT COST TO BOOK Brandon Evans FOR A VIRTUAL OR KEYNOTE PRESENTATION?
Brandon Evans is an expert professional key note speaker with a lot of experience speaking and delivering engaging talks to organizations and audiences in Canada. Each of Speaker Bureau Canada's talent have different ways to assess their fees, and Brandon Evans speaker fee ranges depending on the size of the audience, event format (in person or virtual), event location, and if the organization booking them is a non profit, association, government department/government agency or business/corporation. The speakers we work with are flexible with their fees, and it is important for us to learn more about your event before we approach them, as it is our role to work for you, and to help you find a speaker within budget. 
Please contact Speakers Bureau of Canada and provide us with your event details so that we can contact Brandon Evans to check availability or confirm the pricing and associated costs to hire a great speaker like Brandon Evans for your event. As Brandon Evans's agent and as a Canadian top speaker bureau and talent agency for speakers, we are able to propose each event opportunity from each host organization's behalf to try to help you get in touch with Brandon Evans and confirm them for your in person or online meeting/event. We can also provide and advise on the booking process and potentially negotiate their fee. Speakers Canada is a client focused speaker agency, and we work for you in finding good speakers for your team meetings and booking processes.
DISCLAIMER:
Speakers Bureau Canada assists companies and event planning teams seeking to hire talent like Brandon Evans for speaking engagements, virtual meetings, conference appearances, training sessions and workshops facilitations. Our Canadian speakers bureau does not claim to exclusively represent Brandon Evans, however they are represented by Speakers Canada, and we work with them closely for their Canadian speaking opportunities and bookings. As Canada's top speaker bureau, we represent Canadian motivational keynote speakers and professional guest speakers that will be available on your upcoming events date and location that are withing the budget. Our talented bureau speaker booking agency can help find business speakers or celebrity speakers that aligns with each organization, audience, event theme and the topic themes you hope for the speaker to address in their presentation. 
When SBC receives a request to book Brandon Evans we provide you with their speaker fees, travel costs and check their schedules. We work closely with the host organization's event planning team and the speaker to handle the logistics and to relay or negotiate associated costs. Our talented team members then will work with our talent directly or their agent/manager/assistant to confirm the Canadian speaker fee and travel expenses, so that event planning teams can receive an official quote for the speaker appearing at the event. Speaker fees and travel costs vary per speaker and our role is to contact Brandon Evans about your event, after we have connected with the event organizers to learn all the event details and/or conference program. Each booking request is unique since session durations and audience sizes can vary which may affect the speaker's fees. If you are looking to hire Brandon Evans, we recommend filling out the booking request form so a booking agent from Speakers Bureau Canada can get in touch with our talent to help you coordinate with your team to engage the speaker for a successful event.
Speakers Similar to Brandon Evans
Contact 
SPEAKERS BUREAU OF CANADA