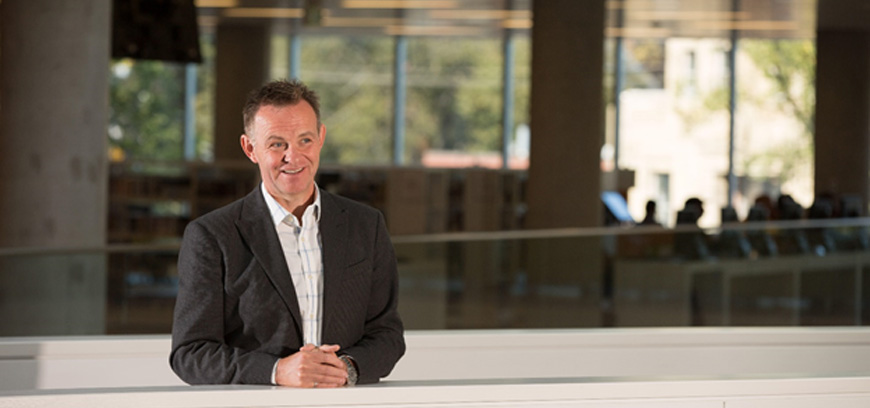 Steve Foran
Happiness, Leadership, Employee Engagement and Growth Expert
Steve Foran (CSP) manages a consulting business focused on behaviour and culture change. Since 2006, it's grown into work with leaders across Canada to shift culture and helping teams bring more gratitude to work each day. Steve Foran has been on the leading edge of gratitude-based research, writing, and teaching for more than fifteen years. His science-based program, Gratitude At Work, is a simple, yet innovative approach to business growth. In 2017, together with 42 other top rated speakers from around the world, Steve was awarded the highest earned designation in professional speaking – Certified Speaking Professional.
Steve Foran began exploring the relationship between gratitude and philanthropic giving while completing his Masters at Saint Mary's University in Halifax. Steve has been on the leading edge of gratitude-based research, writing, and teaching for almost fifteen years. His science-based presentation programs are simple, yet innovative approach to business growth, personal growth and professional growth. With programs like Counting Blessings, Asking Before Assuming, Thanking and Not Expecting, gratitude transforms business cultures into proud, positive, satisfying environments, where people are grateful, productive and ultimately at their best.
An electrical engineer, Foran brings a detail oriented and thoughtful approach to his working relationships and client engagements. Thriving off of people in search of growth, Steve Foran works with leaders who want to instill an engaging, cooperative culture with their employees. Steve Foran believes that culture starts with gratitude, because all of the research points to one simple fact that when it comes to gratitude, YOUR PEOPLE NEED MORE. For more than a decade Steve has been speaking to companies, organizations and large groups about the power of gratitude in their work and day-to-day lives.
Steve Foran is a son, brother, husband, father and now, grandfather. He teaches Business Ethics and has written extensively on the subject of gratitude. He is the founder of STATUS GRO and creator of the viral video 100 Halifax Doors. Steve is actively engaged in making his community a better place and is proud to be a lifelong resident of Halifax, Nova Scotia.
Check Availablity
Travels From
Halifax, Nova Scotia
BOOKS
Myth Number 2
In this concise collection of anecdotes professional speaker and author, Steve Foran explores the second of two myths that limit our potential to grow as human beings and dissuade us from making the kind of meaningful contributions we all long to make in the world. As he exposes Myth Number 2 he offers up a simple everyday guide to how you can make a difference in the world through your ordinary actions. Don't expect any rocket science, instead a fresh look at some old ideas and some good ole common sense.
SPEAKERS' TOPICS
Check Availablity