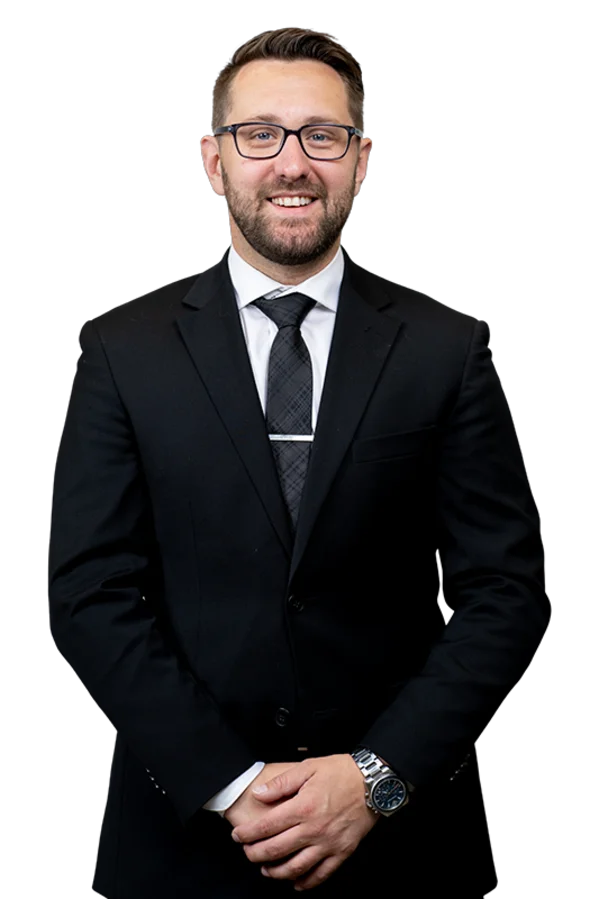 Leadership and Inspiration in Real Estate, Building Your Dream Team, Real Estate Digital Influencer
Andrew Perrie is a luminary in the realm of real estate who stands as a beacon of charisma, leadership, and inspiration. With over five years of unparalleled experience, he has not only established himself as a triumphant real estate team leader but has also ascended to the pinnacle of oratory prowess, captivating and motivating audiences on stages of all sizes. From his early days, Andrew's innate ability to forge connections and genuinely understand clients' needs sowed the seeds of his flourishing career. This passion evolved into the creation of his own real estate team in Niagara-on-the-Lake and Muskoka, where his unwavering dedication to both clients' triumphs and the team's expansion earned him acclaim as a charismatic and results-driven leader. Beyond his undeniable real estate acumen, Andrew Perrie's exceptional gift for simplifying intricate concepts and inspiring through his podcast, "That Fine Life," further solidifies his standing. His influence extends to the digital realm, where he has amassed a substantial and engaged following, emphasizing the importance of personal branding in today's digital landscape. Andrew's journey is marked not only by personal achievements but also by his fervent commitment to mentoring aspiring real estate professionals, making him a true luminary in the industry.
Communications
Employee Management
Leadership
Teamwork
Business Growth
Career Development
Conference
Conferences & Summits
Consultant & Coach
Corporate Audience
Corporations & Businesses
Guest Panelist & Guided Q&A
Inspirational
ANDREW PERRIE BIOGRAPHY
Andrew Perrie's journey in the real estate industry is a testament to his charisma, leadership, and ability to inspire large audiences. With over five years of experience, he has not only established himself as a successful real estate team leader but also as a masterful speaker who captivates and motivates people on and off the stage.
From his early days in the industry, Andrew Perrie displayed a natural knack for connecting with people. His magnetic personality and genuine interest in understanding their needs laid the foundation for his thriving real estate career. Over time, Andrew's passion for the industry grew, driving him to establish his own real estate team in Niagara-on-the-Lake and Muskoka. His dedication to his clients' success and his team's growth earned him a reputation as a charismatic and results-driven leader.
One of Andrew Perrie's most remarkable qualities is his ability to command a room with his words. Whether he's addressing a small group of clients or a large audience at industry events, his talks are nothing short of captivating. His speeches are characterized by a perfect blend of industry insights, personal anecdotes, and motivating messages that resonate with his listeners. He has a unique talent for simplifying complex real estate concepts, making them accessible to both seasoned professionals and newcomers and proven by the success of his podcast titled "That Fine Life".
Andrew's charisma and expertise caught the attention of Revel Realty, one of Ontario's fastest-growing independent brokerages. Recognizing his exceptional leadership skills, they appointed him to a directorial role. In this capacity, Andrew Perrie played a pivotal role in shaping the brokerage's strategic direction, fostering growth, and implementing innovative approaches to real estate transactions. His vision and forward-thinking mindset contributed to Revel Realty's continued success and expansion.
Beyond the traditional realm of real estate, Andrew's influence extends to the digital world. He has harnessed the power of social media to become a maven in his own right. With hundreds of thousands of followers and counting, Andrew Perrie has created a dedicated community that hangs on his every word. His online presence is marked by insightful content, engaging visuals, and a genuine connection with his audience. He understands that in today's digital age, building a personal brand is essential, and he has done so masterfully.
Despite his accomplishments, Andrew Perrie remains grounded and approachable. He values mentorship and actively seeks opportunities to share his knowledge with aspiring real estate professionals. He understands that his success is not just measured by personal achievements, but also by the growth and success of those he leads and guides.
In the dynamic world of real estate, Andrew Perrie shines as a charismatic leader, a captivating speaker, and a social media influencer. His journey from a passionate newcomer to a director at Revel Realty is a testament to his commitment, expertise, and ability to connect with people on multiple levels. With an unwavering dedication to his clients, his team, and his followers, Andrew Perrie continues to redefine the boundaries of success in the real estate industry.
Andrew Perrie

Topic Presentations
how to get free p.r.
Virtual Presentation

Keynote Presentation

Workshop Session

Half Day Training

Full Day Training

In today's competitive business landscape, harnessing the potential of P.R. can be a game-changer for any organization, large or small. This engaging speaking topic, "Unleashing the Power of Earned Media: Strategies for Free PR Success," delves into the art of obtaining free publicity to elevate your brand's visibility and reputation.
the art of personal connection - converting clients through in-person events and community building
Virtual Presentation

Keynote Presentation

Workshop Session

Half Day Training

Full Day Training

In a world dominated by digital interactions, the undeniable power of personal connection remains an invaluable tool for businesses seeking to thrive. Join us for an illuminating session titled "The Art of Personal Connection: Converting Clients Through In-Person Events and Community Building," where we explore the transformative impact of face-to-face interactions and community involvement on client conversion.
scaling smarter - reclaiming your time and business growth through strategic hiring
Virtual Presentation

Keynote Presentation

Workshop Session

Half Day Training

Full Day Training

Are you caught in the whirlwind of managing every aspect of your business, from tasks you're not well-versed in to those that drain your precious time? It's time to unlock the true potential of your business by embracing the philosophy of "Buying Back Your Time: Hiring the Best to Fuel Your Growth." Join us for an enlightening session that unveils the strategic power of delegating and building a skilled team to propel your business forward.
How to book Andrew Perrie for an event?
Andrew Perrie keynote speaker is an expert presenter and has a wide range of experience speaking to a wide variety of audiences and organizations. Andrew Perrie delivers keynotes, workshops & training sessions. They may also host or emcee events. Hire Andrew Perrie from Niagara Falls, Ontario for your event to inspire the audience to take action and make change in their work and their lives. Your workplace will benefit from our keynote speaker and their keynote talks and speeches will shift the mindsets or behaviours for the audience members in Canada. 
Interested in booking Andrew Perrie for an event?
Are you looking to hire Andrew Perrie for your event? Andrew Perrie Niagara Falls, Ontario is a dynamic and engaging speaker that offers audiences researched content paired with expertise and a dynamic speaking ability. Andrew Perrie is also a Canadian corporate consultant and coach and facilitates workshops and training sessions for a corporate audience. Andrew Perrie is an expert keynote presenter and speaks on wide variety of topics. Hiring a great speaker for your event is important and working with a thought leader like Andrew Perrie from Speakers Canada's roster will engage audiences into the content of the presentation to bring awareness and a fresh perspective for their approach to their work and their lives. Book Andrew Perrie to educate, motivate and activate the audience through an interactive and entertaining presentation at corporate meetings and gatherings.
Known as a popular key note speaker in Canada, Andrew Perrie creates life changing experiences for the participants with practical insights and strategic advice they can implement right after the session. Working with a one our leading expert speaker like Andrew Perrie from Niagara Falls, Ontario offers organizations a fresh perspective to assist the people of the organization. No matter if it is a government, association, or business crowd, Andrew Perrie is a perfect speaker for your event. Through unique practical insights for trending topics and years experience speaking to different organizations, Andrew Perrie focuses on changing individuals to make better decisions at work and their lives. No matter if you are holding an in person or virtual event, having an influential speaker such as Andrew Perrie will engage, motivate, and activate the audience to make a change in their lives and inspire action for results to meet organizational goals. Your workforce will benefit from Andrew Perrie's presentations and speeches, with measurable results set to shift the people of the organization and core direction of the company. Book Andrew Perrie speaker for your annual general meeting, conference, summit, or convention in Canada.
How much does it cost to hire Andrew Perrie for a keynote presentation or virtual event?
Andrew Perrie is an expert professional key note speaker with a lot of experience speaking and delivering engaging talks to organizations and audiences in Canada. Each of Speaker Bureau Canada's talent have different ways to assess their fees, and Andrew Perrie speaker fee ranges depending on the size of the audience, event format (in person or virtual), event location, and if the organization booking them is a non profit, association, government department/government agency or business/corporation. The speakers we work with are flexible with their fees, and it is important for us to learn more about your event before we approach them, as it is our role to work for you, and to help you find a speaker within budget. 
Please contact Speakers Bureau of Canada and provide us with your event details so that we can contact Andrew Perrie to check availability or confirm the pricing and associated costs to hire a great speaker like Andrew Perrie for your event. As Andrew Perrie's agent and as a Canadian top speaker bureau and talent agency for speakers, we are able to propose each event opportunity from each host organization's behalf to try to help you get in touch with Andrew Perrie and confirm them for your in person or online meeting/event. We can also provide and advise on the booking process and potentially negotiate their fee. Speakers Canada is a client focused speaker agency, and we work for you in finding good speakers for your team meetings and booking processes.
Andrew Perrie Disclaimer
Speakers Bureau Canada assists companies and event planning teams seeking to hire talent like

Andrew Perrie

for speaking engagements, virtual meetings, conference appearances, training sessions and workshops facilitations. Our Canadian speakers bureau does not claim to exclusively represent

Andrew Perrie

, however they are represented by Speakers Canada, and we work with them closely for their Canadian speaking opportunities and bookings. As Canada's top speaker bureau, we represent Canadian motivational keynote speakers and professional guest speakers that will be available on your upcoming events date and location that are withing the budget. Our talented bureau speaker booking agency can help find business speakers or celebrity speakers that aligns with each organization, audience, event theme and the topic themes you hope for the speaker to address in their presentation. 
When SBC receives a request to book Andrew Perrie we provide you with their speaker fees, travel costs and check their schedules. We work closely with the host organization's event planning team and the speaker to handle the logistics and to relay or negotiate associated costs. Our talented team members then will work with our talent directly or their agent/manager/assistant to confirm the Canadian speaker fee and travel expenses, so that event planning teams can receive an official quote for the speaker appearing at the event. Speaker fees and travel costs vary per speaker and our role is to contact Andrew Perrie about your event, after we have connected with the event organizers to learn all the event details and/or conference program. Each booking request is unique since session durations and audience sizes can vary which may affect the speaker's fees. If you are looking to hire Andrew Perrie, we recommend filling out the booking request form so a booking agent from Speakers Bureau Canada can get in touch with our talent to help you coordinate with your team to engage the speaker for a successful event.