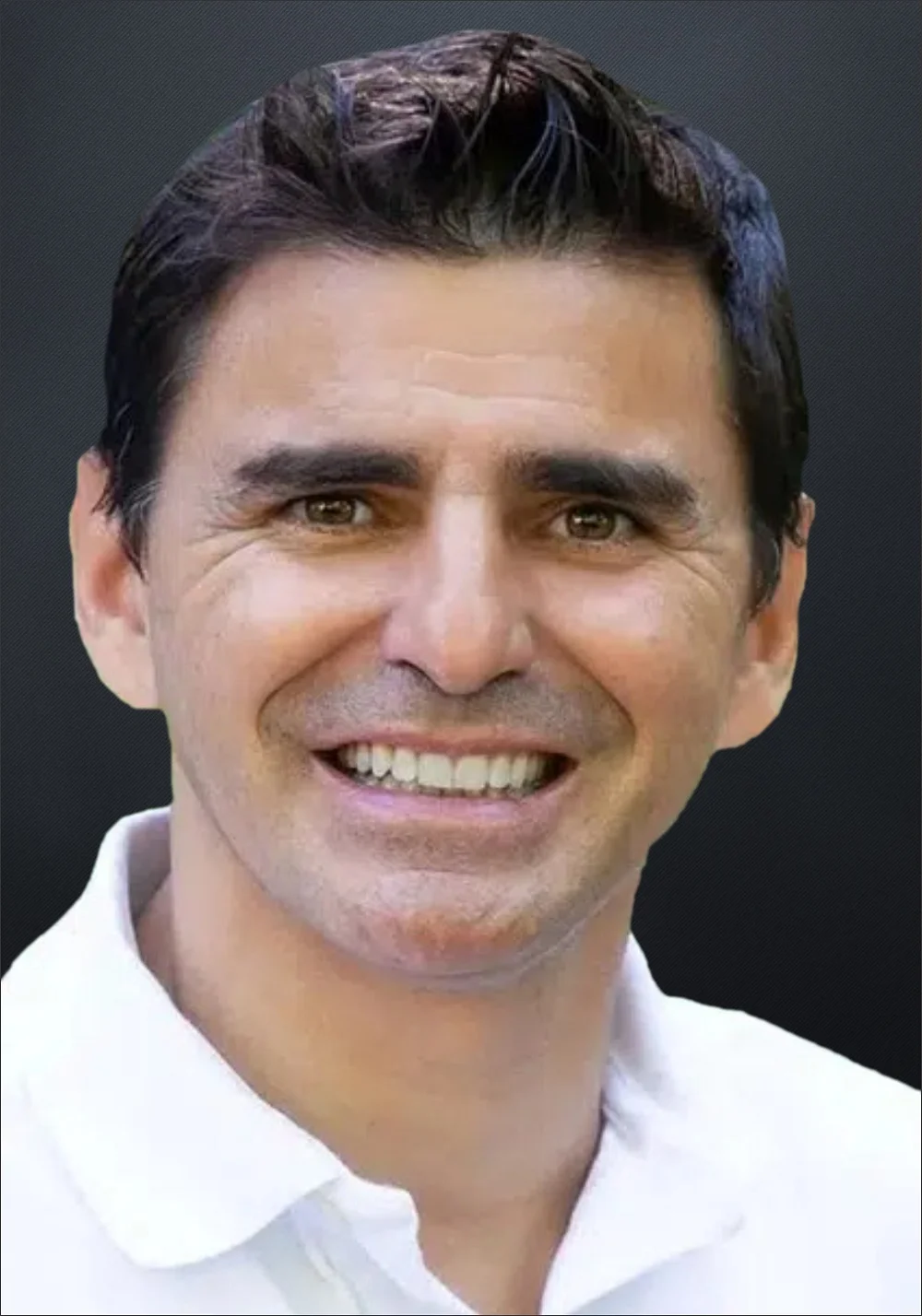 Award-winning athlete and coach with tricks to help everyone reach their peak
Eurico Rosa da Silva is a dynamic speaker, former professional jockey with records including the Queen's Plate & seven-time winner of the Sovereign Awards. Eurico Rosa da Silva opens up about the sex addiction that has tormented him throughout his career and how he raced to restore his mental health.
Leadership
Mental Health
Peak Performance
Personal Growth
Resilience & Adversity
Athletes & Sports
Conference
Inspirational
Lifestyle & Health
EURICO ROSA DA SILVA BIOGRAPHY
Eurico Rosa da Silva is a dynamic speaker and former professional jockey (retired December 2019), with records set around the world and over 2,900 career wins, including back-to-back wins of the Queen's Plate (2009 and 2010) and seven-time winner of the Sovereign Awards as Canada's Outstanding Jockey. A native of Brazil, he beat the odds to move from poverty and a debilitating illness, to travel the world and become one of the best in his sport.
Eurico Rosa da Silva has transformed himself for a busy second career following his racing days. An accredited performance coach and NLP practitioner, Eurico has built a practice helping athletes and executives reach their peak mental performance. In addition to his coaching practice, Eurico is a 3rd Degree Black Belt and co-owner of a Tae Kwon Do studio where he regularly practices the sport. A devoted husband and father of three young children, Eurico's days are full and productive! And yet he always makes time to keep grounded, loving life and connecting with nature.
As a public speaker, Eurico is perpetually positive and engaging — his talent for connecting with people through his story and journey provides helpful lessons for everyone to achieve their best. He speaks freely on the stage with supporting slides and minimal notes, using his humour, wisdom and personal anecdotes to engage with the audience.
Eurico Rosa da Silva

Topic Presentations
be the cause - live your best life… and win even when your stirrup breaks
Virtual Presentation

Keynote Presentation

Workshop Session

Half Day Training

Full Day Training

Eurico knows better than most how tough life can be and yet he learned how to beat the odds: building a record-setting career and a happy, fulfilling life. Using his own life story with vivid stories and examples, Eurico empowers audiences to make small changes that will deliver their best life and greatest potential. He shows them how to "be the cause" and take control of their own destiny – starting today. With humour and experience, he makes everything seem possible… because it is. Beating the odds, he rose from the streets of Brazil to the top of his sport, even receiving honour from Queen Elizabeth II.
Eurico Rosa da Silva can deliver customized presentations within the following topic themes.
A privilege and honour to have Eurico share his story … Eurico captivated and inspired the audience with his passion, energy and mindfulness.
Woodbine Entertainment
I had the opportunity to host Eurico at my martial arts school as a speaker for our athletes. His speech was not only highly motivating for the athletes, it was also passionate as he spoke from the heart.
Dragon Taekwondo Academy
How to book Eurico Rosa da Silva for an event?
Eurico Rosa da Silva keynote speaker is an expert presenter and has a wide range of experience speaking to a wide variety of audiences and organizations. Eurico Rosa da Silva delivers keynotes, workshops & training sessions. They may also host or emcee events. Hire Eurico Rosa da Silva from Toronto, Ontario for your event to inspire the audience to take action and make change in their work and their lives. Your workplace will benefit from our keynote speaker and their keynote talks and speeches will shift the mindsets or behaviours for the audience members in Canada. 
Interested in booking Eurico Rosa da Silva for an event?
Are you looking to hire Eurico Rosa da Silva for your event? Eurico Rosa da Silva Toronto, Ontario is a dynamic and engaging speaker that offers audiences researched content paired with expertise and a dynamic speaking ability. Eurico Rosa da Silva is also a Canadian corporate consultant and coach and facilitates workshops and training sessions for a corporate audience. Eurico Rosa da Silva is an expert keynote presenter and speaks on wide variety of topics. Hiring a great speaker for your event is important and working with a thought leader like Eurico Rosa da Silva from Speakers Canada's roster will engage audiences into the content of the presentation to bring awareness and a fresh perspective for their approach to their work and their lives. Book Eurico Rosa da Silva to educate, motivate and activate the audience through an interactive and entertaining presentation at corporate meetings and gatherings.
Known as a popular key note speaker in Canada, Eurico Rosa da Silva creates life changing experiences for the participants with practical insights and strategic advice they can implement right after the session. Working with a one our leading expert speaker like Eurico Rosa da Silva from Toronto, Ontario offers organizations a fresh perspective to assist the people of the organization. No matter if it is a government, association, or business crowd, Eurico Rosa da Silva is a perfect speaker for your event. Through unique practical insights for trending topics and years experience speaking to different organizations, Eurico Rosa da Silva focuses on changing individuals to make better decisions at work and their lives. No matter if you are holding an in person or virtual event, having an influential speaker such as Eurico Rosa da Silva will engage, motivate, and activate the audience to make a change in their lives and inspire action for results to meet organizational goals. Your workforce will benefit from Eurico Rosa da Silva's presentations and speeches, with measurable results set to shift the people of the organization and core direction of the company. Book Eurico Rosa da Silva speaker for your annual general meeting, conference, summit, or convention in Canada.
How much does it cost to hire Eurico Rosa da Silva for a keynote presentation or virtual event?
Eurico Rosa da Silva is an expert professional key note speaker with a lot of experience speaking and delivering engaging talks to organizations and audiences in Canada. Each of Speaker Bureau Canada's talent have different ways to assess their fees, and Eurico Rosa da Silva speaker fee ranges depending on the size of the audience, event format (in person or virtual), event location, and if the organization booking them is a non profit, association, government department/government agency or business/corporation. The speakers we work with are flexible with their fees, and it is important for us to learn more about your event before we approach them, as it is our role to work for you, and to help you find a speaker within budget. 
Please contact Speakers Bureau of Canada and provide us with your event details so that we can contact Eurico Rosa da Silva to check availability or confirm the pricing and associated costs to hire a great speaker like Eurico Rosa da Silva for your event. As Eurico Rosa da Silva's agent and as a Canadian top speaker bureau and talent agency for speakers, we are able to propose each event opportunity from each host organization's behalf to try to help you get in touch with Eurico Rosa da Silva and confirm them for your in person or online meeting/event. We can also provide and advise on the booking process and potentially negotiate their fee. Speakers Canada is a client focused speaker agency, and we work for you in finding good speakers for your team meetings and booking processes.
Eurico Rosa da Silva Disclaimer
Speakers Bureau Canada assists companies and event planning teams seeking to hire talent like

Eurico Rosa da Silva

for speaking engagements, virtual meetings, conference appearances, training sessions and workshops facilitations. Our Canadian speakers bureau does not claim to exclusively represent

Eurico Rosa da Silva

, however they are represented by Speakers Canada, and we work with them closely for their Canadian speaking opportunities and bookings. As Canada's top speaker bureau, we represent Canadian motivational keynote speakers and professional guest speakers that will be available on your upcoming events date and location that are withing the budget. Our talented bureau speaker booking agency can help find business speakers or celebrity speakers that aligns with each organization, audience, event theme and the topic themes you hope for the speaker to address in their presentation. 
When SBC receives a request to book Eurico Rosa da Silva we provide you with their speaker fees, travel costs and check their schedules. We work closely with the host organization's event planning team and the speaker to handle the logistics and to relay or negotiate associated costs. Our talented team members then will work with our talent directly or their agent/manager/assistant to confirm the Canadian speaker fee and travel expenses, so that event planning teams can receive an official quote for the speaker appearing at the event. Speaker fees and travel costs vary per speaker and our role is to contact Eurico Rosa da Silva about your event, after we have connected with the event organizers to learn all the event details and/or conference program. Each booking request is unique since session durations and audience sizes can vary which may affect the speaker's fees. If you are looking to hire Eurico Rosa da Silva, we recommend filling out the booking request form so a booking agent from Speakers Bureau Canada can get in touch with our talent to help you coordinate with your team to engage the speaker for a successful event.