Psychotherapist | Award Winning Journalist | Mental Health, Trauma and Addictions Expert
Ann Dowsett Johnston is the best-selling author of Drink: The Intimate Relationship Between Women and Alcohol, a clinical social worker and therapist who specializes in helping those affected by stress, mental anxiety and burnout. As an award-winning journalist, Ann Dowsett Johnston is well respected for her thought leadership & expertise in higher education, alcohol addiction, and public policy relating to both mental health & addictions. Ann Dowsett Johnston's TED x Talk on Women and Drinking has had more than 1.5 million views, and she thought leader is a registered social worker in Toronto at the forefront of improving mental health and treating those suffering from addictions.
Diversity & Inclusion
Health & Wellness
Mental Health
Personal Growth
Resilience & Adversity
Campus & University Speakers
Conference
Education & Teachers
Family & Parenting
Guest Panelist & Guided Q&A
Health and Safety
Healthcare
Inspirational
ANN DOWSETT JOHNSTON BIOGRAPHY
Ann Dowsett Johnston is the best-selling author of Drink: The Intimate Relationship Between Women and Alcohol and a keynote speaker. Her TED x Talk on Women and Drinking has had more than 1.5 million views. Indeed, she is one of Canada's leading experts on public policy related to substance use and addiction. Also a practicing psychotherapist—Ann went back to school at 64–she speaks powerfully about related trauma and recovery.
As a result of her expertise, Ann became the CEO of an organization that champions and supports Pine River Institute (PRI), a residential treatment program for youth 13-19 struggling with addictive behaviours and often co-occurring mental health issues. Furthermore, her mission to educate and inspire the public about gender-focused addiction treatment and the stigma attached to women and alcohol has become her passion and career motivation.
Ann Dowsett Johnston's authority comes from a place of experience. She was a high-profile senior journalist with Maclean's, Canada's major newsweekly, an award-winning journalist, and popular on the speaking circuit. Named vice-principal of McGill University, it seemed that Ann had it all. In contrast, she was wrestling with a demon that undid both her mother and her father: a growing drinking problem. The high-functioning professional had to come to terms with her addiction and battle her way to becoming sober through recovery, determination, and hard work. Ann sought treatment before she pushed her career and her loved ones away.
Ann Dowsett Johnston dissects the psychological, social, and corporate factors that contribute to addictive behaviours and offers practical solutions to the same contributing factors for a successful recovery. CBC, The Atlantic and The Guardian have featured her work. Meanwhile, she has been featured in The New York Times,
The Washington Post and many more news outlets. CBC made a documentary based on a chapter of her book called Girl's Night Out. Because her story resonates with so many women across the world, she became a leading authority on mental health and addictions within her field. She has won countless awards for her work on de-stigmatizing mental health and addiction, including an honorary doctorate from Queen's University.
As well, Ann Dowsett Johnston has won numerous awards for her work, including seven National Magazine Awards. She is also the recipient of a Southam Fellowship and an Atkinson Fellowship.  Feisty and outspoken, Ann champions the need for political leadership on alcohol policy and a reduction in the stigma around addiction.
In addition to her knowledge and expertise, Ann Dowsett Johnston delivers powerful and thought-provoking presentations that bring awareness and practical solutions for social policy related to mental health and addictions.
Ann Dowsett Johnston

Topic Presentations
mental health and addiction - beating the twin curse of the overachiever 
Virtual Presentation

Keynote Presentation

Workshop Session

Half Day Training

Full Day Training

Every person has a public story, a private story, and a secret story. Ann's was depression: for decades, she medicated this affliction with work. Overwork led to stress, which she ultimately medicated with alcohol. This double whammy—mental health and addiction issues—has become the twin curse of a growing number of professionals. How do you turn a life around? With grit and gusto and extreme self-care. There is no worthier role for an employer to play than helping to shepherd an achiever back to balance and health. With candour and passion, Ann will explore the signs of trouble and the signposts on the journey back to a life of joy and meaning.
our love affair with alcohol - how a fairy-tale romance blocks strong policy, and how media can help 
Virtual Presentation

Keynote Presentation

Workshop Session

Half Day Training

Full Day Training

To create strong alcohol policy, we need to take a hard look at the best available evidence, examine our core values, and ask ourselves: what do we want for Canada? What role does the media play in the outcome? Enormous. Ann Dowsett Johnston argues that the media is key to shaping strong policy: essential in disseminating good research, advocating for change, and puncturing many myths.
addictions, stigma and the workplace
Virtual Presentation

Keynote Presentation

Workshop Session

Half Day Training

Full Day Training

All too often, a troubled employee is a high performer whose life has gone sideways, who may be suffering from concurrent disorders. How do you shepherd that person towards appropriate help and then re-integrate them back into the executive or high-performing team? How do you deal with resentment and discomfort within your team? How do you foster a stigma-free environment of support? As addiction reaches epidemic proportions in North America, this is a leadership challenge for all corporate teams.

People can and do recover. As one of the experts on the Life in Recovery survey, Ann Dowsett Johnston can tell you that this evidence is well supported. She can advise on this important area and tailor her talk to each and every sector.
the drinking diaries - why women drink too much and what we can do about it 
Virtual Presentation

Keynote Presentation

Workshop Session

Half Day Training

Full Day Training

Alcohol consumption is on the rise, and women are leading the growth, both here and in most of the developing world. Parity in post secondary achievement, parity in the workforce, and now this? Clearly, this is not what Gloria Steinem had in mind. The marketers think differently. Ann Dowsett Johnston explores this phenomenon: what's driving the trend in risky drinking for all age groups, the health risks, and what can be done?
pandemic in a bottle - women and alcohol
Virtual Presentation

Keynote Presentation

Workshop Session

Half Day Training

Full Day Training

It is no secret that the pandemic has caused an epidemic in women's stress. In a matter of months, COVID took a crowbar to women's progress. With the burden of juggling home-schooling and home offices, you might argue that COVID has set back women's progress by 50 years. Little surprise, then, to learn that according to the Rand Corporation, American women's drinking days have increased 41 percent in the past year. This is alarming.

While men and women are democratically equal, women metabolize alcohol much more poorly and they become addicted much faster. 15 percent of breast cancer cases are related to alcohol consumption. Meanwhile, it is well documented that while men are happier than they were in the 1970s, women are far unhappier. Ann Dowsett Johnston, once a vice-principal of McGill University and a mother of a teenage son, knows all too well why she used alcohol to self-medicate her depression, workplace burnout, and stress. Hear her address the current crisis for high-functioning women, the revolutionary women-led recovery movement, and her solutions for the years ahead.
living your best life - why it's never too late to make your dreams come true
Virtual Presentation

Keynote Presentation

Workshop Session

Half Day Training

Full Day Training

Ann Dowsett Johnston, an award-winning journalist, bestselling author, and former Vice-Principal of McGill University, is now on her fourth career—and loving it. A recent graduate from the prestigious Smith College, Ann is flourishing as a psychotherapist. Hear her take on how to live your best life, what we learn from life's detours, and the secrets to building resilience. An inspirational, fresh take on making choices work for you.
Ann Dowsett Johnston is very warm, relatable, and genuine. People appreciated her charisma, conversational style, and her candor. The hour flew by as she has a wonderful way of holding the audience's attention. People agreed that this is an important topic and they thought Ann clearly exhibited a passion for it and an expertise in the field – both of which made her a very compelling speaker.
Torys LLP
On behalf of House of Friendship, we want to fully endorse Ann Johnston both as a speaker and a champion for individuals struggling with addictions. The event was sold-out in advance and there wasn't a spare seat to be had in the hall. Ann Dowsett Johnston challenged our thinking through the presentation with her insights, research, and experience.
House of Friendship
The audience loved Ann Dowsett Johnston. She impressed most with her approachability and her down to earth style. I felt as though I had known her my whole life. Her presentation was powerful and you could hear a pin drop in that room. What a beautiful person.
Breton House
Ann Dowsett Johnston was a rockstar whose message was challenging and fit perfectly with what HoF is trying to accomplish.
House of Friendship Conference
Working with Ann has been the best decision I've made in years. I started in Writing Your Recovery pretty sure I'd never write a thing worth reading out loud, but eager to learn. I'm now in my second round of Writing Your Discovery and have a book underway! Ann's careful stewardship and encouragement was exactly what I needed to rediscover my love of writing. I am officially a writer again, and I owe that in large part to Ann.
Nova Scotia, Canada
Writing Your Recovery was hands-down a transformative, life-affirming experience. Ann's meticulously developed course draws upon her vast experience, giving students unparalleled insight into the complex worlds of writing, editing and publishing. But it is Ann's generous depth, heart and wisdom that make this course a masterpiece. Writing Your Recovery offers a supportive haven where a writer can gather to find their voice, hone their craft and feed their soul.
USA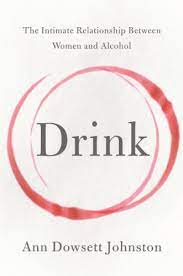 Drink: The Intimate Relationship Between Women and Alcohol
In Drink: The Intimate Relationship Between Women and Alcohol, award-winning journalist Anne Dowsett Johnston combines in-depth research with her own personal story of recovery, and delivers a groundbreaking examination of a shocking yet little recognized epidemic threatening society today: the...
How to book Ann Dowsett Johnston for an event?
Ann Dowsett Johnston keynote speaker is an expert presenter and has a wide range of experience speaking to a wide variety of audiences and organizations. Ann Dowsett Johnston delivers keynotes, workshops & training sessions. They may also host or emcee events. Hire Ann Dowsett Johnston from Toronto, Ontario for your event to inspire the audience to take action and make change in their work and their lives. Your workplace will benefit from our keynote speaker and their keynote talks and speeches will shift the mindsets or behaviours for the audience members in Canada. 
Interested in booking Ann Dowsett Johnston for an event?
Are you looking to hire Ann Dowsett Johnston for your event? Ann Dowsett Johnston Toronto, Ontario is a dynamic and engaging speaker that offers audiences researched content paired with expertise and a dynamic speaking ability. Ann Dowsett Johnston is also a Canadian corporate consultant and coach and facilitates workshops and training sessions for a corporate audience. Ann Dowsett Johnston is an expert keynote presenter and speaks on wide variety of topics. Hiring a great speaker for your event is important and working with a thought leader like Ann Dowsett Johnston from Speakers Canada's roster will engage audiences into the content of the presentation to bring awareness and a fresh perspective for their approach to their work and their lives. Book Ann Dowsett Johnston to educate, motivate and activate the audience through an interactive and entertaining presentation at corporate meetings and gatherings.
Known as a popular key note speaker in Canada, Ann Dowsett Johnston creates life changing experiences for the participants with practical insights and strategic advice they can implement right after the session. Working with a one our leading expert speaker like Ann Dowsett Johnston from Toronto, Ontario offers organizations a fresh perspective to assist the people of the organization. No matter if it is a government, association, or business crowd, Ann Dowsett Johnston is a perfect speaker for your event. Through unique practical insights for trending topics and years experience speaking to different organizations, Ann Dowsett Johnston focuses on changing individuals to make better decisions at work and their lives. No matter if you are holding an in person or virtual event, having an influential speaker such as Ann Dowsett Johnston will engage, motivate, and activate the audience to make a change in their lives and inspire action for results to meet organizational goals. Your workforce will benefit from Ann Dowsett Johnston's presentations and speeches, with measurable results set to shift the people of the organization and core direction of the company. Book Ann Dowsett Johnston speaker for your annual general meeting, conference, summit, or convention in Canada.
How much does it cost to hire Ann Dowsett Johnston for a keynote presentation or virtual event?
Ann Dowsett Johnston is an expert professional key note speaker with a lot of experience speaking and delivering engaging talks to organizations and audiences in Canada. Each of Speaker Bureau Canada's talent have different ways to assess their fees, and Ann Dowsett Johnston speaker fee ranges depending on the size of the audience, event format (in person or virtual), event location, and if the organization booking them is a non profit, association, government department/government agency or business/corporation. The speakers we work with are flexible with their fees, and it is important for us to learn more about your event before we approach them, as it is our role to work for you, and to help you find a speaker within budget. 
Please contact Speakers Bureau of Canada and provide us with your event details so that we can contact Ann Dowsett Johnston to check availability or confirm the pricing and associated costs to hire a great speaker like Ann Dowsett Johnston for your event. As Ann Dowsett Johnston's agent and as a Canadian top speaker bureau and talent agency for speakers, we are able to propose each event opportunity from each host organization's behalf to try to help you get in touch with Ann Dowsett Johnston and confirm them for your in person or online meeting/event. We can also provide and advise on the booking process and potentially negotiate their fee. Speakers Canada is a client focused speaker agency, and we work for you in finding good speakers for your team meetings and booking processes.
Ann Dowsett Johnston Disclaimer
Speakers Bureau Canada assists companies and event planning teams seeking to hire talent like

Ann Dowsett Johnston

for speaking engagements, virtual meetings, conference appearances, training sessions and workshops facilitations. Our Canadian speakers bureau does not claim to exclusively represent

Ann Dowsett Johnston

, however they are represented by Speakers Canada, and we work with them closely for their Canadian speaking opportunities and bookings. As Canada's top speaker bureau, we represent Canadian motivational keynote speakers and professional guest speakers that will be available on your upcoming events date and location that are withing the budget. Our talented bureau speaker booking agency can help find business speakers or celebrity speakers that aligns with each organization, audience, event theme and the topic themes you hope for the speaker to address in their presentation. 
When SBC receives a request to book Ann Dowsett Johnston we provide you with their speaker fees, travel costs and check their schedules. We work closely with the host organization's event planning team and the speaker to handle the logistics and to relay or negotiate associated costs. Our talented team members then will work with our talent directly or their agent/manager/assistant to confirm the Canadian speaker fee and travel expenses, so that event planning teams can receive an official quote for the speaker appearing at the event. Speaker fees and travel costs vary per speaker and our role is to contact Ann Dowsett Johnston about your event, after we have connected with the event organizers to learn all the event details and/or conference program. Each booking request is unique since session durations and audience sizes can vary which may affect the speaker's fees. If you are looking to hire Ann Dowsett Johnston, we recommend filling out the booking request form so a booking agent from Speakers Bureau Canada can get in touch with our talent to help you coordinate with your team to engage the speaker for a successful event.