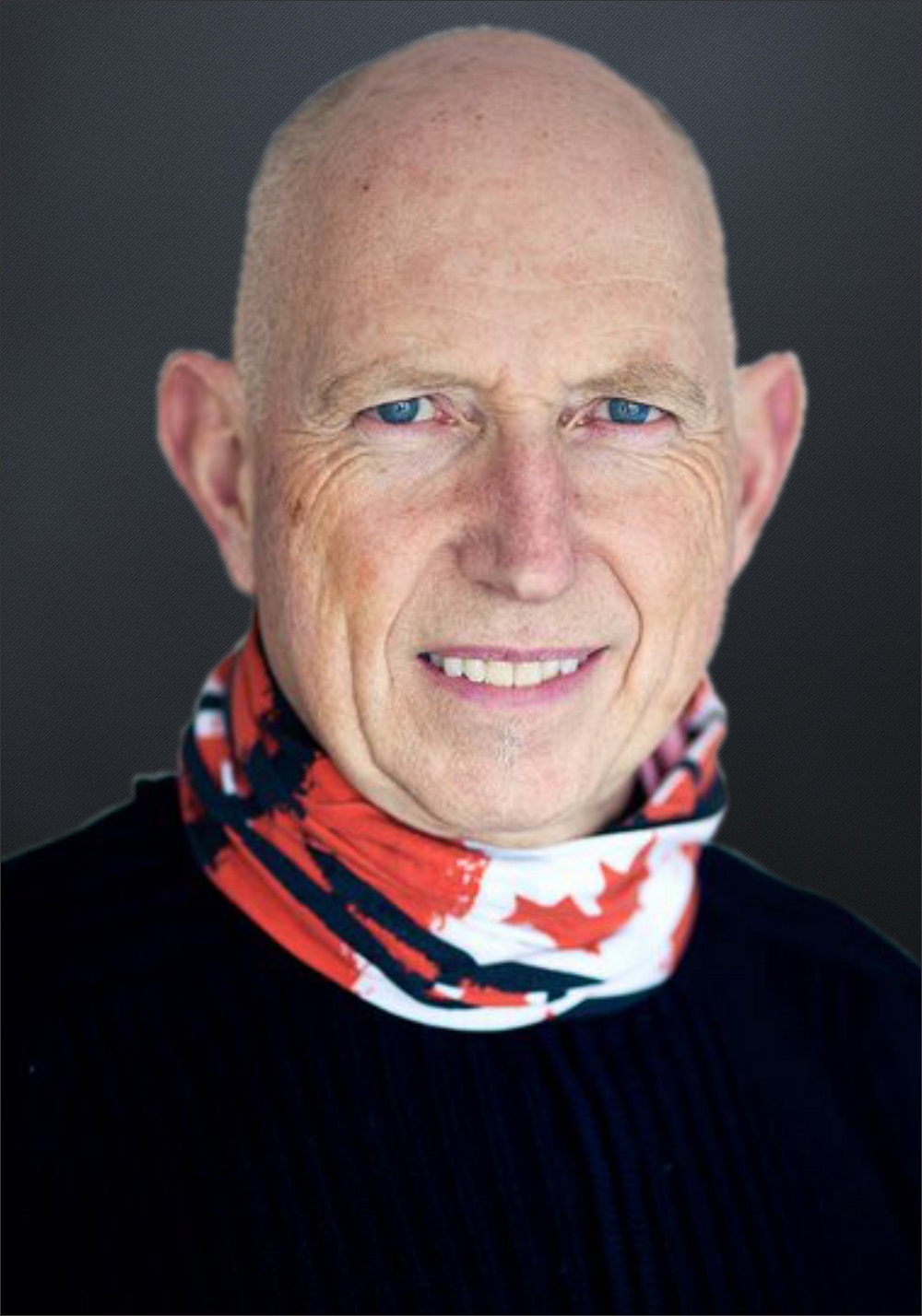 Elite Athlete, Leadership, Goal Setting Expert
Travels From:
Calgary, Alberta
Martin Parnell is elite athlete, leadership, goal setting expert & keynote speaker who talks about how to "Overcome Obstacles to Achieve your Full Potential". Martin Parnell gives honest and often humorous insight into why an ordinary person would attempt to do something extraordinary in pursuit of their goal to make the world a better place.
Expertise in
Change Management
Employee Management
Leadership
Peak Performance & Productivity
Personal Development & Growth
Business Management
Speaker Types
Adventurers & Mountain Climbers
Athletes & Sports
Conference Keynote
Corporate Social Responsibility & Philanthropy
Education & Teachers
Funny & Comedy
Inspirational
MARTIN PARNELL BIOGRAPHY
Martin Parnell talks about how to "Overcome Obstacles to Achieve your Full Potential."  He reveals how we can all set goals and achieve results we never thought possible. Parnell is an international keynote speaker, author and multi-Guinness World Record holder. In 2010, following a 25-year mining career, Martin started his "Quests for Kids" initiative. Over the next five years, he completed 10 "Quests." They included running 250 marathons in one year, setting five Guinness World Records and ascending Mount Kilimanjaro in 21 hours. At the end of 2014 over $1.3m had been raised for the humanitarian organization Right To Play which gave 27,000 children the gift of hope.
Martin's book "Marathon Quest" was published by Rocky Mountain Books and was listed as one of Alberta's top five authors for 2014 by CBC Radio. His second book "Running to the Edge" was published in November 2016. He is also featured in Chris Guillebeau's best-selling book "The Happiness of Pursuit."
Martin Parnell is a member of the Rotary Club of Cochrane and was awarded Queen Elizabeth II, Diamond Jubilee Medal, in October 2012. In January 2013 he was named as one of the Calgary Heralds' "20 Compelling Calgarians."  Martin has delivered numerous keynote presentations across Canada. Clients include IdeaCity11, Sun Life Financial, Canadian Wealth Management, Avanti Software, Human Resources Institute of Alberta, Alberta Association of Recreation Facilities Personnel, Centron Construction and over 100 schools.
The Chicken and the Pig - Commitment or Participation - How to Define a Leader
"Desire is the key to motivation, but it's determination and commitment to an unrelenting pursuit of your goal—a commitment to excellence—that will enable you to obtain the success you seek" – Mario Andretti

Martin addresses what it takes for one ordinary individual to become a leader and motivate and inspire others. To achieve his goals, Martin has drawn on a variety of skills and characteristics, which include having a strong commitment, determination and the resilience to overcome a wide range of obstacles, along the way.  He also acknowledges the importance of having a good support team and shows how choosing the right individuals to help you succeed.

As someone who went from a career in the mining industry to becoming an elite Athlete Ambassador for one of the world's best-known humanitarian organizations, Martin will take you on a journey that will both amaze and inspire.

Virtual Presentation

Keynote Presentation

Workshop Session

Half Day Training

Full Day Training
Ordinary to Extraordinary - Changing Lives One Step at a Time
Telling a story which will amaze and inspire, Martin will show how, through determination and persistence, one person can affect change, one step at a time, to achieve a remarkable goal. He will explain how he tackled many obstacles, including injury, skepticism and ever-changing degrees of temperature to achieve his dream.

Learn how he had to adapt his diet in order to stay healthy and undergo constant monitoring by a team of health professionals. Martin talks about the challenges of fundraising, having no corporate sponsors and learning to deal with global media attention.

Above all, Martin motivates audience members to remain positive and focused on their goals. He transposes the examples of running, endurance, resilience and obstacles to make them applicable to our Canadian work and life experience.

Virtual Presentation

Keynote Presentation

Workshop Session

Half Day Training

Full Day Training
Martin was the keynote speaker at our annual corporate gathering and presented his amazing story to our group. We had a very diverse group of people, with all of Centron's office staff and site staff as well as spouses. This included everybody from the President and CEO to the site workers. Martin did a great job of connecting with the audience with a very interesting, humorous and overall, very inspiring presentation.
We had a lot of feedback after the event from our staff remarking on how Martin's presentation had struck a chord with them and how remarkable his achievements are.
As Martin says, he is an ordinary person trying to do his part to help others who are less fortunate. He certainly is doing extraordinary things and through his example is encouraging a lot of others in a lot of ways, in addition to the children who are getting life changing help from the RTP programs.
We highly recommend Martin as a very interesting and inspirational speaker and fully support his Right to Play fundraising quests.
Martin is truly an inspiration and I would easily recommend anyone to engage him as a keynote or guest speaker for their event.
We wanted to host an appreciation event for our clients. As we brainstormed about themes, we kept coming back to wellness (health, fitness, wealth, family, philanthropy, balance…). Naturally, Martin's name came up.
We were honoured to partner with Martin in his fundraising efforts and to support his Marathon Quest 250 objective to raise funds for Right to Play. Martin was a fantastic speaker, proving that anything is possible if we put our heart and soul into it. His words and energetic spirit moved all in attendance to do what they can to make a difference.
Thank you, Martin, for making a difference in the lives of children around the world!!!
Martin Parnell presented the keynote address at our 2013 Annual Conference. Martin is an excellent story teller with a great story to tell! His presentation was fun, engaging and inspiring. Many of our conference delegates remarked on Martin's great presentation and have asked for more information about Martin and Right To Play. Martin took the time to meet with our delegates before and after his presentation and was a positive force during our conference. Make sure you get a chance to hear Martin's story!
Martin Parnell CAN DELIVER CUSTOMIZED PRESENTATIONS WITHIN THE FOLLOWING AREAS OF EXPERTISE & TOPIC THEMES
Expertise in
Change Management
Employee Management
Leadership
Peak Performance & Productivity
Personal Development & Growth
Business Management
Speaker Types
Adventurers & Mountain Climbers
Athletes & Sports
Conference Keynote
Corporate Social Responsibility & Philanthropy
Education & Teachers
Funny & Comedy
Inspirational
Motivation
FAQs ON BOOKING Martin Parnell
Martin Parnell keynote speaker is an expert presenter and has a wide range of experience speaking to a wide variety of audiences and organizations. Martin Parnell delivers keynotes, workshops & training sessions. They may also host or emcee events. Hire Martin Parnell from Calgary, Alberta for your event to inspire the audience to take action and make change in their work and their lives. Your workplace will benefit from our keynote speaker and their keynote talks and speeches will shift the mindsets or behaviours for the audience members in Canada. 
Interested in Booking Martin Parnell for an event?
Are you looking to hire Martin Parnell for your event? Martin Parnell Calgary, Alberta is a dynamic and engaging speaker that offers audiences researched content paired with expertise and a dynamic speaking ability. Martin Parnell is also a Canadian corporate consultant and coach and facilitates workshops and training sessions for a corporate audience. Martin Parnell is an expert keynote presenter and speaks on wide variety of topics. Hiring a great speaker for your event is important and working with a thought leader like Martin Parnell from Speakers Canada's roster will engage audiences into the content of the presentation to bring awareness and a fresh perspective for their approach to their work and their lives. Book Martin Parnell to educate, motivate and activate the audience through an interactive and entertaining presentation at corporate meetings and gatherings.
Known as a popular key note speaker in Canada, Martin Parnell creates life changing experiences for the participants with practical insights and strategic advice they can implement right after the session. Working with a one our leading expert speaker like Martin Parnell from Calgary, Alberta offers organizations a fresh perspective to assist the people of the organization. No matter if it is a government, association, or business crowd, Martin Parnell is a perfect speaker for your event. Through unique practical insights for trending topics and years experience speaking to different organizations, Martin Parnell focuses on changing individuals to make better decisions at work and their lives. No matter if you are holding an in person or virtual event, having an influential speaker such as Martin Parnell will engage, motivate, and activate the audience to make a change in their lives and inspire action for results to meet organizational goals. Your workforce will benefit from Martin Parnell's presentations and speeches, with measurable results set to shift the people of the organization and core direction of the company. Book Martin Parnell speaker for your annual general meeting, conference, summit, or convention in Canada.
HOW MUCH DOES IT COST TO BOOK Martin Parnell FOR A VIRTUAL OR KEYNOTE PRESENTATION?
Martin Parnell is an expert professional key note speaker with a lot of experience speaking and delivering engaging talks to organizations and audiences in Canada. Each of Speaker Bureau Canada's talent have different ways to assess their fees, and Martin Parnell speaker fee ranges depending on the size of the audience, event format (in person or virtual), event location, and if the organization booking them is a non profit, association, government department/government agency or business/corporation. The speakers we work with are flexible with their fees, and it is important for us to learn more about your event before we approach them, as it is our role to work for you, and to help you find a speaker within budget. 
Please contact Speakers Bureau of Canada and provide us with your event details so that we can contact Martin Parnell to check availability or confirm the pricing and associated costs to hire a great speaker like Martin Parnell for your event. As Martin Parnell's agent and as a Canadian top speaker bureau and talent agency for speakers, we are able to propose each event opportunity from each host organization's behalf to try to help you get in touch with Martin Parnell and confirm them for your in person or online meeting/event. We can also provide and advise on the booking process and potentially negotiate their fee. Speakers Canada is a client focused speaker agency, and we work for you in finding good speakers for your team meetings and booking processes.
DISCLAIMER:
Speakers Bureau Canada assists companies and event planning teams seeking to hire talent like Martin Parnell for speaking engagements, virtual meetings, conference appearances, training sessions and workshops facilitations. Our Canadian speakers bureau does not claim to exclusively represent Martin Parnell, however they are represented by Speakers Canada, and we work with them closely for their Canadian speaking opportunities and bookings. As Canada's top speaker bureau, we represent Canadian motivational keynote speakers and professional guest speakers that will be available on your upcoming events date and location that are withing the budget. Our talented bureau speaker booking agency can help find business speakers or celebrity speakers that aligns with each organization, audience, event theme and the topic themes you hope for the speaker to address in their presentation. 
When SBC receives a request to book Martin Parnell we provide you with their speaker fees, travel costs and check their schedules. We work closely with the host organization's event planning team and the speaker to handle the logistics and to relay or negotiate associated costs. Our talented team members then will work with our talent directly or their agent/manager/assistant to confirm the Canadian speaker fee and travel expenses, so that event planning teams can receive an official quote for the speaker appearing at the event. Speaker fees and travel costs vary per speaker and our role is to contact Martin Parnell about your event, after we have connected with the event organizers to learn all the event details and/or conference program. Each booking request is unique since session durations and audience sizes can vary which may affect the speaker's fees. If you are looking to hire Martin Parnell, we recommend filling out the booking request form so a booking agent from Speakers Bureau Canada can get in touch with our talent to help you coordinate with your team to engage the speaker for a successful event.
Speakers Similar to Martin Parnell
Contact 
SPEAKERS BUREAU OF CANADA