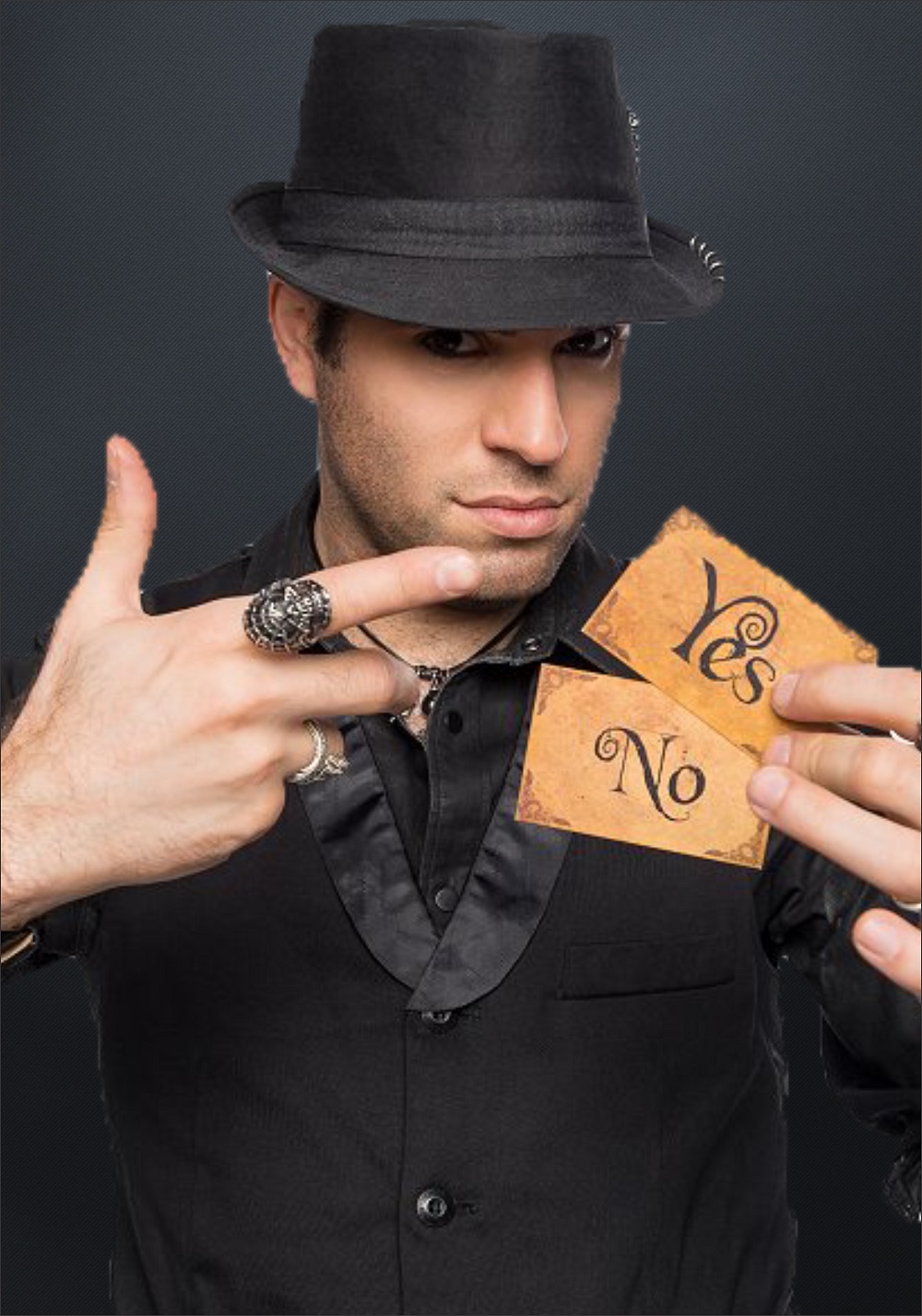 Award Winning Mentalist, Certified Hypnotist and Master of Persuasion Expert
Spidey has made TV appearances also include FOX's Showtime at the Apollo with Steve Harvey, CW's Masters of Illusion & Entertainment Tonight. Spidey has worked with Fortune 500 companies including Google, Amazon, T-Mobile, Mercedes-Benz, Royal Bank of Canada, Birks and more.
Leadership
Mental Health
Peak Performance
Personal Growth
Resilience & Adversity
Business Growth
Bilingual & French
Campus & University Speakers
Conference
Corporate Entertainers
Education & Teachers
Finance & Insurance
Funny & Comedy
Healthcare
SPIDEY BIOGRAPHY
Body language, persuasion and influence expert, award-winning mentalist and online sensation, Spidey has captivated the minds of people around the world with his 200+ million viewers, international TV shows and tours across North America. Spidey has appeared on NBC's TODAY Show, FOX and Entertainment Tonight as well as consulted for various Hollywood celebrities, directors and movie productions.
He joined the cast of the international NETFLIX Original Series: Brainchild to discuss the inner workings of motivation and influence. On Discovery Channel, he was invited to display how persuasion can manifest physically.
Spidey has worked with dozens of Fortune 500 companies including Google, Amazon, Microsoft, IBM, T-Mobile and has used his knowledge to train international corporate teams at Mercedes-Benz, ADP, Rolex, Chrysler, Royal Bank of Canada and more.
Spidey

Topic Presentations
profiles - creating and maintaining powerful rapport
Keynote Presentation

In this seminar, Spidey discusses his proprietary social classification system. This intuitive and rapid system will allow you to understand how a person thinks and makes decisions. Once an individual's classification is identified, you are in a great position to understand the issues that are important to this person. You can present ideas and products to the individual in such a way that is compatible with their way of thinking. The system is very easy to learn and has a direct impact on the relationship created. You'll develop an incredible ability to recognize different types of people and respond to their unconscious and specific needs.
o.p.e.n.
Keynote Presentation

Spidey discusses four key methods in virtually any social or work interaction that will create an environment where the person we're speaking with want to be truthful, honest and O.P.E.N.
psychology and body language
Keynote Presentation

Using a profile, Spidey provides valuable and specific body language strategies including clusters of behavior, stress indicators, etc. You'll learn exactly what to look for, what to listen for and what it all means.
persuasion - changing minds and influencing people
Keynote Presentation

In this seminar, which has also been very well received by Fortune 500 clients, Spidey reveals powerful secrets regarding persuasion. What scientifically proven psychology technique has been shown to increase results by 800%? For those receiving in-person clients, which tool that you already have in your office can make someone 40% more suggestible? What secret tool do some of the top companies in the world use to get your attention? What is the single most important mindset to consider when dealing with a new client? How do our words control the thoughts of others? This course is filled with small, immediately applicable and very easy to grasp concepts that will make you masters of persuasion.
We had Spidey offer 2 sales training seminars to our sales teams. These seminars were so successful and well received that we rebooked him for 2 more seminars later that year. We have received dozens of sales trainings over the course of my career at Mercedes-Benz, a leader in the luxury auto market. Spidey not only provided us with information with tremendous takeaway value, he also further customized his presentation to allow for specific everyday real-life examples. Our sales teams felt that they were able to immediately apply many of his proven concepts that same day. Many of my top salesmen found that this was the best and most applicable seminar they had ever attended.
MERCEDES-BENZ
Spidey was referred to us from another firm in the luxury product sales market. We booked him for a seminar at our head office in Montreal for our sales and management team. The information was extremely valuable with practical takeaways. Our top salespeople are usually unimpressed with sales trainings as they are broad and unspecific, but for the first time they've turned in perfect evaluations for his presentation. Spidey's presentation was so refreshing and well curated for our group that we booked his seminar for Toronto, Calgary and Vancouver. We highly recommend Spidey for any sales and management teams.
BIRKS
Spidey, you were seriously the highlight of the conference. Our Steeped Tea family had so many a-ha moments. Our teams are so energized and excited to get back to business in a big way! Thank you so much! Please send me your address, lots of tea coming your way!
STEEPED TEA
It was Amazing! Everyone LOVED Spidey!
GOOGLE
Thank you so much for the wonderful event! SPIDEY was AMAZING!
AMAZON
Everyone was absolutely AMAZED with his knowledge and talent! UNBELIEVABLE!
IBM
How to book Spidey for an event?
Spidey keynote speaker is an expert presenter and has a wide range of experience speaking to a wide variety of audiences and organizations. Spidey delivers keynotes, workshops & training sessions. They may also host or emcee events. Hire Spidey from Montreal, Quebec for your event to inspire the audience to take action and make change in their work and their lives. Your workplace will benefit from our keynote speaker and their keynote talks and speeches will shift the mindsets or behaviours for the audience members in Canada. 
Interested in booking Spidey for an event?
Are you looking to hire Spidey for your event? Spidey Montreal, Quebec is a dynamic and engaging speaker that offers audiences researched content paired with expertise and a dynamic speaking ability. Spidey is also a Canadian corporate consultant and coach and facilitates workshops and training sessions for a corporate audience. Spidey is an expert keynote presenter and speaks on wide variety of topics. Hiring a great speaker for your event is important and working with a thought leader like Spidey from Speakers Canada's roster will engage audiences into the content of the presentation to bring awareness and a fresh perspective for their approach to their work and their lives. Book Spidey to educate, motivate and activate the audience through an interactive and entertaining presentation at corporate meetings and gatherings.
Known as a popular key note speaker in Canada, Spidey creates life changing experiences for the participants with practical insights and strategic advice they can implement right after the session. Working with a one our leading expert speaker like Spidey from Montreal, Quebec offers organizations a fresh perspective to assist the people of the organization. No matter if it is a government, association, or business crowd, Spidey is a perfect speaker for your event. Through unique practical insights for trending topics and years experience speaking to different organizations, Spidey focuses on changing individuals to make better decisions at work and their lives. No matter if you are holding an in person or virtual event, having an influential speaker such as Spidey will engage, motivate, and activate the audience to make a change in their lives and inspire action for results to meet organizational goals. Your workforce will benefit from Spidey's presentations and speeches, with measurable results set to shift the people of the organization and core direction of the company. Book Spidey speaker for your annual general meeting, conference, summit, or convention in Canada.
How much does it cost to hire Spidey for a keynote presentation or virtual event?
Spidey is an expert professional key note speaker with a lot of experience speaking and delivering engaging talks to organizations and audiences in Canada. Each of Speaker Bureau Canada's talent have different ways to assess their fees, and Spidey speaker fee ranges depending on the size of the audience, event format (in person or virtual), event location, and if the organization booking them is a non profit, association, government department/government agency or business/corporation. The speakers we work with are flexible with their fees, and it is important for us to learn more about your event before we approach them, as it is our role to work for you, and to help you find a speaker within budget. 
Please contact Speakers Bureau of Canada and provide us with your event details so that we can contact Spidey to check availability or confirm the pricing and associated costs to hire a great speaker like Spidey for your event. As Spidey's agent and as a Canadian top speaker bureau and talent agency for speakers, we are able to propose each event opportunity from each host organization's behalf to try to help you get in touch with Spidey and confirm them for your in person or online meeting/event. We can also provide and advise on the booking process and potentially negotiate their fee. Speakers Canada is a client focused speaker agency, and we work for you in finding good speakers for your team meetings and booking processes.
Spidey Disclaimer
Speakers Bureau Canada assists companies and event planning teams seeking to hire talent like

Spidey

for speaking engagements, virtual meetings, conference appearances, training sessions and workshops facilitations. Our Canadian speakers bureau does not claim to exclusively represent

Spidey

, however they are represented by Speakers Canada, and we work with them closely for their Canadian speaking opportunities and bookings. As Canada's top speaker bureau, we represent Canadian motivational keynote speakers and professional guest speakers that will be available on your upcoming events date and location that are withing the budget. Our talented bureau speaker booking agency can help find business speakers or celebrity speakers that aligns with each organization, audience, event theme and the topic themes you hope for the speaker to address in their presentation. 
When SBC receives a request to book Spidey we provide you with their speaker fees, travel costs and check their schedules. We work closely with the host organization's event planning team and the speaker to handle the logistics and to relay or negotiate associated costs. Our talented team members then will work with our talent directly or their agent/manager/assistant to confirm the Canadian speaker fee and travel expenses, so that event planning teams can receive an official quote for the speaker appearing at the event. Speaker fees and travel costs vary per speaker and our role is to contact Spidey about your event, after we have connected with the event organizers to learn all the event details and/or conference program. Each booking request is unique since session durations and audience sizes can vary which may affect the speaker's fees. If you are looking to hire Spidey, we recommend filling out the booking request form so a booking agent from Speakers Bureau Canada can get in touch with our talent to help you coordinate with your team to engage the speaker for a successful event.