Mindset and Wellness Expert | Leadership Strategist | Best-selling Author
Julie Cass is a successful entrepreneur, motivational speaker, best-selling author, certified health and business coach, yoga instructor, wife and mother. She has successfully led and grown a multimillion-dollar operation with hundreds of employees. Investing in oneself and one's employees has a positive impact on work-life satisfaction and the bottom line. Julie is deeply motivated to inspire wellness in today's workplace for the benefit of individuals and organizations.
Employee Management
Health & Wellness
Leadership
Mental Health
Peak Performance
Personal Growth
Resilience & Adversity
Teamwork
Business Growth
All Staff Meeting
Annual General Meetings
Award Galas & After Dinner
Awareness Days
Conference
Corporate Audience
Lifestyle & Health
Motivation
JULIE CASS BIOGRAPHY
Julie Cass has a unique approach that engages the audience and leaves them with golden nuggets to make positive changes in their lives. Her business acumen coupled with her expertise in mental wellness and emotional healing makes her style as a keynote speaker one of a kind.
Julie Cass began her entrepreneurial journey in her early 20's, when she opened her first successful spa and wellness centre. She was able to grow the business to over 7 figures in year one while achieving 5-star customer reviews.  Julie learned a lot about success in these early years in business and how her own limiting beliefs caused her to be successful in her career but at a huge cost to her personal health and wellness.
Since then, she has worked on evolving her own mindset of what success is and that ultimate success happens when all areas in life are thriving.
Before forming her company which helps leaders in businesses to maximize their potential, her latest venture was owner and CEO of a multimillion-dollar business venture overseeing hundreds of employees. She grew her business every year by as much as 45%.
She has coached and trained thousands of business professionals and entrepreneurs to achieve their own business and personal joy. Julie's does this by helping people discover their unlimited potential and how to remove their own limitations around success and happiness. Julie Cass believes that incorporating wellness in the workplace has a direct effect on the engagement of employees and overall success and profitability of the business.
Julie Cass shares her expertise across social media and public platforms, having appeared on Global TV, CHCH, and CP24. She speaks on issues of mental health, wellbeing, stress management, and leadership excellence.
Published in multiple publications including Canadian Living and Canadian Business Journal, Julie Cass writes on topics of leadership and personal fulfillment and is the bestselling author of 'Me First'. Her book is a testament to why a good relationship with yourself improves all aspects of life.
As an accomplished keynote speaker, Julie has spoken to thousands at conferences and companies across North America. Her engaging and real approach of bringing together business expertise and emotional healing makes her an exceptional speaker promoting attendees to take inspired action. She adds extra value by combining her certification in EFT, Hypnotism and Master Life Coaching with her wisdom of over 25 years as a successful entrepreneur and leader.
Julie Cass is a best-selling author, media expert, certified health, life coach & business coach, certified hypnotist, and yoga instructor with a passion for helping others find the balance between external success and internal peace.
In her spare time, Julie Cass enjoys reading, cooking, nature, being active and spending quality time with her husband, kids, family and friends.
Julie Cass

Topic Presentations
from stress to confidence and growth – leap ahead
Virtual Presentation

Keynote Presentation

Workshop Session

Half Day Training

Full Day Training

In a world where there is so much uncertainty, we have seen an unprecedented rise in stress and anxiety leading to a mental wellness crisis. This has had negative ripples across organizations. In this dynamic talk, Julie demonstrates that through every crisis there is an opportunity for growth and change. Julie outlines 3 key principles to help individuals harness their inner power, take control of their lives, and increase their confidence. If you and your team are ready for growth, then this is the right talk for you. Julie will leave you with practical tools that will motivate you to take inspired action in all areas of your life.
the power of your mind – how to overcome limitations.
Virtual Presentation

Keynote Presentation

Workshop Session

Half Day Training

Full Day Training

Our mind is our most powerful tool yet for most of us, most of the time it runs wild with thoughts of criticism, judgment, and fear. Ultimately, we are what we think and to create the most powerful shifts in life we need to change the mind first. Julie will share simple tools to harness the mind, gain control of your happiness and achieve your most heartfelt desires. You deserve it.
leadershift – how to empower yourself and others in today's world.
Virtual Presentation

Keynote Presentation

Workshop Session

Half Day Training

Full Day Training

Leaders have a bigger challenge today than ever before. The world has changed which means in order to create impact and success leaders need to shift how they operate. Creating some simple yet powerful changes can make all the difference. In this keynote Julie highlights the most important mindset shifts for success and impact as a leader in today's world.
Julie Cass can deliver customized presentations within the following topic themes.
We were SOOOOO happy to have you join us and the feedback has been fantastic.  I have received messages from across various levels of the organization and comments have included things like "our best wellness townhall speaker yet".  I know the message has been received and internalized because at my own management team meeting yesterday I was talking about the list of big projects on the go and one of my managers quickly put in the chat "look at all of the thing we GET to do this...
HALTON HILLS
The session was excellent! Everyone in the group commented on how valuable our time with you was. Thank you for using your gifts to teach others how to lead well. Thank you for pouring yourself out to fill others up.
RSG International
Thank you for providing this course for everyone. I'm not sure how seriously everyone took it or if they understood the gravity of the workshop but I thought it was great that we were able to learn these different tools to help us to cope and work through some of life's challenges while maneuvering through the stresses of our own jobs working in the field. Knowing that the company executives are looking and trying to find tools to help us through our daily lives is big for me. This...
BENTO SUSHI
Thank you very much for such a great presentation to DWIB. You are receiving rave reviews! You were fantastic and inspiring!
Dufferin Women in Business
Julie's program got me on a track to making healthy lifestyle changes. I became aware why so many things I was trying in the past did not work. I now have the tools and the knowledge to keep making positive changes in my lifestyle that overall effect my stress, confidence and happiness.
Me First
In Julie's new book, Julie encourages us to take radical responsibility for how we show up in the circle of life. Filled with personal stories, guided meditations, journal prompts, and resources designed and curated with love and the intention to empower and inspire you, Me First is sure to help...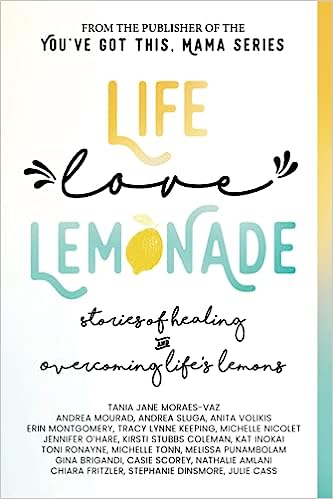 Life, Love, Lemonade: Stories of Healing and Overcoming Life's Lemons
Be who you are, who you are meant to be. Life can be hard. It gets messy, gritty and incredibly tart. Lemonade is a collection of stories written by warrior women who share powerful, vulnerable, and bone-chilling truths that will inspire and empower you to find the lemons in your life, sip some...
How to book Julie Cass for an event?
Julie Cass keynote speaker is an expert presenter and has a wide range of experience speaking to a wide variety of audiences and organizations. Julie Cass delivers keynotes, workshops & training sessions. They may also host or emcee events. Hire Julie Cass from Toronto, Ontario for your event to inspire the audience to take action and make change in their work and their lives. Your workplace will benefit from our keynote speaker and their keynote talks and speeches will shift the mindsets or behaviours for the audience members in Canada. 
Interested in booking Julie Cass for an event?
Are you looking to hire Julie Cass for your event? Julie Cass Toronto, Ontario is a dynamic and engaging speaker that offers audiences researched content paired with expertise and a dynamic speaking ability. Julie Cass is also a Canadian corporate consultant and coach and facilitates workshops and training sessions for a corporate audience. Julie Cass is an expert keynote presenter and speaks on wide variety of topics. Hiring a great speaker for your event is important and working with a thought leader like Julie Cass from Speakers Canada's roster will engage audiences into the content of the presentation to bring awareness and a fresh perspective for their approach to their work and their lives. Book Julie Cass to educate, motivate and activate the audience through an interactive and entertaining presentation at corporate meetings and gatherings.
Known as a popular key note speaker in Canada, Julie Cass creates life changing experiences for the participants with practical insights and strategic advice they can implement right after the session. Working with a one our leading expert speaker like Julie Cass from Toronto, Ontario offers organizations a fresh perspective to assist the people of the organization. No matter if it is a government, association, or business crowd, Julie Cass is a perfect speaker for your event. Through unique practical insights for trending topics and years experience speaking to different organizations, Julie Cass focuses on changing individuals to make better decisions at work and their lives. No matter if you are holding an in person or virtual event, having an influential speaker such as Julie Cass will engage, motivate, and activate the audience to make a change in their lives and inspire action for results to meet organizational goals. Your workforce will benefit from Julie Cass's presentations and speeches, with measurable results set to shift the people of the organization and core direction of the company. Book Julie Cass speaker for your annual general meeting, conference, summit, or convention in Canada.
How much does it cost to hire Julie Cass for a keynote presentation or virtual event?
Julie Cass is an expert professional key note speaker with a lot of experience speaking and delivering engaging talks to organizations and audiences in Canada. Each of Speaker Bureau Canada's talent have different ways to assess their fees, and Julie Cass speaker fee ranges depending on the size of the audience, event format (in person or virtual), event location, and if the organization booking them is a non profit, association, government department/government agency or business/corporation. The speakers we work with are flexible with their fees, and it is important for us to learn more about your event before we approach them, as it is our role to work for you, and to help you find a speaker within budget. 
Please contact Speakers Bureau of Canada and provide us with your event details so that we can contact Julie Cass to check availability or confirm the pricing and associated costs to hire a great speaker like Julie Cass for your event. As Julie Cass's agent and as a Canadian top speaker bureau and talent agency for speakers, we are able to propose each event opportunity from each host organization's behalf to try to help you get in touch with Julie Cass and confirm them for your in person or online meeting/event. We can also provide and advise on the booking process and potentially negotiate their fee. Speakers Canada is a client focused speaker agency, and we work for you in finding good speakers for your team meetings and booking processes.
Julie Cass Disclaimer
Speakers Bureau Canada assists companies and event planning teams seeking to hire talent like

Julie Cass

for speaking engagements, virtual meetings, conference appearances, training sessions and workshops facilitations. Our Canadian speakers bureau does not claim to exclusively represent

Julie Cass

, however they are represented by Speakers Canada, and we work with them closely for their Canadian speaking opportunities and bookings. As Canada's top speaker bureau, we represent Canadian motivational keynote speakers and professional guest speakers that will be available on your upcoming events date and location that are withing the budget. Our talented bureau speaker booking agency can help find business speakers or celebrity speakers that aligns with each organization, audience, event theme and the topic themes you hope for the speaker to address in their presentation. 
When SBC receives a request to book Julie Cass we provide you with their speaker fees, travel costs and check their schedules. We work closely with the host organization's event planning team and the speaker to handle the logistics and to relay or negotiate associated costs. Our talented team members then will work with our talent directly or their agent/manager/assistant to confirm the Canadian speaker fee and travel expenses, so that event planning teams can receive an official quote for the speaker appearing at the event. Speaker fees and travel costs vary per speaker and our role is to contact Julie Cass about your event, after we have connected with the event organizers to learn all the event details and/or conference program. Each booking request is unique since session durations and audience sizes can vary which may affect the speaker's fees. If you are looking to hire Julie Cass, we recommend filling out the booking request form so a booking agent from Speakers Bureau Canada can get in touch with our talent to help you coordinate with your team to engage the speaker for a successful event.