Vancouver, British Columbia
Diversity & Inclusion Expert | Best Selling Author | Human Rights Activist
Hassan Al Kontar is a Syrian refugee, activist and human rights advocate who spent 7 months in Malaysia to avoid joining the Syrian army. Five years on, the Syrian refugee, 41, has now become a Canadian citizen. Hassan Al Kontar is a humanitarian, and human rights and refugee activist who advocates compelling stories & is committed to advocating for refugees around the world using the creative, upbeat approach that made him beloved by a broad audience.
Diversity & Inclusion
Leadership
Mental Health
Peak Performance
Personal Growth
Resilience & Adversity
Conference
Education & Teachers
Finance & Insurance
Inspirational
Motivation
Social Justice & Human Rights
HASSAN AL KONTAR BIOGRAPHY
Hassan Al Kontar is an author, a case manager for the Canadian Red Cross, a humanitarian, a refugee activist, and a compelling speaker who is committed to advocating for human rights around the world. He encourages individuals to believe in their capacity to make a difference. His creative, upbeat approach has made him an in-demand speaker beloved by a broad array of audiences.
Hassan Al Kontar was born in Sweida, Syria. He was working in the United Arab Emirates when the civil war began in Syria in 2011. His humanitarian ideals made it impossible for him to fight against his people as part of a dictator's army. This moral stance cost him his passport and his work permit. Exiled by war and geopolitics, Hassan became homeless for five years in the UAE.  Deportation followed, which eventually led to him being trapped, essentially stateless, in an airport in Kuala Lumpur, Malaysia. Hassan lived in the airport for seven months, sleeping on the floor, and made headlines around the world as "The Airport Prisoner". He used social media to inform the world of his situation, and the plight of refugees from Syria and other countries. Hassan Al Kontar was eventually arrested and detained in a deportation centre. A group of Canadians had become aware of his desperate situation and with enormous effort eventually managed to assist him in immigrating to Canada. Hassan Al Kontar is now a Canadian citizen and works full-time for the Canadian Red Cross, giving back to the country that welcomed him in his time of need.
Hassan wrote a book about his experiences titled Man@The Airport, which was published by Tidewater Press in 2021 and received glowingly positive reviews. Through the telling of his own story, he examines broader issues of refugeeism, humanitarianism, human rights, and the ability of individuals to effect positive change in the world.
Throughout his refugee journey and subsequent Canadian experiences, Hassan Al Kontar has given hundreds of media interviews to organizations including CBC, CNN, Al Jazeera, BBC, Der Spiegel, and many others. His written articles on issues of human rights have been published in major news media.
Hassan Al Kontar has a unique gift for sharing humanitarian ideas with a wide variety of audiences through his thoughtful analysis of issues, positive style, and his sense of humor. He calls on every one to engage in change, saying,  "Don't look to others to be your hero. Find the hero in yourself – then stand up!" His particular refugee journey is a compelling example of one of the most timely issues of our generation, and through it, Hassan Al Kontar shares his profound understanding of the issues of human rights which shape all our lives.
Hassan Al Kontar

Topic Presentations
man @the airport - one man's story - a nation's tragedy
Keynote Presentation

Syrian refugee Hassan Al Kontar became a media sensation last year after he found himself living in the arrivals terminal of a Malaysian airport. Al Kontar quickly realized that his situation was not because of who he was personally; it was because he carried a Syrian passport. Al Kontar spent 7 months at the airport and 2 months in detention before finally being allowed to come to Canada in November 2018. In this presentation, Al Kontar will talk about what he learned as a result of his experience, the plight of refugees around the world, and how individual Canadians can make a difference.
tweeting for asylum
Keynote Presentation

Syrian refugee, Hassan Al Kontar lived seven months in a Malaysian airport, stuck in arrivals after fleeing the war in his home country and initially unable to obtain a visa. He launched a Twitter campaign detailing his struggle before the B.C. Muslim Association and a group of sponsors took action to bring him to Canada. Join Hassan for this fascinating discussion about Hassan's experience, the power of social media and the global refugee crisis.
Hassan Al Kontar can deliver customized presentations within the following topic themes.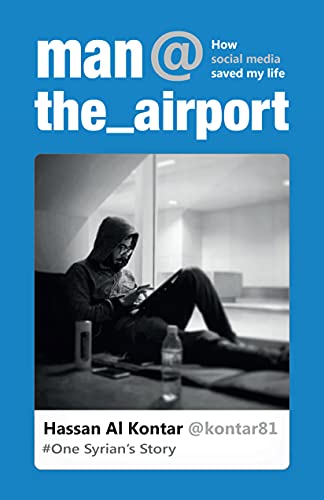 Man@the_Airport, how social media saved my life
When civil war broke out in his home country in 2011, Hassan Al Kontar was a young Syrian living and working in the UAE. After a series of setbacks, he was arrested in 2017 and deported in 2018. Unable to obtain a visa for any other country, he became trapped in the arrivals zone at Kuala Lumpur...
How to book Hassan Al Kontar for an event?
Hassan Al Kontar keynote speaker is an expert presenter and has a wide range of experience speaking to a wide variety of audiences and organizations. Hassan Al Kontar delivers keynotes, workshops & training sessions. They may also host or emcee events. Hire Hassan Al Kontar from Vancouver, British Columbia for your event to inspire the audience to take action and make change in their work and their lives. Your workplace will benefit from our keynote speaker and their keynote talks and speeches will shift the mindsets or behaviours for the audience members in Canada. 
Interested in booking Hassan Al Kontar for an event?
Are you looking to hire Hassan Al Kontar for your event? Hassan Al Kontar Vancouver, British Columbia is a dynamic and engaging speaker that offers audiences researched content paired with expertise and a dynamic speaking ability. Hassan Al Kontar is also a Canadian corporate consultant and coach and facilitates workshops and training sessions for a corporate audience. Hassan Al Kontar is an expert keynote presenter and speaks on wide variety of topics. Hiring a great speaker for your event is important and working with a thought leader like Hassan Al Kontar from Speakers Canada's roster will engage audiences into the content of the presentation to bring awareness and a fresh perspective for their approach to their work and their lives. Book Hassan Al Kontar to educate, motivate and activate the audience through an interactive and entertaining presentation at corporate meetings and gatherings.
Known as a popular key note speaker in Canada, Hassan Al Kontar creates life changing experiences for the participants with practical insights and strategic advice they can implement right after the session. Working with a one our leading expert speaker like Hassan Al Kontar from Vancouver, British Columbia offers organizations a fresh perspective to assist the people of the organization. No matter if it is a government, association, or business crowd, Hassan Al Kontar is a perfect speaker for your event. Through unique practical insights for trending topics and years experience speaking to different organizations, Hassan Al Kontar focuses on changing individuals to make better decisions at work and their lives. No matter if you are holding an in person or virtual event, having an influential speaker such as Hassan Al Kontar will engage, motivate, and activate the audience to make a change in their lives and inspire action for results to meet organizational goals. Your workforce will benefit from Hassan Al Kontar's presentations and speeches, with measurable results set to shift the people of the organization and core direction of the company. Book Hassan Al Kontar speaker for your annual general meeting, conference, summit, or convention in Canada.
How much does it cost to hire Hassan Al Kontar for a keynote presentation or virtual event?
Hassan Al Kontar is an expert professional key note speaker with a lot of experience speaking and delivering engaging talks to organizations and audiences in Canada. Each of Speaker Bureau Canada's talent have different ways to assess their fees, and Hassan Al Kontar speaker fee ranges depending on the size of the audience, event format (in person or virtual), event location, and if the organization booking them is a non profit, association, government department/government agency or business/corporation. The speakers we work with are flexible with their fees, and it is important for us to learn more about your event before we approach them, as it is our role to work for you, and to help you find a speaker within budget. 
Please contact Speakers Bureau of Canada and provide us with your event details so that we can contact Hassan Al Kontar to check availability or confirm the pricing and associated costs to hire a great speaker like Hassan Al Kontar for your event. As Hassan Al Kontar's agent and as a Canadian top speaker bureau and talent agency for speakers, we are able to propose each event opportunity from each host organization's behalf to try to help you get in touch with Hassan Al Kontar and confirm them for your in person or online meeting/event. We can also provide and advise on the booking process and potentially negotiate their fee. Speakers Canada is a client focused speaker agency, and we work for you in finding good speakers for your team meetings and booking processes.
Hassan Al Kontar Disclaimer
Speakers Bureau Canada assists companies and event planning teams seeking to hire talent like

Hassan Al Kontar

for speaking engagements, virtual meetings, conference appearances, training sessions and workshops facilitations. Our Canadian speakers bureau does not claim to exclusively represent

Hassan Al Kontar

, however they are represented by Speakers Canada, and we work with them closely for their Canadian speaking opportunities and bookings. As Canada's top speaker bureau, we represent Canadian motivational keynote speakers and professional guest speakers that will be available on your upcoming events date and location that are withing the budget. Our talented bureau speaker booking agency can help find business speakers or celebrity speakers that aligns with each organization, audience, event theme and the topic themes you hope for the speaker to address in their presentation. 
When SBC receives a request to book Hassan Al Kontar we provide you with their speaker fees, travel costs and check their schedules. We work closely with the host organization's event planning team and the speaker to handle the logistics and to relay or negotiate associated costs. Our talented team members then will work with our talent directly or their agent/manager/assistant to confirm the Canadian speaker fee and travel expenses, so that event planning teams can receive an official quote for the speaker appearing at the event. Speaker fees and travel costs vary per speaker and our role is to contact Hassan Al Kontar about your event, after we have connected with the event organizers to learn all the event details and/or conference program. Each booking request is unique since session durations and audience sizes can vary which may affect the speaker's fees. If you are looking to hire Hassan Al Kontar, we recommend filling out the booking request form so a booking agent from Speakers Bureau Canada can get in touch with our talent to help you coordinate with your team to engage the speaker for a successful event.