Journalist - Media Relations, Social Issues and Storytelling Expert
Reg Sherren is an award-winning journalist, media relations, social issues, and storytelling expert. He is a popular commentator, writer, producer, and Canadian personality. Reg Sherren is known for his unique storytelling abilities and has been introducing Canadians to social issues and the people and stories they care about for over three decades.
Communications
Leadership
Mental Health
Personal Growth
Resilience & Adversity
Business Management
Future Trends
Community Engagement Events
Conference
Corporate Entertainers
Finance & Insurance
Funny & Comedy
Guest Panelist & Guided Q&A
Inspirational
Military
REG SHERREN BIOGRAPHY
Reg Sherren is a popular commentator, writer, producer, and Canadian personality. He has been introducing Canadians to social issues and the people and stories they care about for over three decades. As an award-winning journalist, his main focus has always been telling the stories of Canada and its people but he has worked around the world, from the Persian Gulf, Europe, Japan, and across the United States of America as a former TV commentator.
Reg Sherren grew up in Labrador and became a disc jockey at the age of 15. He has worked in both public and commercial radio and television. He has won several journalism awards for his coverage of Manitoba's "Flood of the Century" and oil contamination of sea birds. He also reported from the Persian Gulf War, covering the Canadian troops. A two-time Gemini and Canadian Screen Award nominee, Reg Sherren has also been the recipient of numerous journalism awards from the New York and Columbus International Film and Video Festivals, as well as the Radio and Television News Directors Association.
A veteran former TV commentator for CBC Television, Reg Sherren is known for his unique storytelling abilities. For decades he has brought Canadians inside the big stories in their world on The National. As the host of the network program Country Canada, Reg Sherren travelled extensively in practically every region of the country. He has also guest hosted on programs like Cross Country Check-up and The Current on CBC radio. His journalism has brought attention to issues such as politics, homelessness, war, international human rights, rural communities, Indigenous issues, and many others close to Canadians and Canadian culture.
Reg Sherren

Topic Presentations
lessons from the road
Keynote Presentation

We all learn lessons from life. There are moments that can offer so much insight into the human condition, all you have to do is look for them. Simple right? Reg Sherren draws on three decades of story-telling that changed his perspective, as a journalist, and as a fellow citizen of the planet. Through his presentation, he also offers some sage advice on dealing with the media and on the pursuit of the truth.
when redemption calls
Keynote Presentation

After being systematically beaten and starved for three years, Newfoundlander, John Ford looked up one morning to witness what he thought was the end of the world. He was the last Canadian alive to witness the atomic bombing of Nagasaki. Reg Sherren takes you on his powerful journey of redemption and explores not only the worst of humankind but one individual's capacity to forgive.
the incredible case of coincidence
Keynote Presentation

We have all had it. Those little moments in life make you pause and wonder if something bigger is in play. Reg Sherren explores some incredible coincidences on his travels and one that may even put the hair right up on the back of your neck.
do you actually need a public broadcaster?
Keynote Presentation

In this digital age, with information bombarding you from all sides, the question must be asked. Public broadcasting costs a LOT of money. Well over a billion dollars. Are Canadians still getting what they paid for from our public broadcaster? Could it be better? Is it even necessary? Reg Sherren offers over three decades of observations from inside the CBC and offers insight into what needs to change.
There are few people anywhere who rival Reg's storytelling abilities. He's brought millions of viewers to the television screen to watch his unique ability to weave fascinating detail into the fabric of the people and places that make our nation so diverse and so interesting.
The National
The CBC's Reg Sherren is an acknowledged master. Few reporters have explored more of this country's nooks and crannies, revealed more of its quirk and character, and pieced together more of its history than Reg.
CBC News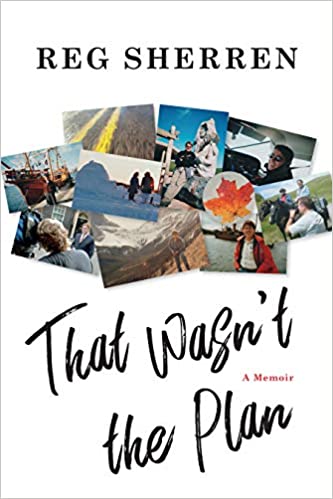 That Wasn't the Plan
That Wasn't the Plan: A Memoir
How to book Reg Sherren for an event?
Reg Sherren keynote speaker is an expert presenter and has a wide range of experience speaking to a wide variety of audiences and organizations. Reg Sherren delivers keynotes, workshops & training sessions. They may also host or emcee events. Hire Reg Sherren from Winnipeg, Manitoba for your event to inspire the audience to take action and make change in their work and their lives. Your workplace will benefit from our keynote speaker and their keynote talks and speeches will shift the mindsets or behaviours for the audience members in Canada. 
Interested in booking Reg Sherren for an event?
Are you looking to hire Reg Sherren for your event? Reg Sherren Winnipeg, Manitoba is a dynamic and engaging speaker that offers audiences researched content paired with expertise and a dynamic speaking ability. Reg Sherren is also a Canadian corporate consultant and coach and facilitates workshops and training sessions for a corporate audience. Reg Sherren is an expert keynote presenter and speaks on wide variety of topics. Hiring a great speaker for your event is important and working with a thought leader like Reg Sherren from Speakers Canada's roster will engage audiences into the content of the presentation to bring awareness and a fresh perspective for their approach to their work and their lives. Book Reg Sherren to educate, motivate and activate the audience through an interactive and entertaining presentation at corporate meetings and gatherings.
Known as a popular key note speaker in Canada, Reg Sherren creates life changing experiences for the participants with practical insights and strategic advice they can implement right after the session. Working with a one our leading expert speaker like Reg Sherren from Winnipeg, Manitoba offers organizations a fresh perspective to assist the people of the organization. No matter if it is a government, association, or business crowd, Reg Sherren is a perfect speaker for your event. Through unique practical insights for trending topics and years experience speaking to different organizations, Reg Sherren focuses on changing individuals to make better decisions at work and their lives. No matter if you are holding an in person or virtual event, having an influential speaker such as Reg Sherren will engage, motivate, and activate the audience to make a change in their lives and inspire action for results to meet organizational goals. Your workforce will benefit from Reg Sherren's presentations and speeches, with measurable results set to shift the people of the organization and core direction of the company. Book Reg Sherren speaker for your annual general meeting, conference, summit, or convention in Canada.
How much does it cost to hire Reg Sherren for a keynote presentation or virtual event?
Reg Sherren is an expert professional key note speaker with a lot of experience speaking and delivering engaging talks to organizations and audiences in Canada. Each of Speaker Bureau Canada's talent have different ways to assess their fees, and Reg Sherren speaker fee ranges depending on the size of the audience, event format (in person or virtual), event location, and if the organization booking them is a non profit, association, government department/government agency or business/corporation. The speakers we work with are flexible with their fees, and it is important for us to learn more about your event before we approach them, as it is our role to work for you, and to help you find a speaker within budget. 
Please contact Speakers Bureau of Canada and provide us with your event details so that we can contact Reg Sherren to check availability or confirm the pricing and associated costs to hire a great speaker like Reg Sherren for your event. As Reg Sherren's agent and as a Canadian top speaker bureau and talent agency for speakers, we are able to propose each event opportunity from each host organization's behalf to try to help you get in touch with Reg Sherren and confirm them for your in person or online meeting/event. We can also provide and advise on the booking process and potentially negotiate their fee. Speakers Canada is a client focused speaker agency, and we work for you in finding good speakers for your team meetings and booking processes.
Reg Sherren Disclaimer
Speakers Bureau Canada assists companies and event planning teams seeking to hire talent like

Reg Sherren

for speaking engagements, virtual meetings, conference appearances, training sessions and workshops facilitations. Our Canadian speakers bureau does not claim to exclusively represent

Reg Sherren

, however they are represented by Speakers Canada, and we work with them closely for their Canadian speaking opportunities and bookings. As Canada's top speaker bureau, we represent Canadian motivational keynote speakers and professional guest speakers that will be available on your upcoming events date and location that are withing the budget. Our talented bureau speaker booking agency can help find business speakers or celebrity speakers that aligns with each organization, audience, event theme and the topic themes you hope for the speaker to address in their presentation. 
When SBC receives a request to book Reg Sherren we provide you with their speaker fees, travel costs and check their schedules. We work closely with the host organization's event planning team and the speaker to handle the logistics and to relay or negotiate associated costs. Our talented team members then will work with our talent directly or their agent/manager/assistant to confirm the Canadian speaker fee and travel expenses, so that event planning teams can receive an official quote for the speaker appearing at the event. Speaker fees and travel costs vary per speaker and our role is to contact Reg Sherren about your event, after we have connected with the event organizers to learn all the event details and/or conference program. Each booking request is unique since session durations and audience sizes can vary which may affect the speaker's fees. If you are looking to hire Reg Sherren, we recommend filling out the booking request form so a booking agent from Speakers Bureau Canada can get in touch with our talent to help you coordinate with your team to engage the speaker for a successful event.