TEC Canada "Speaker of the Year" - Reinvention, Innovation, Business Growth and Branding Expert
Gair Maxwell is a former broadcaster who racked up over 10,000 interviews and more than 30,000 broadcasts in an award-winning radio and television career. Gair Maxwell is recognized as a global authority for helping organizations create iconic brands that attract legions of customers and top talent.
Change Management
Leadership
Peak Performance
Personal Growth
Resilience & Adversity
Business Growth
Business Management
Future Trends
Conference
Finance & Insurance
Funny & Comedy
Inspirational
Philanthropy & Giving Back
Sustainable Development
GAIR MAXWELL BIOGRAPHY
Gair Maxwell didn't follow a safe or conventional path to get where he is today. He comes from humble roots.  Once unemployed, Gair re-invented himself to become an internationally-recognized author, speaker and entrepreneur. Gair's story is one of going from flat broke to flat out successful. Gair has earned many national awards for his work and presentations. He has shared conference stages with business superstars such as Richard Branson and Gene Simmons.
Gair Maxwell has worked with some of the world's most dynamic companies, such as Mitsubishi and the Apple Specialist Marketing Group and was named the 2012 "Canadian Speaker of the Year" by TEC Canada, the country's largest CEO organization. Gair was part of the adjunct faculty at The world famous Wizard Academy out of Austin, Texas. Maxwell is also affiliated with several marketing firms in different parts of North America. Gair plays a strong role with many companies to work on helping them sharpen their message and anchor their story.
Gair Maxwell's counter-intuitive theories on "Branding With Distinction" for some independent business owners applied his formulas and grew their enterprises 10-fold over a 5-year period. He is also the bestselling author of the critically acclaimed book, Nuts, Bolts And A Few Loose Screws. Gair Maxwell was a former broadcaster. He interviewed more than 10,000 people in 30,000 broadcasts in his two-decade radio and television career.
Maxwell has delivered over 1,000 keynotes, seminars and workshops all over North America. His audiences range from associations, governments, businesses, and nonprofits. He can tailor his strategies to equally apply individuals, leaders, teams, large corporations or small businesses to experience growth and profitability while keeping costs low. An obsessive and curious researcher, Gair Maxwell customizes all of his programs for each individual audience. He is constantly updating his material by staying on top of industry trends. Through a detailed pre-program interview, Gair Maxwell aligns your organization's values, challenges and needs with his content and philosophy.
Gair Maxwell

Topic Presentations
staging the customer experience
Virtual Presentation

Keynote Presentation

Workshop Session

Half Day Training

Full Day Training

The real service mission of any business is NOT just to get the customer in the door, but to make sure they come back again and again. Even a 5% increase in customer retention can boost profitability by 25-100%. Staging the Customer Experience helps owners, managers and troops in the trenches 'land on the same page to sell bigger orders, attract new customers, and most
importantly generate consistent repeat business.

Gair Maxwell identifies inconsistencies between what you have been promising in your marketing to what is actually delivered on the front line. If work is theatre and every business is a stage, Gair helps you develop standing ovation strategies to create customers for life. Expect to challenge the norms of your own industry with an explosive mix of newfound energy and
creativity that translates into specific, doable action steps ready to be implemented Monday morning. Discover how you and your team can manufacture memorable and meaningful brand experiences (even if you're on a $10 ad budget) with Staging the Customer Experience!
the branding highway: accelerate and differentiate your marketing
Virtual Presentation

Keynote Presentation

Workshop Session

Half Day Training

Full Day Training

Fortunes are made and companies are sold way above asset value, primarily through the intangible strength of a compelling brand. So why are some firms wildly successful at leveraging their brand while others squander buckets of money on ineffective ads and struggle to earn a return on their marketing dollars? Join Gair Maxwell on The Branding Highway and discover how certain companies grow more than 5-10 times their original size in less than 4 years… while slashing their advertising budget!

You will learn why developing a brand involves much more than picking colours, a logo or spewing "features, advantages and benefits". It's about finding the human voice and personality that embodies the spirit of your company and how you communicate that through words, pictures and actions. Learn how iconic brands create conversations that fuel the hearts and minds of loyal customers, despite a saturated advertising world jammed and crammed with the increasing clutter of "white noise" and "ad-speak". This is a keynote presentation/workshop that reveals key issues of brand development often ignored or glossed over. Drive full throttle past a century of traditional "media-industrial complex" thinking and kick start your brand to the next level with The Branding Highway!
the reinvention code
Virtual Presentation

Keynote Presentation

Workshop Session

Half Day Training

Full Day Training

In today's warp speed, rapidly-changing world, the ability to "Reinvent" has become more of a necessity than a choice. Learn about the #1 success strategy of "The Great ReInventors" and how they tilt the playing field. Gair will help you discover new cornerstones of Reinvention to shift your product/service, change your customers, and revamp your brand. Gair will research your audience to identify limiting factors that stunt growth, keep you focused on the rearview mirror and prevent you from leveraging your true potential. He will then provide a proven framework to ask the right questions that solve your most pressing problems.

THE REINVENTION CODE™ is a highly interactive presentation that helps you decipher the universal secrets of successful reinvention.

Whether it's a company that needs to pivot and plot a new course.
A business looking at re-branding.
A community in need of revitalization.
A career path that needs a new direction.
the knowing-doing g.a.p. - how to cross the intention bridge between talk & action
Virtual Presentation

Keynote Presentation

Workshop Session

Half Day Training

Full Day Training

Books are read, seminars attended, and ideas generated but when it's time to head back to the office, little if anything, really changes. "A-ha moments" fade faster than a New Year's resolution and the same patterns persist. As much as people talk about success, the truth is most individuals and organizations never achieve it. Not because they can't, but because they
choose not to act on the knowledge that corrects self-defeating behaviours.

Gair Maxwell reveals why The Knowing-Doing G.A.P. exists and how to close it with new mind-to-muscle patterns that inspire growth, action and passion for one's cause, company or personal purpose. No more excuses. No more inertia or irrational fears. Just effective, deliberate action, releasing untapped organizational power and human potential. Great insight worth "Knowing". A learning experience definitely worth "Doing".
the "i" in team
Virtual Presentation

Keynote Presentation

Workshop Session

Half Day Training

Full Day Training

In a provocative, entertaining fashion, Gair challenges the way teams are expected to work together, allowing the whole to become greater than the sum of its parts. Those expectations often clash with traditional wisdom, unwritten rules and conflicting agendas, generating subcultures and mini-dramas full of empty excuses, dropped balls and pointed fingers. The "I" In TEAM breaks new ground by focusing on what everyday people can do to achieve higher levels of leadership thinking, quality control, initiative and personal accountability, crucial to the success of any organization and the brand it represents. Ready to hit home runs with your team and boost energy, engagement and execution? Step up to the plate … and take a swing with an uncommonly unconventional learning experience discovered through The "I" In TEAM.
dreamday 7: our most important dreams are often buried within us
Virtual Presentation

Keynote Presentation

Workshop Session

Half Day Training

Full Day Training

You have determination, ambition and aspirations. You may even have faith, hope and persistence on your side. Yet, you wonder why many of your dreams fade into the oblivion of wishful thinking, never to come true. Or maybe your biggest dreams are lying dormant as you exchange achievement and adventure for soul-sucking daily existence and survival. Nobody likes to admit they are not living their dream. In business or in life.

Join internationally-recognized author and speaker, Gair Maxwell for DreamDay 7 and discover hands-on methods that allow otherwise ordinary people to achieve extraordinary dreams. DreamDay 7 has been called "a life-changing knockout" and "free of motivational fluff". If you believe the possibility of having a dream come true is what makes life interesting, then lace up your boots, step back into the ring and fight for the dreams that matter most.
Just wanted to thank you again for your amazing presentation at the IBAO convention. I enjoyed your book but hearing you speak brought you information to entirely new level. I must say my mind has been stretched to an entirely new level and it will never go back. I have new mission now from your seminar to slay the dragons of Conformity in the insurance business.
Excalibur Insurance Group
Loved your material and how you presented it! Vancouver executives got a really great dollop of what to do well on the way to the designers to help shape their message. I think I scribbled notes faster and in larger volumes than anyone in that room. Such an exciting topic for me. And, you delivered in terms of content, style, timing and voice tone plus personality the way it works best for me and I hope it was absorbed by the group. Oh, I have to say my fave part was hands on. At the table. LOVED working on bringing out their stories. Gair, thank you so much for what you shared with the group at the Burnaby Arts Centre that day in April.
I just want to take this opportunity to give you a sincere thank you for a great presentation yesterday. The reaction from my members and their evaluation results were outstanding. As one member said, "the best presentation on branding and marketing I have attended". Everyone also valued your input to the issue we processed. Thanks for your contributions in that regard as well. I wish you continued success and hope that we will be able to do a return engagement at some point.
I want to thank you for your excellent, uplifting, positive and original presentation. I know there were many useful and practical ideas that will set us apart from our competitors. It will be up to us to follow up on it . As you said, it takes 6 times to remember and form a habit. We should probably do a follow up session in the New Year and see how well we implemented these great ideas.
La Mine D'Or Jewellers
First of all, it was a real pleasure to meet you last week!  All of us in TEC really enjoyed the morning and it has us really thinking about next steps. Something a Chair always wants to see and hear from their members.
HOLEYS CANADA INC
Gair's strength is that he is both engaging and empathetic in a way that draws the audience into the message being delivered. The presentation was not only timely from a business perspective but of enormous value on a personal level. Gair provided us with just the perfect dose of clarity of thought that we all needed to hear and act on. Gair's presentation was the all the talk the next morning; he has won a ton of raving fans here at Graybar Canada.
Graybar Canada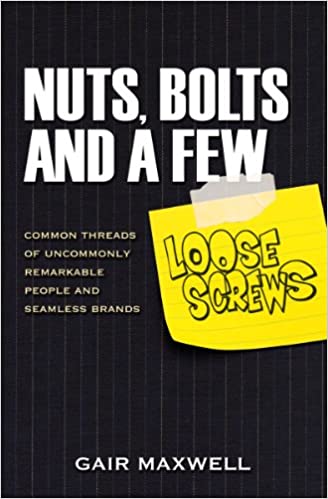 Nuts, Bolts and a Few Loose Screws
Nuts, Bolts and a Few Loose Screws
How to book Gair Maxwell for an event?
Gair Maxwell keynote speaker is an expert presenter and has a wide range of experience speaking to a wide variety of audiences and organizations. Gair Maxwell delivers keynotes, workshops & training sessions. They may also host or emcee events. Hire Gair Maxwell from Calgary, Alberta for your event to inspire the audience to take action and make change in their work and their lives. Your workplace will benefit from our keynote speaker and their keynote talks and speeches will shift the mindsets or behaviours for the audience members in Canada. 
Interested in booking Gair Maxwell for an event?
Are you looking to hire Gair Maxwell for your event? Gair Maxwell Calgary, Alberta is a dynamic and engaging speaker that offers audiences researched content paired with expertise and a dynamic speaking ability. Gair Maxwell is also a Canadian corporate consultant and coach and facilitates workshops and training sessions for a corporate audience. Gair Maxwell is an expert keynote presenter and speaks on wide variety of topics. Hiring a great speaker for your event is important and working with a thought leader like Gair Maxwell from Speakers Canada's roster will engage audiences into the content of the presentation to bring awareness and a fresh perspective for their approach to their work and their lives. Book Gair Maxwell to educate, motivate and activate the audience through an interactive and entertaining presentation at corporate meetings and gatherings.
Known as a popular key note speaker in Canada, Gair Maxwell creates life changing experiences for the participants with practical insights and strategic advice they can implement right after the session. Working with a one our leading expert speaker like Gair Maxwell from Calgary, Alberta offers organizations a fresh perspective to assist the people of the organization. No matter if it is a government, association, or business crowd, Gair Maxwell is a perfect speaker for your event. Through unique practical insights for trending topics and years experience speaking to different organizations, Gair Maxwell focuses on changing individuals to make better decisions at work and their lives. No matter if you are holding an in person or virtual event, having an influential speaker such as Gair Maxwell will engage, motivate, and activate the audience to make a change in their lives and inspire action for results to meet organizational goals. Your workforce will benefit from Gair Maxwell's presentations and speeches, with measurable results set to shift the people of the organization and core direction of the company. Book Gair Maxwell speaker for your annual general meeting, conference, summit, or convention in Canada.
How much does it cost to hire Gair Maxwell for a keynote presentation or virtual event?
Gair Maxwell is an expert professional key note speaker with a lot of experience speaking and delivering engaging talks to organizations and audiences in Canada. Each of Speaker Bureau Canada's talent have different ways to assess their fees, and Gair Maxwell speaker fee ranges depending on the size of the audience, event format (in person or virtual), event location, and if the organization booking them is a non profit, association, government department/government agency or business/corporation. The speakers we work with are flexible with their fees, and it is important for us to learn more about your event before we approach them, as it is our role to work for you, and to help you find a speaker within budget. 
Please contact Speakers Bureau of Canada and provide us with your event details so that we can contact Gair Maxwell to check availability or confirm the pricing and associated costs to hire a great speaker like Gair Maxwell for your event. As Gair Maxwell's agent and as a Canadian top speaker bureau and talent agency for speakers, we are able to propose each event opportunity from each host organization's behalf to try to help you get in touch with Gair Maxwell and confirm them for your in person or online meeting/event. We can also provide and advise on the booking process and potentially negotiate their fee. Speakers Canada is a client focused speaker agency, and we work for you in finding good speakers for your team meetings and booking processes.
Gair Maxwell Disclaimer
Speakers Bureau Canada assists companies and event planning teams seeking to hire talent like

Gair Maxwell

for speaking engagements, virtual meetings, conference appearances, training sessions and workshops facilitations. Our Canadian speakers bureau does not claim to exclusively represent

Gair Maxwell

, however they are represented by Speakers Canada, and we work with them closely for their Canadian speaking opportunities and bookings. As Canada's top speaker bureau, we represent Canadian motivational keynote speakers and professional guest speakers that will be available on your upcoming events date and location that are withing the budget. Our talented bureau speaker booking agency can help find business speakers or celebrity speakers that aligns with each organization, audience, event theme and the topic themes you hope for the speaker to address in their presentation. 
When SBC receives a request to book Gair Maxwell we provide you with their speaker fees, travel costs and check their schedules. We work closely with the host organization's event planning team and the speaker to handle the logistics and to relay or negotiate associated costs. Our talented team members then will work with our talent directly or their agent/manager/assistant to confirm the Canadian speaker fee and travel expenses, so that event planning teams can receive an official quote for the speaker appearing at the event. Speaker fees and travel costs vary per speaker and our role is to contact Gair Maxwell about your event, after we have connected with the event organizers to learn all the event details and/or conference program. Each booking request is unique since session durations and audience sizes can vary which may affect the speaker's fees. If you are looking to hire Gair Maxwell, we recommend filling out the booking request form so a booking agent from Speakers Bureau Canada can get in touch with our talent to help you coordinate with your team to engage the speaker for a successful event.