Leadership, Change, Workplace Culture & Work Life Balance Expert
Meg Soper is a Leadership, Change, Workplace Culture & Work-Life Balance Expert. An author & motivational humorist who works throughout North America inspiring audiences by sharing insights and ideas for self-improvement, healthy living, and using humour to melt stress and strengthen relationships. Over the past 2 decades, Meg Soper has worked as a healthcare professional, comedienne, and keynote speaker and raised a family. Soper has taken the life lessons learned while travelling this unique path to become an incredible motivator and life balance coach.
Communications
Peak Performance
Associations & Unions
Campus & University Speakers
Certified Speakers
Corporate Audience
Corporate Entertainers
Corporations & Businesses
Funny & Comedy
Government Departments & Agencies
MEG SOPER BIOGRAPHY
Meg Soper currently works full time as a Motivational Humorist and speaks to healthcare, educational, governmental and corporate audiences throughout North America. She was active as a staff nurse in the Operating Room at Oakville Trafalgar Hospital in Ontario Canada from 1990 until December 2015, which gives her a front-line perspective of the challenges that people in the healthcare profession face daily, including dealing with different personalities, the challenges posed by shifting workplace demographics, managing conflict, and leading a more balanced and healthy life through proper nutrition and exercise.
Meg Soper possesses education, experience, and practical knowledge on the following Strategies for managing stress and leading a healthy, mindful, and more balanced life. Interactive, fun filled, multi-media presentations that explore the challenges posed working with the different generations and different personality styles that lead to improved teamwork and corporate culture.
In 2017, Meg Soper completed the Personality Dimensions workshop and became a Certified Everything DiSC Trainer. The certification enables Meg to help organizations learn more about creating healthy positive workplace environments.
In 1999, together with close friend Ann Morrison, Meg Soper co-founded Comic Vision, an annual national six city comedy tour that raises funds and awareness for the Foundation Fighting Blindness.
The idea was inspired by Ann's son who was diagnosed with Retinitis Pigmentosa, a degenerative disease of the retina. Some of Canada's top performing comedians gather in cities across the country to bring laughter to audiences and raise funds to support research in hopes of developing a cure for eye disease. Comic Vision has raised over 7 million dollars and is evidence that humor can make a difference.
Meg Soper can motivate the room! Over the past 2 decades Meg Soper has worked as a healthcare professional, comedienne, keynote speaker and raised a family. Soper has taken the life lessons learned while travelling this unique path to become an incredible motivator and life balance coach. Meg combines her remarkable sense of humour with her unique perspective on life to captivate her audience and provide them with a presentation filled with inspiration and entertainment.
A combination of stand-up and motivational presentation. Meg Soper's twist on life provides her motivational life balance presentation with a perspective only a stand-up comic could possibly deliver. This presentation takes you through the stresses of everyday life and sheds a humorous light on it. Whether you are faced with stress in the workplace or the inevitable obstacles of daily living, Meg Soper offers a refreshing perspective. You will leave in stitches, armed with a number of strategies to enhance your life experience and maintain a sense of balance.
Meg Soper's virtual sessions are delivered from her professionally equipped home studio. She has invested in the latest lighting, sound and video equipment to offer an interactive and multi-media experience for her audience, using the latest streaming hardware technology to control and manage all aspects of the broadcast. Meg Soper strives to offer the best possible experience starting with careful pre-planning and technical checks to ensure a seamless experience for her audience.
Meg Soper

Topic Presentations
laughter makes us stronger
Virtual Presentation

Keynote Presentation

Workshop Session

Half Day Training

Full Day Training

Meg's experience in stand-up comedy and in the hospital operating room – shines through in this humorous exploration of life in these very interesting times. She offers a humor-filled look at the serious issue of stress in our lives, encouraging us to reframe, refocus and stay on course even when our well laid plans get tossed into upheaval.

Meg's message will speak to everyone in the room- whether they are just launching their career, they are leading the organization through times of major change or are just looking for some laughter therapy! Her insights on using humor and self-awareness as tools for bolstering resilience will demonstrate how small changes in routine can make a big difference in our lives.
the secret sauce - thriving in times of change
Virtual Presentation

Keynote Presentation

Workshop Session

Half Day Training

Full Day Training

Meg explores ideas about navigating change and dealing with life's ever-present stresses, emphasizing the important role that humor and communication style play in helping us perform at our best. She delves into the topic of emotional intelligence by offering insights on how our brain's default response wiring can hijack our thoughts and perceptions – making us less than our best in our interactions with others.

This presentation will entertain, inspire and leave audience members with ideas to help realize improvements in health, self-awareness and relationships at work and at home.
work-life balance? you've got to be kidding!
Virtual Presentation

Keynote Presentation

Workshop Session

Half Day Training

Full Day Training

Meg has developed this presentation recognizing the challenges facing organizations who must evolve and adapt in an environment of constant change. Meg shares ideas and best practices that she has adopted using her 'Key Elements of Life' model to demonstrate how the choices we make about nutrition, exercise and sleep all play a vital role in helping us build our resilience and maintain a positive mindset.

Meg will also delve into the subject of emotional intelligence and explore how our emotions, and our response patterns in the face of stress can serve to make us less effective than we might otherwise be in our daily interactions with others.
wait what? a positive workplace culture? let's do this!
Virtual Presentation

Keynote Presentation

Workshop Session

Half Day Training

Full Day Training

Meg has developed this presentation recognizing the challenges facing organizations and their employees as they are called upon to manage the complex interpersonal dynamics of a multi-generational workplace.

Meg will offer an exploration of generational differences – from Traditionalists to Boomers…Gen 'X' to Millennials and Gen Z– to demonstrate the impact of shifting workplace demographics, enhance awareness and help us communicate more effectively.
better together - personality styles in the workplace
Virtual Presentation

Keynote Presentation

Workshop Session

Half Day Training

Full Day Training

This highly interactive session will create awareness about different personality styles based on the DiSC model of human behavior and explore how these styles influence people's behavior. The goal is to create self-awareness among participants to help them understand the sources of conflict, and strategies for collaboration that can be applied in our personal and professional lives.
Thank you so much for bringing your energy to our team!  I have received so many positive comments from yesterday and found out this morning that one of the participants went back to work and shared with one of his colleagues that the session was excellent.  Many have said that the morning was exactly what they needed…even though they were a quiet group J!  Thank you as well for the handouts.  We will share them with the participants and I also shared a link to your newsletter with them yesterday. It was fantastic to work with you and I look forward to crossing paths again in the future.
City of Saskatoon
The conference was a huge success and I have to say Meg's "fantastic" presentation was regarded as the best session of the conference by our delegates. The feedback we have received was tremendous. She was an absolute pleasure to work with and not only a true professional but hilarious as well. I would highly recommend Meg for any event.
Medavie Blue Cross
Thank you for your keynote presentation at our recent conference. You kicked it off with humour and content that truly altered the mood and formed the basis of the success we met there. I particularly liked your accurate observations about the workforce and the generational differences. The humor to inspiration ratio was perfect. Your investigation of your audience made a big difference. I received much feedback since, and there was not a "meh" among them. Positive and glowing comment were all I heard. I have been doing this for many years and I have not felt this way about our keynote. Our exhibitors are mostly individuals that are hard to please, but I've never heard...
Conference Chai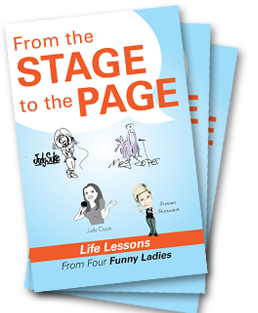 From The Stage To The Page
In this book, Meg joins forces with three other women to capture their passion for life and their use of humor to make a difference in people's lives.
How to book Meg Soper for an event?
Meg Soper keynote speaker is an expert presenter and has a wide range of experience speaking to a wide variety of audiences and organizations. Meg Soper delivers keynotes, workshops & training sessions. They may also host or emcee events. Hire Meg Soper from Toronto, Ontario for your event to inspire the audience to take action and make change in their work and their lives. Your workplace will benefit from our keynote speaker and their keynote talks and speeches will shift the mindsets or behaviours for the audience members in Canada. 
Interested in booking Meg Soper for an event?
Are you looking to hire Meg Soper for your event? Meg Soper Toronto, Ontario is a dynamic and engaging speaker that offers audiences researched content paired with expertise and a dynamic speaking ability. Meg Soper is also a Canadian corporate consultant and coach and facilitates workshops and training sessions for a corporate audience. Meg Soper is an expert keynote presenter and speaks on wide variety of topics. Hiring a great speaker for your event is important and working with a thought leader like Meg Soper from Speakers Canada's roster will engage audiences into the content of the presentation to bring awareness and a fresh perspective for their approach to their work and their lives. Book Meg Soper to educate, motivate and activate the audience through an interactive and entertaining presentation at corporate meetings and gatherings.
Known as a popular key note speaker in Canada, Meg Soper creates life changing experiences for the participants with practical insights and strategic advice they can implement right after the session. Working with a one our leading expert speaker like Meg Soper from Toronto, Ontario offers organizations a fresh perspective to assist the people of the organization. No matter if it is a government, association, or business crowd, Meg Soper is a perfect speaker for your event. Through unique practical insights for trending topics and years experience speaking to different organizations, Meg Soper focuses on changing individuals to make better decisions at work and their lives. No matter if you are holding an in person or virtual event, having an influential speaker such as Meg Soper will engage, motivate, and activate the audience to make a change in their lives and inspire action for results to meet organizational goals. Your workforce will benefit from Meg Soper's presentations and speeches, with measurable results set to shift the people of the organization and core direction of the company. Book Meg Soper speaker for your annual general meeting, conference, summit, or convention in Canada.
How much does it cost to hire Meg Soper for a keynote presentation or virtual event?
Meg Soper is an expert professional key note speaker with a lot of experience speaking and delivering engaging talks to organizations and audiences in Canada. Each of Speaker Bureau Canada's talent have different ways to assess their fees, and Meg Soper speaker fee ranges depending on the size of the audience, event format (in person or virtual), event location, and if the organization booking them is a non profit, association, government department/government agency or business/corporation. The speakers we work with are flexible with their fees, and it is important for us to learn more about your event before we approach them, as it is our role to work for you, and to help you find a speaker within budget. 
Please contact Speakers Bureau of Canada and provide us with your event details so that we can contact Meg Soper to check availability or confirm the pricing and associated costs to hire a great speaker like Meg Soper for your event. As Meg Soper's agent and as a Canadian top speaker bureau and talent agency for speakers, we are able to propose each event opportunity from each host organization's behalf to try to help you get in touch with Meg Soper and confirm them for your in person or online meeting/event. We can also provide and advise on the booking process and potentially negotiate their fee. Speakers Canada is a client focused speaker agency, and we work for you in finding good speakers for your team meetings and booking processes.
Meg Soper Disclaimer
Speakers Bureau Canada assists companies and event planning teams seeking to hire talent like

Meg Soper

for speaking engagements, virtual meetings, conference appearances, training sessions and workshops facilitations. Our Canadian speakers bureau does not claim to exclusively represent

Meg Soper

, however they are represented by Speakers Canada, and we work with them closely for their Canadian speaking opportunities and bookings. As Canada's top speaker bureau, we represent Canadian motivational keynote speakers and professional guest speakers that will be available on your upcoming events date and location that are withing the budget. Our talented bureau speaker booking agency can help find business speakers or celebrity speakers that aligns with each organization, audience, event theme and the topic themes you hope for the speaker to address in their presentation. 
When SBC receives a request to book Meg Soper we provide you with their speaker fees, travel costs and check their schedules. We work closely with the host organization's event planning team and the speaker to handle the logistics and to relay or negotiate associated costs. Our talented team members then will work with our talent directly or their agent/manager/assistant to confirm the Canadian speaker fee and travel expenses, so that event planning teams can receive an official quote for the speaker appearing at the event. Speaker fees and travel costs vary per speaker and our role is to contact Meg Soper about your event, after we have connected with the event organizers to learn all the event details and/or conference program. Each booking request is unique since session durations and audience sizes can vary which may affect the speaker's fees. If you are looking to hire Meg Soper, we recommend filling out the booking request form so a booking agent from Speakers Bureau Canada can get in touch with our talent to help you coordinate with your team to engage the speaker for a successful event.