Workplace Relationships, How to PLAY NICE in the Sandbox, Conflict Resolution Expert, Trainer,Author
Penny Tremblay is an expert on human resources issues including building solid relationships, conflict resolution & workplace respect & relationships. Penny Tremblay inspires the audience while boosting their confidence to be more productive, restore damaged relationships, and improve communication with her captivating style & authenticity.
Change Management
Communications
Diversity & Inclusion
Employee Management
Health & Wellness
Leadership
Mental Health
Peak Performance
Business Management
Conference
Education & Teachers
Event Hosts & Moderators
Finance & Insurance
Healthcare
Inspirational
Lifestyle & Health
Managing remote employees
PENNY TREMBLAY BIOGRAPHY
Penny Tremblay helps people learn to play nice in the sandbox…and when they don't, she helps them fix broken relationships.
As we approach 2021, it is more important than ever for workplaces to inspire collaborative teamwork. Moving through conflict to cooperation fosters more productivity and profit. Engaging and retaining top talent is a significant investment. People rarely quit jobs; they leave managers or toxic cultures for something healthier.
Penny Tremblay had been teaching audience members and participants practical ready to use skills while boosting their confidence to be more productive, restore damaged relationships, improve communication and develop strong leaders for over 20 years. Penny Tremblay's advanced mediation certificate from Harvard, combined with years of conflict resolution facilitation, brings stories, experiences and guidance to enhance learning and shift minds.
Penny Tremblay is passionate about helping individuals and organizations succeed. Her unique approach leaves a strong impact on the audience member as her highly interactive and contains the right mix of 'edutainment' which inspires better human relations, self growth and commitment to one's work for performance and team synergy. Her captivating style is authentic and swings like a pendulum from the depths of human emotion to hilarious. Audiences are taken on an unforgettable journey of possibility, realizing the value of relationships, and how the one we have with ourselves is foundational to our relationship with others.
Penny Tremblay can deliver keynotes, workshops and training sessions. She enjoys taking a deeper dive into each organization, event and industry to customize her presentations for each client. She looks at each event as a chance to shift mindsets; with relevant tools to approach difficult conversations, negotiate win/win outcomes, build rapport and improve relationships immediately.
Tremblay lives in Northern Ontario and enjoys outdoor activities. Penny Tremblay travels regularly to serve clients across the vast province of Ontario. She has a big heart for First Nation communities and the Indigenous peoples that face a variety of challenges and requires assistance to promote stronger collaboration with neighbouring communities and municipalities for equal treatment and access to social programming.
Penny Tremblay

Topic Presentations
increase your sandbox factor - maximize performance with productive, peaceful and profitable relationships
Virtual Presentation

Keynote Presentation

Workshop Session

Half Day Training

Full Day Training

Suitable for all audiences including managers and senior leaders, these keynotes and workshops offer current trends and techniques for dealing with our most essential assets … our people!  Not usually taught in technical education, people skills and conflict resolution, when mastered help team members gain promotions, lead harmonious and profitable teams and engage long-term clients. Increase your 'Sandbox Factor'

Maximize performance with peaceful, productive and profitable relationships

Workplace conflict will always arise, but the financial burden is avoidable.  Retain employees and clients long-term with the PLAY NICE approach, especially when the going gets touched.

Understand conflict: why we're attached to it, why we fear it and when to embrace it
Lead yourself first, then others
Navigate through challenging times and complex behaviour

Years of corporate training and conflict resolution combined with mediation studies at Harvard bring real life stories and examples to inspire listeners to want to move through conflict to peace.
what's in your suitcase? - unpack your authentic self
Virtual Presentation

Keynote Presentation

Workshop Session

Half Day Training

Full Day Training

Audiences are inspired to take responsibility for their presence, performance and inner peace for best practices in workplaces and beyond.  The playful and hilarious suitcase metaphor invites us to take a personal inventory of what's worth keeping and what unresolved issues need to be unpacked or let go.

Discover what's in your suitcase
Why you're so attached to it
How to detach, unpack your authentic self and find peace

Penny Tremblay delivery style is captivating, raw and honest with stories, examples and research about how resolving conflict from the inside out leaves very little for others to get entangled with.  Unforgettable with actionable tools and advice, this transformational piece fuels positive and lasting change.
give and be rich in workplace relationships -tapping the human side of business
Virtual Presentation

Keynote Presentation

Workshop Session

Half Day Training

Full Day Training

Workplace and business culture rooted in human connection is more challenging than ever in this digital era.  Add physical distancing and remote work teams to that and you've got a great reason to be giving and receiving more. In our multi-diverse workforce, strategies to leverage the power of human connection, inclusion and strong relationships that are in alignment with corporate purpose engage both employees and clients.

Give and Be Rich in Workplace Relationships

Giving Simply to Give
Being Open to Receive
Tapping the Circle of Abundant Business Relationships

Penny Tremblay message is backed by her best-selling book, Give and Be Rich, which invites us to look deeper into our own authentic inventory and find more within to give.  Giving is the new sexy.  Giving is where we become rich in self-worth, confidence, humility, respect, love, social grace and all of the currencies of life.  Her dynamic stage presence and message delivery are entertaining, interactive and memorable.  There is laughter and depth to inspire long lasting change in perspective, service, attitude and gratitude.
play nice, winning in the new workplace sandbox
Virtual Presentation

Keynote Presentation

Workshop Session

Half Day Training

Full Day Training

THE ENTIRE TEAM WILL BENEFIT FROM THIS EIGHT-STEP PLAYFUL APPROACH TO THE PROHIBITIVE PROBLEM OF TEAM CONFLICT.

Inspire participants to:

Lead themselves by taking responsibility for their career success
Understand conflict resolution, performance and productivity from the inside out
Lead others with best practices for respectful communication and positive influence
managing in the new workplace sandbox - relationships and conflict management
Virtual Presentation

Keynote Presentation

Workshop Session

Half Day Training

Full Day Training

Workplace conflict left unresolved festers has a huge cost and is avoidable.

When leaders have the skills to prevent problematic interactions, delegate, coach and provide feedback along the way, staff thrive.

When issues arise and are confronted promptly teams become more engaged and productive.

For Managers, Supervisors and the Entire Leadership Team, this program provides tools to build trust and engagement to influence people to want to perform well.

Manage Relationships for High Performance:

Provide feedback, coach employees, delegate effectively and build relationships of trust
Manage Conflict for Peace, Productivity and Profit
Confront, resolve or mediate issues as they arise within the team, and follow through on commitments made
play nice for mental health and wellness - a playful approach to resilience, health and wellness
Virtual Presentation

Keynote Presentation

Workshop Session

Half Day Training

Full Day Training
workplace mediation & restoration - how professionals navigate conflict, mediate and restore peace at work
Virtual Presentation

Keynote Presentation

Workshop Session

Half Day Training

Full Day Training

Most professionals weren't taught how to talk about conflict, disagree or even negotiate their way of working through conflict.

When staff embrace conflict as an opportunity for change and growth, accept friction as part of their learning journey and use the tools learned in Navigating Conflict and Mediation and Workplace Restoration Techniques, an entire culture can shift, and so can the personal lives of everyone involved.
from powerless to powerful - 7 steps to becoming more influential at leading yourself and others
Virtual Presentation

Keynote Presentation

Workshop Session

Half Day Training

Full Day Training

What if you could have more power in half an hour? That's a bit more than the time it will take you to read this, and you'll have it for life. What an investment!

WHEN WE'RE POWERLESS, IT MEANS WE HAVE LESS POWER THAN WE'RE CAPABLE OF HAVING. THE FOLLOWING 7 STEPS WILL HELP YOU BECOME MORE INFLUENTIAL IN LEADING YOURSELF AND OTHERS.

Take Responsibility
Stop Avoiding Critical Conversations
Claim What's Yours
Learn to Say 'No'
Set Boundaries
Let Go
Embrace Agitation
5 biggest mistakes leaders make when conflict surfaces that costs billions in lost time, productivity, and retention and how you can avoid them
Virtual Presentation

Keynote Presentation

Workshop Session

Half Day Training

Full Day Training

There are many mistakes leaders should avoid when dealing with workplace conflict.

When I ask leaders to be honest about how they have contributed to their team's conflict, they most often say that they should have dealt with it sooner. The conflict left unresolved festers and expands into something much larger and becomes more complex to resolve. The best time to resolve conflict is now! Like a fire that requires immediate attention to contain and suppress, managing conflict as soon as it comes to a manager's attention will prevent it from escalating to unnecessary suffering for all involved. The challenge is that many managers don't know how to intervene, or where to seek help.

Trying to resolve issues without all the parties is not likely to produce a good outcome. Oftentimes, a manager feels obligated to hear the complaints of one team member about their colleague and then go to that colleague to somehow convey and convince change. It rarely ever works because the manager ends up bouncing back and forth between the two (or more) parties trying to find common ground, but the reality is that you can't solve a set of circumstances on behalf of other people. You can't do their talking for them, and you can't do their listening, so the entire endeavour ends up being a "he said/she said" game.

If an employee goes to their supervisor and is unsatisfied with the response, they communicate up the chain. This makes sense if the employee can't get a resolution, however, how the team member up the chain entertains the complaint is very important to maintain the structure of the organization, and not undermine the authority of the supervisor. For example, Sally copies her supervisor's manager in an email about a complaint or goes completely around her supervisor to the manager. The manager should ensure that the supervisor is involved in resolving the issue or else they're undermining the authority and integrity of the organizational structure.

Accommodating people to work apart is a big mistake over time. I've seen many crooked lines on the org chart to accommodate people who can't get along with their bosses and it is always fertile grounds for conflict. I've also seen colleagues separated physically or across departments to avoid conflict and it isn't the best solution. What is best, is that people seek to understand each other and come to a workable solution, not a 'special arrangement' that keeps them from working together when everyone else around them is expected to get along.

GET EMOTIONALLY ENTANGLED

One of the most common, awkward, and difficult situations is managing or supervising 'friends'. This is common because people get promoted from within, which is a smart way to retain and promote employees who have great corporate knowledge. The challenge is that they used to be 'friends' with the team that they now need to have a different relationship. Confiding with team members that you manage is also a common entanglement that makes managing difficult. I know that 'it's lonely at the top' but a good mastermind or network of professionals in similar positions is a safe way to connect and share the challenges of being a leader.
I am in my 33rd year with the school board and have listened to what seems like hundreds of speakers. I'd say that you're are one of the best we've had.
Captivating, from beginning to end. I was thoroughly engaged. My mind often wanders, but Penny Tremblay was able to keep me and everyone else focused and entertained. After her visit, I felt motivated, enthusiastic, happy, and inspired. I was impressed and felt like I had just walked out of a TED Talk
Our team arrived this morning energized and lighter. They can't stop talking about how great the session was and how much they learned about themselves.
Penny Tremblay simply rocked the stage! She was energetic, fun and motivating, very open to share her knowledge with us about Leadership. In the past, I've attended a couple of different Leadership conferences and workshops, and thus far, she's the best facilitator I've ever had in the field of Leadership. She has become an inspiration for me.
Penny Tremblay is a very interactive speaker. Her ability to engage the audience is second-to-none!
ABSOLUTELY PHENOMENAL SPEAKER. VERY MOTIVATIONAL AND INFORMATIVE. MATERIAL COVERED WAS VERY USEFUL.
SIR SANDFORD FLEMING COLLEGE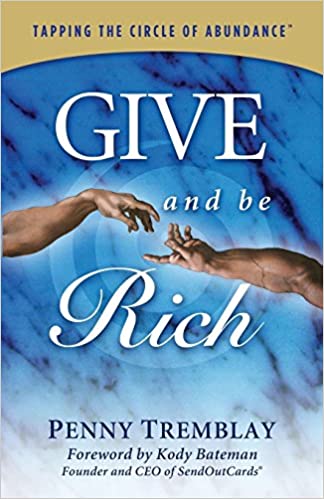 Give and Be Rich
Give and Be Rich
How to book Penny Tremblay for an event?
Penny Tremblay keynote speaker is an expert presenter and has a wide range of experience speaking to a wide variety of audiences and organizations. Penny Tremblay delivers keynotes, workshops & training sessions. They may also host or emcee events. Hire Penny Tremblay from North Bay, Ontario for your event to inspire the audience to take action and make change in their work and their lives. Your workplace will benefit from our keynote speaker and their keynote talks and speeches will shift the mindsets or behaviours for the audience members in Canada. 
Interested in booking Penny Tremblay for an event?
Are you looking to hire Penny Tremblay for your event? Penny Tremblay North Bay, Ontario is a dynamic and engaging speaker that offers audiences researched content paired with expertise and a dynamic speaking ability. Penny Tremblay is also a Canadian corporate consultant and coach and facilitates workshops and training sessions for a corporate audience. Penny Tremblay is an expert keynote presenter and speaks on wide variety of topics. Hiring a great speaker for your event is important and working with a thought leader like Penny Tremblay from Speakers Canada's roster will engage audiences into the content of the presentation to bring awareness and a fresh perspective for their approach to their work and their lives. Book Penny Tremblay to educate, motivate and activate the audience through an interactive and entertaining presentation at corporate meetings and gatherings.
Known as a popular key note speaker in Canada, Penny Tremblay creates life changing experiences for the participants with practical insights and strategic advice they can implement right after the session. Working with a one our leading expert speaker like Penny Tremblay from North Bay, Ontario offers organizations a fresh perspective to assist the people of the organization. No matter if it is a government, association, or business crowd, Penny Tremblay is a perfect speaker for your event. Through unique practical insights for trending topics and years experience speaking to different organizations, Penny Tremblay focuses on changing individuals to make better decisions at work and their lives. No matter if you are holding an in person or virtual event, having an influential speaker such as Penny Tremblay will engage, motivate, and activate the audience to make a change in their lives and inspire action for results to meet organizational goals. Your workforce will benefit from Penny Tremblay's presentations and speeches, with measurable results set to shift the people of the organization and core direction of the company. Book Penny Tremblay speaker for your annual general meeting, conference, summit, or convention in Canada.
How much does it cost to hire Penny Tremblay for a keynote presentation or virtual event?
Penny Tremblay is an expert professional key note speaker with a lot of experience speaking and delivering engaging talks to organizations and audiences in Canada. Each of Speaker Bureau Canada's talent have different ways to assess their fees, and Penny Tremblay speaker fee ranges depending on the size of the audience, event format (in person or virtual), event location, and if the organization booking them is a non profit, association, government department/government agency or business/corporation. The speakers we work with are flexible with their fees, and it is important for us to learn more about your event before we approach them, as it is our role to work for you, and to help you find a speaker within budget. 
Please contact Speakers Bureau of Canada and provide us with your event details so that we can contact Penny Tremblay to check availability or confirm the pricing and associated costs to hire a great speaker like Penny Tremblay for your event. As Penny Tremblay's agent and as a Canadian top speaker bureau and talent agency for speakers, we are able to propose each event opportunity from each host organization's behalf to try to help you get in touch with Penny Tremblay and confirm them for your in person or online meeting/event. We can also provide and advise on the booking process and potentially negotiate their fee. Speakers Canada is a client focused speaker agency, and we work for you in finding good speakers for your team meetings and booking processes.
Penny Tremblay Disclaimer
Speakers Bureau Canada assists companies and event planning teams seeking to hire talent like

Penny Tremblay

for speaking engagements, virtual meetings, conference appearances, training sessions and workshops facilitations. Our Canadian speakers bureau does not claim to exclusively represent

Penny Tremblay

, however they are represented by Speakers Canada, and we work with them closely for their Canadian speaking opportunities and bookings. As Canada's top speaker bureau, we represent Canadian motivational keynote speakers and professional guest speakers that will be available on your upcoming events date and location that are withing the budget. Our talented bureau speaker booking agency can help find business speakers or celebrity speakers that aligns with each organization, audience, event theme and the topic themes you hope for the speaker to address in their presentation. 
When SBC receives a request to book Penny Tremblay we provide you with their speaker fees, travel costs and check their schedules. We work closely with the host organization's event planning team and the speaker to handle the logistics and to relay or negotiate associated costs. Our talented team members then will work with our talent directly or their agent/manager/assistant to confirm the Canadian speaker fee and travel expenses, so that event planning teams can receive an official quote for the speaker appearing at the event. Speaker fees and travel costs vary per speaker and our role is to contact Penny Tremblay about your event, after we have connected with the event organizers to learn all the event details and/or conference program. Each booking request is unique since session durations and audience sizes can vary which may affect the speaker's fees. If you are looking to hire Penny Tremblay, we recommend filling out the booking request form so a booking agent from Speakers Bureau Canada can get in touch with our talent to help you coordinate with your team to engage the speaker for a successful event.