Vancouver, British Columbia
Award-Winning Producer l Director l #1 Best-Selling Author
Adera is a Co-Founder of a video company igniting brand empowerment and inspiring action through storytelling since 2011. Working with over 1000+ Businesses, Corporations and Nonprofits her team has mastered the art of crafting engaging visual narratives, strategic marketing campaigns and unforgettable live experiences that engage audiences. If your group wants to radiate confidence, have unwavering clarity in their story and learn how video can propel them to new heights - then book Adera for your next conference.
Leadership
Personal Growth
Women's Leadership
Business Growth
Business Management
Business Technology
Board Meetings & Strategic Advisory
Community Engagement Events
Conference
Conferences & Summits
Consultant & Coach
Corporations & Businesses
Executive Leadership & C-Suite
Inspirational
ADERA ANGELUCCI BIOGRAPHY
Adera Angelucci is an Award-Winning Host, Director and Producer with a Telly Award-winning creative agency dedicated to elevating impactful brands through video, marketing and promotion. Adera is also a Business Revitalise and Speaker to passionate, purpose-driven companies ready to take their businesses to the next level through transparent marketing and storytelling. 
Adera Angelucci is the Author of the best-selling memoir, "Free Spirit," a self-discovery guide to how self-love, chaotic creativity and questionable choices create leaders. Adera's areas of expertise for speaking involve empowering confidence, clarity and motivation for success and happiness, however, an audience member regards that. She presents a strategy for those who hide their talents and passions to become authentic storytellers and joyful risk-takers, confident in their abilities to build connections and ultimately move humanity forward.
Adera Angelucci is uses her unstoppable energy to reignite the purpose and passion of her audience, empowering them to show up as their truest selves—what Adera calls your No BS Being—to open doors, rise to opportunities, and cultivate impactful relationships with their clients and customers. Adera has been speaking for over 20 years with some of her biggest audiences being onboard Cruise Ships as an MC for Royal Caribbean, and lining the streets across Canada, as an MC on the Coca-Cola sponsored 2010 Olympic Torch Relay.
One of her favourite speaking gigs was alongside legendary Red Robinson for the PNE Talent Competition in Vancouver. She's built a wealth of experience working in business development, sales, marketing, promotions and event leadership in her 15+ year career in TV,  radio and video production. Working with Rogers Radio, Chum, Corus Group, Novus TV and KVOS TV. 
Adera Angelucci made her mark on television as the creator, executive producer and star of the CHEK TV show GOtoGAL and as producer and co-host of the lifestyle travel show West Coast Escapes TV and Passionpreneur TV which aired on Telus Optik VOD. She was a contributing author for the Sparkle Inspirational Handbook for Young Girls and has received multiple nominations for Business Excellence and Leadership. 
Adera Angelucci runs a podcast with her colleague, Women Leading Change, and hosts a yearly Tedx-style show called SPIRO Talks. She was also a featured Co-Author in the coffee-table book Pursuit:365 highlighting prominent businesswomen in Canada and has been a contributing author to Fresh Magazine. Adera Angelucci has training in Improvisation with the Vancouver TheatreSports League, Stand-Up with Langara College, a 200hr Yoga Teacher Training certification from Manipura Yoga College and a plethora of dance and MC training. She brings those skills to each of her talks designed for her specific audience. 
Adera Angelucci can light up any crowd with her spontaneous dance parties, vivacious energy and infectious delivery. She can speak to auto-repair mechanics, yoga instructors, and investment bankers on the same day. She is all about creating opportunities for entrepreneurs to share their stories. She loves hearing a good story and can see all the pieces that fall into place when someone expresses their WHY.
She knows that an audience (customers) connects to the story within a why, and how powerful that story can be for a business. Adera Angelucci is a mother to Brody who was born in 2021 and wife to her business partner Ryan Smith. They love to travel together and experience life to the fullest. Adera lives with A.D.D. Adventure, Determination and Desire. She specializes in speaking to passion driven folks who are ready to share what they know, fully embrace who they are and promote themselves without judgement. 
Adera Angelucci

Topic Presentations
step into your light and share your message
Virtual Presentation

Keynote Presentation

Workshop Session

Half Day Training

Full Day Training

The audience will leave knowing:

How to tap into their message and share it without fear on social media and beyond!
How to make friends with Self-Promotion so it feels authentic to who you are and what social platforms to do it on.
How to keep coming back to your "WHY" for business and create content from that space.

Other Key Takeaways:

How best to talk about your business at networking groups
Where to find ideal customers
How to attract an audience
And we can cover anything your group would like to know about Business, Video or Marketing Strategy!
find clarity and confidence to market your business with ease
Virtual Presentation

Keynote Presentation

Workshop Session

Half Day Training

Full Day Training

Finding Clarity and Confidence to Market Your Business with Ease is one of Adera's Signature Talks. Since 2018 Adera Agelucci has been working 1:1 with clients in what's called a Light Up Session to determine their brand tagline, promise statement, mission and marketing approach. This service organically grew to include group coaching and a membership where Entrepreneurs gathered weekly to get advice and 'how to' knowledge on business, video and marketing strategy to move their business forward. Adera Agelucci has taken this 1:1 and group approach and has crafted a talk that your audience will highly value.

It will be almost like you're directly working with her. She'll ask powerful questions from the stage that will reveal what lights your audience up when it comes to their business and then she'll give them tangible ways they can share that with their people.

This program is perfect for:

Entrepreneurs
women entrepreneurs
women in leadership

The audience will leave with:

How to tap into their deep soul message and share it without fear on social media!
How to Self-Promote that feels authentic to who they are and what social platforms to do it on.
How to keep coming back to their "WHY" for business and create content from that space.

Other Key Takeaways:

How best to talk about your business at networking groups
Where to find ideal customers
How to attract an audience
And we can cover anything your group would like to know about Business, Video or Marketing Strategy!
become clear, confident and engaging on camera
Virtual Presentation

Keynote Presentation

Workshop Session

Half Day Training

Full Day Training

Become Clear and Confident on Camera is an interactive event which utilizes Adera Agelucci years of experience in media and video production to empower entrepreneurs to use online video to share their message with the world. Adera's gift is making people feel at ease in front of the camera and teaching them to share their stories clearly and confidently on camera. All attendees will have the opportunity to experience it for themselves as Adera Agelucci guides them from the discovery of honing their message to crafting a script to delivering it with enthusiasm to the camera.

It's a fun-filled experience that will chase away the fear of being in front of the camera and leave everyone inspired, reinvigorated and ready to use video in their marketing. Adera Agelucci wants to keep helping beyond her signature talk and concludes by offering her a free online video training series or the opportunity to work with her directly on creating a video that boosts your sales power.

This program is perfect for:

Entrepreneurs
Women in Business
Women in Leadership

The audience will leave with:

How to easily shoot and edit video from your iPhone (video that even looks and sounds great).
How to easily talk off-script to the camera and deliver valuable content your audience will love.
A strategy to show up as their best selves when the camera is recording.

Other Key Takeaways:

How to write scripts for a series of videos fast
How to interview clients for Facebook/Instagram and how to capture some awesome testimonials!
And we can cover anything else you need to know about Business, Video or Marketing Strategy!
stop hiding, start shining (step into your light)
Virtual Presentation

Keynote Presentation

Workshop Session

Half Day Training

Full Day Training

We are being called to create NEW AGE Leaders. Leaders that are exuding an inner light, showcasing their spirit and inventing products and services for the betterment of humanity. This means we need to value people before profits, and Adera Agelucci talks about realigning your audience's values so they can make better decisions for themselves and their businesses.

The world needs their help, and they need to get out of their own way and show up as genuine, loving leaders and do the work their hearts call them to do. Work that truly matters. Adera Agelucci talk helps your audience become the highest versions of themselves while they shine their light on the world. Doing good and being well compensated is the NEW AGE Leader.

This program is perfect for:

Entrepreneurs
Women in Business
Women in Leadership

The audience will leave with:

How to reconnect with their purpose and vision and how to share it more boldly with the world.
Have zero doubt about what they are here to give the world and what they're here to do.
 Have complete confidence in their unique gifts and talents and learn ways they can share those through self-promotion.

Other Key Takeaways

How to tap into their deep soul message anytime, anywhere.
How to make decisions that are best for their business moving forward.
How to talk on social media and elsewhere that makes them feel empowered.
How to get over imposture syndrome and navigate comparing themselves to others.
And anything else your group might want to know about spiritual development, purpose and vision.
Adera Angelucci can deliver customized presentations within the following topic themes.
Adera Angelucci's presentation was highly engaging, interactive and fun! It was very informative with tools to take away. Adera's ability to help us capture an authentic self through video was really good. It was funny how she got us to make our own quick video during the zoom call. Our group is mostly self-employed, entrepreneurs and is now having to adjust and shift how they market themselves so this class was very helpful for our members to step out of the box and try something...
Nanaimo Women's Business Network
Adera Angelucci, your presentation at the Shine Live event was awesome, smart, and informative and you are hilarious. In my opinion, your presentation was the most valuable part of the entire 3 days. You draw your audience in with your natural style and storytelling, and you deliver a valuable lesson that I will use in my business directly.
Hall of Fame Speaker
Adera Angelucci has been the MC for our annual Woman Of Worth WOW Conference on two separate occasions, and each time she brings her infectious energy and excitement to the room. She gets the ladies up and dancing yet also encourages openness, vulnerability and thoughtful introspection. She's quick to go with any last minute changes or requests and keeps on schedule. If you are hosting an event where you're looking for a dynamic, fun-loving and authentic MC who inspires the crowd, look no...
Adera Angelucci, I knew that I wanted you to Emcee this event, but what you brought was so much more than I ever expected. The pictures of you on stage are so moving and inspirational and I hope that every participant enjoyed it as much as I did. YOU are a beautiful free spirit, and I love the energy that you bring! I would recommend you to anyone – not only as an Emcee but also as a Coach!
What I loved most about this program is that it really awakened the need for more in my life, and my eyes opened to the world of focused self-care and self reflection. Many people go through their day on the surface, but I felt this program really helped me to dig deeper and start working on the real me. Because of Adera Agelucci, I was able to repair a relationship with my sister and forgive myself for my past mistakes. This program combined with some personal wellness has helped me to move...
Oh, I absolutely loved our retreat weekend together! The women – the connection – the laughs – the brainstorming – hot tub – kundalini yoga. I had so much fun. It felt absolutely right. I felt supported and encouraged. The reflections and brainstorming I received led to me developing the core of my message a week after the retreat. The catalyst for this clarity was the retreat. Look, if you know Adera Agelucc i you know what a bright light she is and you know anything she puts...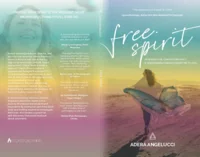 Free Spirit
Free Spirit
How to book Adera Angelucci for an event?
Adera Angelucci keynote speaker is an expert presenter and has a wide range of experience speaking to a wide variety of audiences and organizations. Adera Angelucci delivers keynotes, workshops & training sessions. They may also host or emcee events. Hire Adera Angelucci from Vancouver, British Columbia for your event to inspire the audience to take action and make change in their work and their lives. Your workplace will benefit from our keynote speaker and their keynote talks and speeches will shift the mindsets or behaviours for the audience members in Canada. 
Interested in booking Adera Angelucci for an event?
Are you looking to hire Adera Angelucci for your event? Adera Angelucci Vancouver, British Columbia is a dynamic and engaging speaker that offers audiences researched content paired with expertise and a dynamic speaking ability. Adera Angelucci is also a Canadian corporate consultant and coach and facilitates workshops and training sessions for a corporate audience. Adera Angelucci is an expert keynote presenter and speaks on wide variety of topics. Hiring a great speaker for your event is important and working with a thought leader like Adera Angelucci from Speakers Canada's roster will engage audiences into the content of the presentation to bring awareness and a fresh perspective for their approach to their work and their lives. Book Adera Angelucci to educate, motivate and activate the audience through an interactive and entertaining presentation at corporate meetings and gatherings.
Known as a popular key note speaker in Canada, Adera Angelucci creates life changing experiences for the participants with practical insights and strategic advice they can implement right after the session. Working with a one our leading expert speaker like Adera Angelucci from Vancouver, British Columbia offers organizations a fresh perspective to assist the people of the organization. No matter if it is a government, association, or business crowd, Adera Angelucci is a perfect speaker for your event. Through unique practical insights for trending topics and years experience speaking to different organizations, Adera Angelucci focuses on changing individuals to make better decisions at work and their lives. No matter if you are holding an in person or virtual event, having an influential speaker such as Adera Angelucci will engage, motivate, and activate the audience to make a change in their lives and inspire action for results to meet organizational goals. Your workforce will benefit from Adera Angelucci's presentations and speeches, with measurable results set to shift the people of the organization and core direction of the company. Book Adera Angelucci speaker for your annual general meeting, conference, summit, or convention in Canada.
How much does it cost to hire Adera Angelucci for a keynote presentation or virtual event?
Adera Angelucci is an expert professional key note speaker with a lot of experience speaking and delivering engaging talks to organizations and audiences in Canada. Each of Speaker Bureau Canada's talent have different ways to assess their fees, and Adera Angelucci speaker fee ranges depending on the size of the audience, event format (in person or virtual), event location, and if the organization booking them is a non profit, association, government department/government agency or business/corporation. The speakers we work with are flexible with their fees, and it is important for us to learn more about your event before we approach them, as it is our role to work for you, and to help you find a speaker within budget. 
Please contact Speakers Bureau of Canada and provide us with your event details so that we can contact Adera Angelucci to check availability or confirm the pricing and associated costs to hire a great speaker like Adera Angelucci for your event. As Adera Angelucci's agent and as a Canadian top speaker bureau and talent agency for speakers, we are able to propose each event opportunity from each host organization's behalf to try to help you get in touch with Adera Angelucci and confirm them for your in person or online meeting/event. We can also provide and advise on the booking process and potentially negotiate their fee. Speakers Canada is a client focused speaker agency, and we work for you in finding good speakers for your team meetings and booking processes.
Adera Angelucci Disclaimer
Speakers Bureau Canada assists companies and event planning teams seeking to hire talent like

Adera Angelucci

for speaking engagements, virtual meetings, conference appearances, training sessions and workshops facilitations. Our Canadian speakers bureau does not claim to exclusively represent

Adera Angelucci

, however they are represented by Speakers Canada, and we work with them closely for their Canadian speaking opportunities and bookings. As Canada's top speaker bureau, we represent Canadian motivational keynote speakers and professional guest speakers that will be available on your upcoming events date and location that are withing the budget. Our talented bureau speaker booking agency can help find business speakers or celebrity speakers that aligns with each organization, audience, event theme and the topic themes you hope for the speaker to address in their presentation. 
When SBC receives a request to book Adera Angelucci we provide you with their speaker fees, travel costs and check their schedules. We work closely with the host organization's event planning team and the speaker to handle the logistics and to relay or negotiate associated costs. Our talented team members then will work with our talent directly or their agent/manager/assistant to confirm the Canadian speaker fee and travel expenses, so that event planning teams can receive an official quote for the speaker appearing at the event. Speaker fees and travel costs vary per speaker and our role is to contact Adera Angelucci about your event, after we have connected with the event organizers to learn all the event details and/or conference program. Each booking request is unique since session durations and audience sizes can vary which may affect the speaker's fees. If you are looking to hire Adera Angelucci, we recommend filling out the booking request form so a booking agent from Speakers Bureau Canada can get in touch with our talent to help you coordinate with your team to engage the speaker for a successful event.