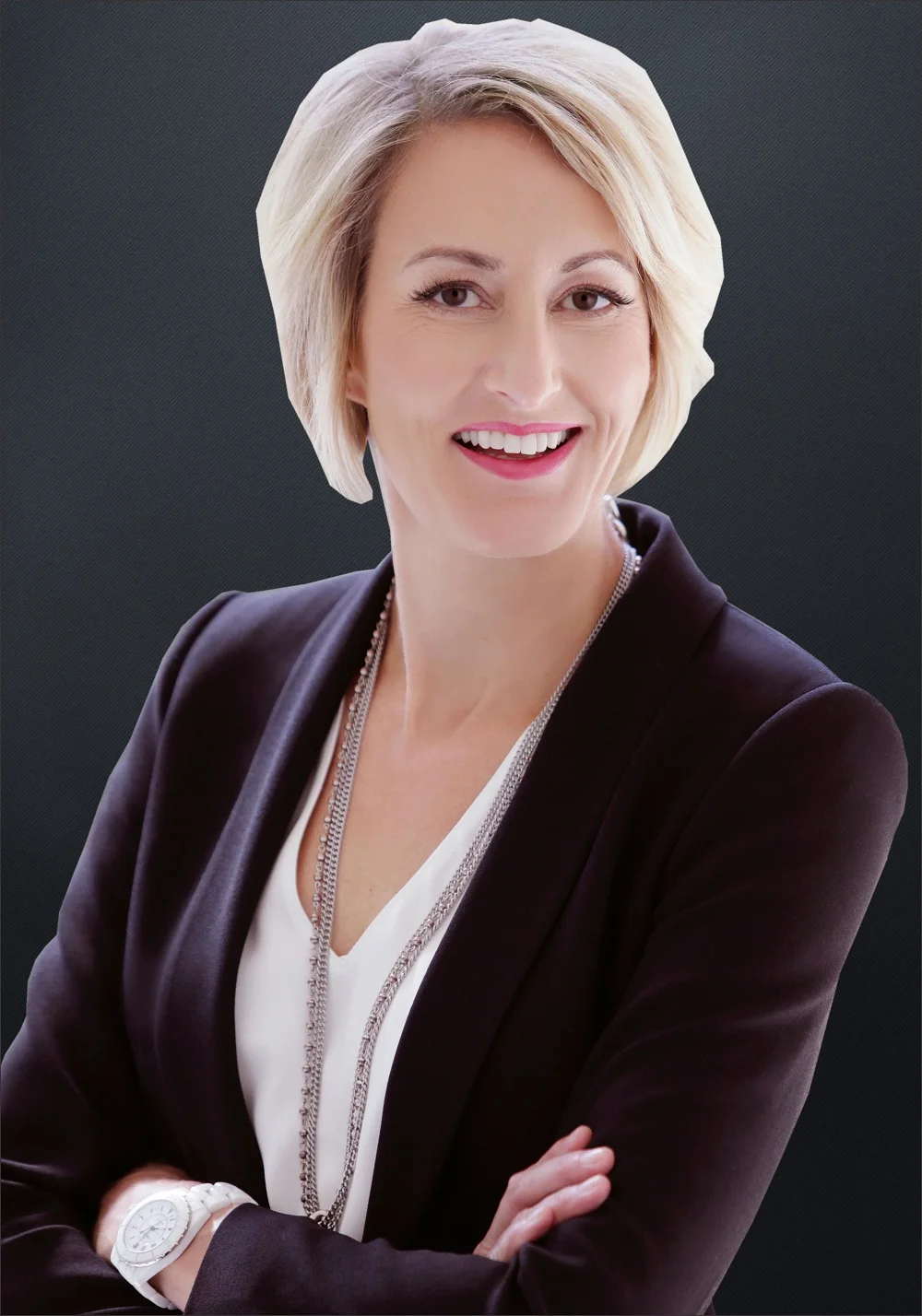 Customer Service, Sales and Business Expert
Colleen Francis is a successful sales leader and keynote speaker with over 20 years of experience who speaks on the challenges of selling in today's market. Colleen Francis is driven by a passion for sales and results and has helped countless businesses achieve dramatic increases in their sales success. She works with businesses and sales leaders to align the sales strategy of the organization with market opportunities for optimal results. She understands the complexities and challenges of selling in today's competitive market. With Colleen's guidance, businesses and sales teams can take the necessary steps to achieve their goals and drive success in today's market.
Employee Management
Peak Performance
Personal Growth
Resilience & Adversity
Business Growth
Business Management
Conference
Inspirational
Motivation
COLLEEN FRANCIS BIOGRAPHY
Colleen Francis is driven by a passion for sales – and results. A successful sales leader for over 20 years, she understands the particular challenges of selling in today's crowded and confusing market. She understands that business leaders can no longer rely on approaches to sales based on techniques from decades ago —or even last year. Colleen Francis works with business and sales leaders to synergize the sales DNA of the organization to seize market opportunities. Whether designing a strategy to target a new market or working with a team to improve its productivity, Colleen Francis' results have attracted clients such as Merck, Abbott, Merrill Lynch, Royal Bank, Dow, Adecco, Trend Micro, NCR, Chevron, and thousands of other global organizations.
Time and time again, clients who work with Colleen Francis note her frank, no-nonsense approach to accelerating sales while reducing effort and increasing profits. Colleen's practical strategies deliver immediate and lasting results. Colleen Francis is an award-winning writer and consultant and bestselling author. She has been distinguished as a Certified Sales Professional (CSP), is a past President of the Canadian Association of Professional Speakers, and is a member of the Canadian Speaking Hall of Fame. Sales and Marketing Magazine has called Colleen Francis and her company, Engage Selling, one of the top 5 most effective sales training organizations in the market today!
Rather than relying on traditional sales techniques that often fall short in today's market, Colleen Francis delivers proven strategies for immediate and lasting business results. That's why she is repeatedly called on by businesses and associations to educate and inspire their teams. To ensure her programs produce results, all include customization to meet your most pressing business needs. This unique approach ensures that audiences will be engaged and more open to learning techniques and strategies that will translate into outcomes.
Colleen Francis

Topic Presentations
creating a nonstop sales boom - putting an end to boom and bust sales cycles
Virtual Presentation

Keynote Presentation

Workshop Session

Half Day Training

Full Day Training

How many times have you come off a great month or quarter, only to find that the pipeline is woefully empty and now everyone is struggling to keep up? Worst of all, that kind of development is considered by many to be the norm: simply accepting poor performance and the stresses of up and down results as the cost of doing business. Why does this happen? Because of complacency, inconsistency, and a far too narrow view of the role of sales. Sellers need to look at their job as more than just executing the linear process of converting opportunities to sales. To create consistent results today, you must embrace a 360-degree customer engagement model.

In this action-packed keynote, Colleen Francis tosses out the traditional opportunity-conversion mindset and replaces it with a winning plan to develop the radar of your sales. She discusses why ubiquity is the best way to attract the best and brightest leads into your pipeline and how qualifying the opportunity is your responsibility as well as that of the buyer. She also covers how your best clients should be selling to your best leads and that not all clients deserve the right to grow equally.
right on the money - your best opportunity for success is right in front of you
Virtual Presentation

Keynote Presentation

Workshop Session

Half Day Training

Full Day Training

Your current accounts are your most lucrative source of additional revenue. Working more with them is the easiest way to accelerate past your sales goals. They are your biggest asset and from where you are standing right now, you are right on this money. Sadly, these current accounts are most often a neglected profit centre. All too often, companies practice Account Complacency rather than Account Management. Turning their attention, their marketing, and their resources to the exciting next new deal.

Colleen Francis' research shows that the fastest growing companies understand precisely how to manage their best accounts by focusing on customer success to profitably retain and grow their current client base. Right on the Money is rich with client examples on how to leverage your best asset. It will include cases that illustrate why clients don't want partners – they want insiders. Colleen will explain how you can sell like an insider. It will also include how to identify your sales prevention department and ensure they don't get in the way of profits. She also covers how to develop an early-warning system to spot early defection risks and prevent them from happening.
in pursuit of more - selling more in today's new economy
Virtual Presentation

Keynote Presentation

Workshop Session

Half Day Training

Full Day Training

The rules have changed in today's buying culture. The customers are different. How they buy is different. And even the economy in which you sell to them is different. Buyers have embraced these changes quickly and dramatically. They want more.

But far too many sales teams remain stuck in the past. They still use outdated tactics, such as cold calling (which now has a less than 1% success rate), canned pitches that are irrelevant to the customer, and manipulative closing tricks that do nothing but stagnate sales results. Have your selling models evolved to profit from this change? If they haven't, it's a mistake that's costing you money and customers every day.

The Pursuit of More takes you deep inside the mind of today's customer. Price sensitive, yet strapped for time. Mobile powered and yet crave personal connection. They are overwhelmed by choice and dependent on trusting others for help choose who they do business with. Discover how you can adopt a winning combination of frequency and market reach to improve your closing speed by 40% and your closing ratios by 30%. See how to use your secret salesforce to influence your buyers before they even hear from you. Explore how to nail down the fine line between persistence and stalking to give you an instant 80% increase in call-back ratios. Learn to leverage today's best sellers—the hybrid "MarSellers"—for the benefit of selling more in less time in their territory.
the magnetism of value - standout by selling value, not negotiating price
Virtual Presentation

Keynote Presentation

Workshop Session

Half Day Training

Full Day Training

In today's highly competitive marketplace, it's no longer negotiable whether you close a sale on your terms and with balanced profits. It's a requirement. Value—not price—must lead that conversation you're having with your customer. But what if your customers don't appreciate value? What if they are only focused on buying at the lowest price? Those are beliefs, not facts.

In this keynote, Colleen unlocks the myth that clients are not interested in value by reminding sellers that the only value that matters is the value that matters to the client. It's up to sellers to discover, communicate, and position what the customers values uniquely for maximum profit. Anyone can convert their sales pitch into customer value, using Colleen's model. But come prepared to hear and be persuaded by provocative, unorthodox ideas that are proven to work in today's new economy. Colleen will reveal how to close 80% of negotiations without dropping your price, how using a buying map creates urgency and improves margins, and learn why the buyer can't say "no need" if you've done your job.
the new performance culture - the end of accepting failure as the norm
Virtual Presentation

Keynote Presentation

Workshop Session

Half Day Training

Full Day Training

The new performance culture leaves no one behind. Teams must comprise members who are top performers—no one is coasting or being artificially supported. I call this 100% by 100%. In this new culture, measures are constant, feedback is immediate, and customers are involved in the process. The leader's role is to create, nurture, and leverage the success of these teams. The bar is constantly raised. The best managers succeed only when their top people are outperforming what they once achieved as team members themselves. The new performance culture is about dominance, not keeping up.

In this dynamic keynote, Colleen will show you how the best leaders accelerate performance by adopting a 100% at 100% culture as the new performance standard. She will show how to involve your customers to exceed their metric of success, implement a learn by doing development model, and leverage your best to mentor the rest.
I am 269% above my numbers from last year thanks to the concepts, actions plans and motivation.
Global Corporate Challenge
Thanks to the process we built with Colleen's insight, I have a system now that confidently delivers an 80% closing rate on new contracts.
Kinnser Software
Thank you so much for the inspirational session. I have 4 new clients in just a week's time! Hip Hip Hooray!
HelmsBriscoe
Colleen's vibrant personality lights up a room. Having done her homework on our organization prior to meeting with the group, she was able to apply her principles to relevant sales scenarios we're facing. The entire sales group is better equipped with a handful of valuable learnings to apply to our account base. What's more, we all still continue to find ourselves rehashing and applying her insights… six months later!
SupremeX
I just wanted to take a moment to thank you for the very informative and refreshing sales strategies you presented. I gained some new knowledge and was reminded of a few things I had forgotten over time. I think virtually any business could benefit from your common-sense approach to sales.
Orion Software
Colleen Francis presentation kicked off the conference and kept 130+ sales & marketing professionals entertained and enlightened. The response has been positive as the team appreciated hearing Colleen's perspective. Thank you for contributing to a very successful conference!
Hard Rock International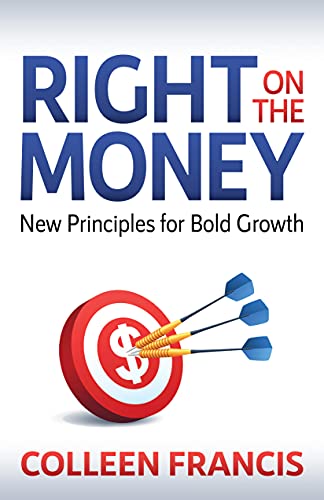 Right on the Money: New Principles for Bold Growth
Right on the Money offers a compelling blueprint to understand and win over today's buyers. It also offers a wealth of field-tested, actionable steps to excel in a marketplace far more digital, far less centralized, incredibly dynamic and much more lucrative than ever before. Colleen Francis...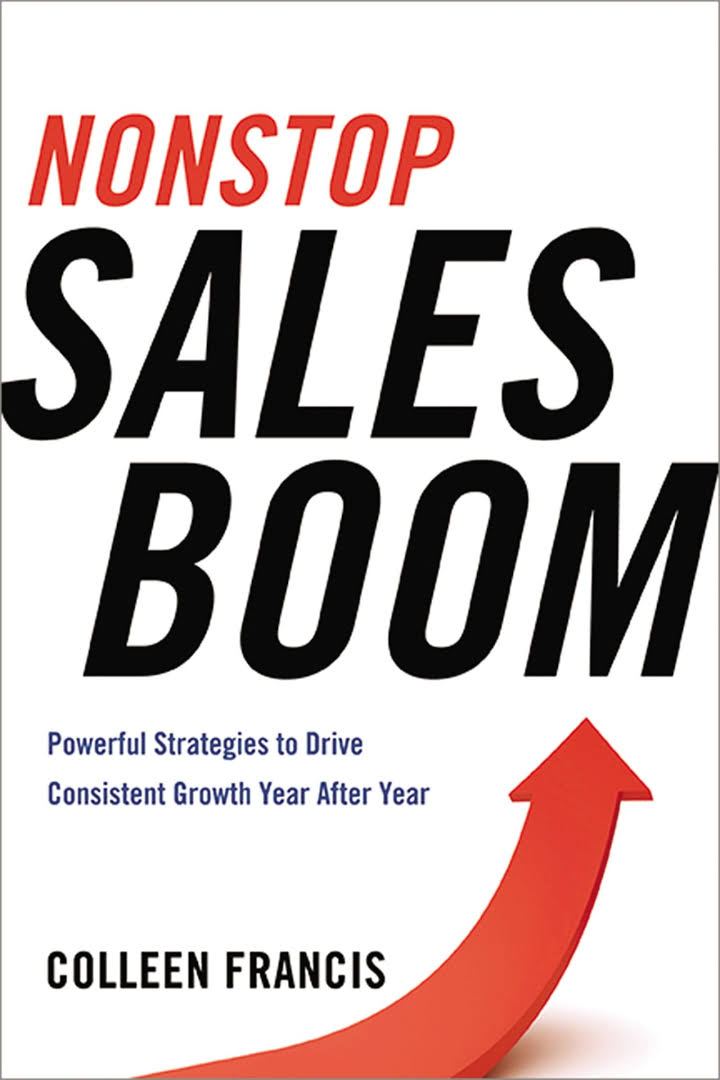 NONSTOP SALES BOOM
NONSTOP SALES BOOM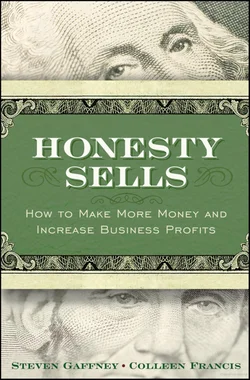 HONESTY SELLS
HONESTY SELLS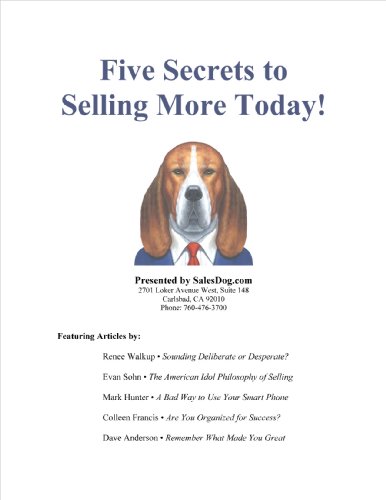 Five Secrets to Selling More Today
In a changing sales landscape it's absolutely essential to develop new selling skills. To accomplish this, you need every advantage you can get. Five Secrets to Selling More Today gives you on-target sales-boosting secrets, little advantages if you will, anyone of which can earn you big dollars.
How to book Colleen Francis for an event?
Colleen Francis keynote speaker is an expert presenter and has a wide range of experience speaking to a wide variety of audiences and organizations. Colleen Francis delivers keynotes, workshops & training sessions. They may also host or emcee events. Hire Colleen Francis from Ottawa, Ontario for your event to inspire the audience to take action and make change in their work and their lives. Your workplace will benefit from our keynote speaker and their keynote talks and speeches will shift the mindsets or behaviours for the audience members in Canada. 
Interested in booking Colleen Francis for an event?
Are you looking to hire Colleen Francis for your event? Colleen Francis Ottawa, Ontario is a dynamic and engaging speaker that offers audiences researched content paired with expertise and a dynamic speaking ability. Colleen Francis is also a Canadian corporate consultant and coach and facilitates workshops and training sessions for a corporate audience. Colleen Francis is an expert keynote presenter and speaks on wide variety of topics. Hiring a great speaker for your event is important and working with a thought leader like Colleen Francis from Speakers Canada's roster will engage audiences into the content of the presentation to bring awareness and a fresh perspective for their approach to their work and their lives. Book Colleen Francis to educate, motivate and activate the audience through an interactive and entertaining presentation at corporate meetings and gatherings.
Known as a popular key note speaker in Canada, Colleen Francis creates life changing experiences for the participants with practical insights and strategic advice they can implement right after the session. Working with a one our leading expert speaker like Colleen Francis from Ottawa, Ontario offers organizations a fresh perspective to assist the people of the organization. No matter if it is a government, association, or business crowd, Colleen Francis is a perfect speaker for your event. Through unique practical insights for trending topics and years experience speaking to different organizations, Colleen Francis focuses on changing individuals to make better decisions at work and their lives. No matter if you are holding an in person or virtual event, having an influential speaker such as Colleen Francis will engage, motivate, and activate the audience to make a change in their lives and inspire action for results to meet organizational goals. Your workforce will benefit from Colleen Francis's presentations and speeches, with measurable results set to shift the people of the organization and core direction of the company. Book Colleen Francis speaker for your annual general meeting, conference, summit, or convention in Canada.
How much does it cost to hire Colleen Francis for a keynote presentation or virtual event?
Colleen Francis is an expert professional key note speaker with a lot of experience speaking and delivering engaging talks to organizations and audiences in Canada. Each of Speaker Bureau Canada's talent have different ways to assess their fees, and Colleen Francis speaker fee ranges depending on the size of the audience, event format (in person or virtual), event location, and if the organization booking them is a non profit, association, government department/government agency or business/corporation. The speakers we work with are flexible with their fees, and it is important for us to learn more about your event before we approach them, as it is our role to work for you, and to help you find a speaker within budget. 
Please contact Speakers Bureau of Canada and provide us with your event details so that we can contact Colleen Francis to check availability or confirm the pricing and associated costs to hire a great speaker like Colleen Francis for your event. As Colleen Francis's agent and as a Canadian top speaker bureau and talent agency for speakers, we are able to propose each event opportunity from each host organization's behalf to try to help you get in touch with Colleen Francis and confirm them for your in person or online meeting/event. We can also provide and advise on the booking process and potentially negotiate their fee. Speakers Canada is a client focused speaker agency, and we work for you in finding good speakers for your team meetings and booking processes.
Colleen Francis Disclaimer
Speakers Bureau Canada assists companies and event planning teams seeking to hire talent like

Colleen Francis

for speaking engagements, virtual meetings, conference appearances, training sessions and workshops facilitations. Our Canadian speakers bureau does not claim to exclusively represent

Colleen Francis

, however they are represented by Speakers Canada, and we work with them closely for their Canadian speaking opportunities and bookings. As Canada's top speaker bureau, we represent Canadian motivational keynote speakers and professional guest speakers that will be available on your upcoming events date and location that are withing the budget. Our talented bureau speaker booking agency can help find business speakers or celebrity speakers that aligns with each organization, audience, event theme and the topic themes you hope for the speaker to address in their presentation. 
When SBC receives a request to book Colleen Francis we provide you with their speaker fees, travel costs and check their schedules. We work closely with the host organization's event planning team and the speaker to handle the logistics and to relay or negotiate associated costs. Our talented team members then will work with our talent directly or their agent/manager/assistant to confirm the Canadian speaker fee and travel expenses, so that event planning teams can receive an official quote for the speaker appearing at the event. Speaker fees and travel costs vary per speaker and our role is to contact Colleen Francis about your event, after we have connected with the event organizers to learn all the event details and/or conference program. Each booking request is unique since session durations and audience sizes can vary which may affect the speaker's fees. If you are looking to hire Colleen Francis, we recommend filling out the booking request form so a booking agent from Speakers Bureau Canada can get in touch with our talent to help you coordinate with your team to engage the speaker for a successful event.