Leadership | Employee Management | Workplace Culture | Change Specialist
Monique MacKinnon is a leadership, employee management, workplace culture & change specialist with 30+ years' experience as a speaker, consultant & coach. Monique MacKinnon provides consulting and guidance to optimize entrepreneurs' and professionals' potential, performance, profits, and quality of life.
Change Management
Communications
Employee Management
Leadership
Mental Health
Personal Growth
Resilience & Adversity
Teamwork
Business Growth
Business Management
Conference
Education & Teachers
Inspirational
Managing remote employees
Motivation
Philanthropy & Giving Back
Sustainable Development
MONIQUE MACKINNON BIOGRAPHY
Monique MacKinnon is a leadership, employee management, workplace culture and change specialist that has over 30 years of experience as a speaker, consultant, and coach. MacKinnon has worked with a wide variety of organizations across all sectors to assist them in their internal and external strategies to increase their bottom lines. From small leadership teams to large conference audiences, her clients describe her as progressive, unconventional and a voice of reason.
Her practical and ready-to-use insights bring every audience a unique experience with the focus being on measurable growth for long-term success. Monique MacKinnon's sessions are full of humour while based on trust. Trust within oneself, trust between leaders, trust between teams. Monique MacKinnon believes that systems that are created and maintained with integrity and aligned with core values, create a culture where employees thrive, and the organization leads itself.
Monique MacKinnon invented the "Cue Ball Method": a four-shot process that yields evidence, facts, and intel. This Method and her foresight expertise help clients grow their flexibility, fluidity, and functioning. Monique MacKinnon models this by co-creating magical experiences with her clients through her proven strategies and intuitive foresight. MacKinnon works diligently to positively shift organizational and individual mindsets to better understand the systems they need to incorporate for success.
Monique MacKinnon is co-author of the 'Tipping Point to Happiness" book and featured in the Times magazine's 'The 90s: Setting the Pace for Healthier Living'. She is also a Certified Advanced Technology Manager and WEL-Systems NLP Practitioner. As an advocate of Less is More, Monique MacKinnon provides one flexible foundation/framework for success. She allows organizations and individuals to choose the functions and she customizes her sessions according to the specific outcomes for each group. She believes in empowering individuals to elicit the hidden knowledge and solutions ripe for having a larger influence in everything they do.
Monique MacKinnon

Topic Presentations
how to use serendipity to perform due diligence checks on your company's ethics and compliance program
Virtual Presentation

Keynote Presentation

Workshop Session

Half Day Training

Full Day Training

According to Men, Women and Ethical Leadership: Gender's Influence on Tone at the Top (the National Business Ethics Survey, NBES), the level of distrust by gender is not the same. More females than males don't report misconduct because they sense a lack of faith or trust in the system or practices within their company.

If an employee told you "I don't trust you", where would you even begin? What if this distrust in you wasn't personal? Whether or not it was, would you want to know this? It would seem easier to brush this off. "If they have a problem, they'll raise it with me." — Except it's not guaranteed.

The truth shall set you free. That journey begins with self-trust. This highly interactive presentation teaches you how to face trust and compliance issues in enlightening and effective ways using the Eagle Soaring Consciousness Tool. It includes an exercise about your relationship with trust.

You also learn the four-step process for leveraging serendipity to perform due diligence checks on that trust and your company's Ethics and Compliance (E&C) program. By applying this process and your Eagle Soaring Strengths to communication, you and your employees will consistently rise to action… for the greater good. Improving the tone at the top will improve workplace trust and the ethics environment for both genders: both inside and outside of the company. Ultimately this'll serve the company's Employee Value Proposition (EVP) and profitability.

Why not give the gift of trust — today!
tune into your formula 1 race driver and shift into faster, more productive gears on the job
Virtual Presentation

Keynote Presentation

Workshop Session

Half Day Training

Full Day Training

How can you tune into your favourite Formula One racer: to operate with speed, ease, and productivity in a hybrid work context? With practice applying the Trust Framework to teamwork and decisions, your workforce will be humming along and highly engaged in no time.

This Emotional Intelligence focused session can be easily customized to the client's requirements.
you can count on me - self trust for success
Virtual Presentation

Keynote Presentation

Workshop Session

Half Day Training

Full Day Training

By nurturing self-trust, employees feel included, valuable, and happy which leads to further engagement and commitment to achieving organizational initiatives. Diverse teams that trust one another by incorporating inclusive and accepting attitudes towards one another support one another to get through challenges and reach any goal. Trust is at the forefront of all relationships in the workplace and without it, the workplace morale can crash no matter the task at hand.

Her insights establish an achievable viewpoint of essential ingredients for each employee, no matter their race, gender or ability differences. Employee happiness and workplace morale is in large part related to how your employees view themselves within the organization. Monique MacKinnon delivers insights on how to establish trust within each department and team member to nurture relationships to create a synergized and compassionate approach to workplace relationships to maintain a strong foundation of trust for success.
leadership and change - how to be visionary - create bold results in uncertainty
Virtual Presentation

Keynote Presentation

Workshop Session

Half Day Training

Full Day Training

How can you expand your capacity, expertise and success, with rapid digital change and uncertainty now being the norm? – Learn how to operate beyond logic and gut feelings. Apply the Eagle Soaring Tool™ (EST). Expanding your emotional consciousness frees you to be a big thinker, gain keen eyesight (and foresight), and efficiently make your best contribution to the company. This session also closes gaps between generations and emerging versus established visionary leaders.
collaboration - collaborate to innovate - what is the key ingredient?
Virtual Presentation

Keynote Presentation

Workshop Session

Half Day Training

Full Day Training

How can leaders, managers and front-line workers collaborate and negotiate "The Gap" in, and innovate services?

The key ingredient that closes "The Gap' and ultimately increases your contribution to the company's vision and internal and external stakeholders is self-accountability for solutions, decisions, actions, and results. This session teaches you how to leverage your collaborator type, strengths and vulnerabilities.
how to cultivate trust and strategic leadership success
Virtual Presentation

Keynote Presentation

Workshop Session

Half Day Training

Full Day Training

Today's lightning speed of digital change requires that workforces adapt quickly. Growing personal and interpersonal trust is an effective solution that strengthens relations with stakeholders. According to Steve Jobs: "Caring deeply about what customers want requires intuition and instinct about desires that have not yet formed. Our task is to read things that are not yet on the page."
dealing with change - ethics with action
Virtual Presentation

Keynote Presentation

Workshop Session

Half Day Training

Full Day Training

Understand how to strategically prevent and solve :Ethics and Compliance" issues and cases before they become full-blown, by applying the Cue Ball Method™ (CBM). The CBM™ is ethics risk management in action: a four-shot process that efficiently yields evidence, facts and intel. The CBM™ helps you grow your flexibility, fluidity and functioning while you model ethical mindsets and behaviours and promote balanced EC practices across key  functions.
how to hack the 5-digit code for a successful negotiation
Virtual Presentation

Keynote Presentation

Workshop Session

Half Day Training

Full Day Training

Do you dislike interpersonal conflict? It's the most common fear associated with negotiating.

Mastering interpersonal communication requires negotiating difficult conversations with students, parents, and peers. Being well prepared and anticipating and planning for the unexpected is key to managing these conversations with empathy.

When you learn how to develop, trust, and spontaneously tap into your imagination and intuition, you can collaborate, negotiate, and make other important decisions efficiently and reliably. In this session, you will learn the: Five Steps to Win-Win Collaborative Negotiations; Six Common Negotiation Misconceptions and Remedies; and more. You will also receive a quiz and Reference Guide that identifies your Collaborator Strengths and Vulnerabilities.

If you could have strong and meaningful relationships and peace of mind at work, would you want this?
When I first heard Monique MacKinnon deliver a keynote at the Global Innovation Summit 2016 in Dubai on How to Negotiate and Innovate on the Fly in the VUCA World, I couldn't help but listen to her till the end. Monique spoke about negotiation tactics, using psychology as a tool to understand people and their actions. She shared real-life examples to help us relate to a situation and the steps she took to ensure that the person could emerge as envisioned. A wonderful speaker, her story-telling approach simplified the subject and stressed on the importance and application of negotiation and innovation in very practical terms.
Monique MacKinnon's style leans toward the offbeat and unconventional. I love it as it generates a different type of interest. Rather than recite ethical codes, you go beyond that to an everyday approach that we need to go back to our natural inner feelings of right and wrong. In doing so, you initiated a lot of humour to lighten up and search for the correct ethical choice.
Chicago/IL, USA
When I attended Monique MacKinnon's Ethics in Action session at ICPAS Summit19, I didn't expect to hear about ethics as it relates to Forensic Accountants and Fraud Examiners. I also walked away with a bonus: a new skill and deepened subject matter expertise about how to prevent, detect, and solve accounting fraud. Monique MacKinnon talked about the Cue Ball Method. It was DEJA VU on Fraud Examination and Forensic Accounting. Evidence-based investigation resonates with my understanding of, training and proven experience as a bank analyst/forensic accountant in search of the truth. It's about submitting to the power of facts. Monique MacKinnon's Cue Ball Method shows us...
JPMorgan Chase & Co.
What I took away from How to persuasively speak UP to higher-ups was a confirmation to making sure to express confidence during those tough conversations. I also think that confidence needs to be balanced with humility by evaluating the "higher up". Just because they are in a senior position does not mean they are at the same emotional level or capacity you may be at.
City of Grande Prairie/AB, Canada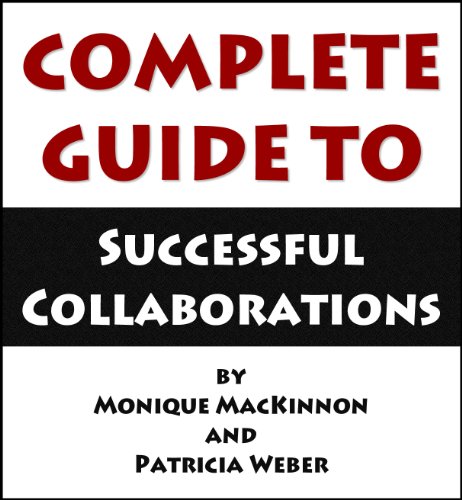 Complete Guide to Successful Collaborations
The road to entrepreneurial success is paved with good intentions — and realized more easily and enjoyably... with Joint Venture Partnerships: aka Collaborations! And one of the fastest ways to partner your way to entrepreneurial success is to have secret access to the JV lessons learned from two...
Tipping Point to Happiness
This little book with a big message takes happiness (which everyone wants to have) and describes all the little contributing factors that must be in place (the tipping point) for you to be on the road to happiness. Most importantly, this book doesn't just tell you to be happy; it shows you how to...
How to book Monique MacKinnon for an event?
Monique MacKinnon keynote speaker is an expert presenter and has a wide range of experience speaking to a wide variety of audiences and organizations. Monique MacKinnon delivers keynotes, workshops & training sessions. They may also host or emcee events. Hire Monique MacKinnon from Ottawa, Ontario for your event to inspire the audience to take action and make change in their work and their lives. Your workplace will benefit from our keynote speaker and their keynote talks and speeches will shift the mindsets or behaviours for the audience members in Canada. 
Interested in booking Monique MacKinnon for an event?
Are you looking to hire Monique MacKinnon for your event? Monique MacKinnon Ottawa, Ontario is a dynamic and engaging speaker that offers audiences researched content paired with expertise and a dynamic speaking ability. Monique MacKinnon is also a Canadian corporate consultant and coach and facilitates workshops and training sessions for a corporate audience. Monique MacKinnon is an expert keynote presenter and speaks on wide variety of topics. Hiring a great speaker for your event is important and working with a thought leader like Monique MacKinnon from Speakers Canada's roster will engage audiences into the content of the presentation to bring awareness and a fresh perspective for their approach to their work and their lives. Book Monique MacKinnon to educate, motivate and activate the audience through an interactive and entertaining presentation at corporate meetings and gatherings.
Known as a popular key note speaker in Canada, Monique MacKinnon creates life changing experiences for the participants with practical insights and strategic advice they can implement right after the session. Working with a one our leading expert speaker like Monique MacKinnon from Ottawa, Ontario offers organizations a fresh perspective to assist the people of the organization. No matter if it is a government, association, or business crowd, Monique MacKinnon is a perfect speaker for your event. Through unique practical insights for trending topics and years experience speaking to different organizations, Monique MacKinnon focuses on changing individuals to make better decisions at work and their lives. No matter if you are holding an in person or virtual event, having an influential speaker such as Monique MacKinnon will engage, motivate, and activate the audience to make a change in their lives and inspire action for results to meet organizational goals. Your workforce will benefit from Monique MacKinnon's presentations and speeches, with measurable results set to shift the people of the organization and core direction of the company. Book Monique MacKinnon speaker for your annual general meeting, conference, summit, or convention in Canada.
How much does it cost to hire Monique MacKinnon for a keynote presentation or virtual event?
Monique MacKinnon is an expert professional key note speaker with a lot of experience speaking and delivering engaging talks to organizations and audiences in Canada. Each of Speaker Bureau Canada's talent have different ways to assess their fees, and Monique MacKinnon speaker fee ranges depending on the size of the audience, event format (in person or virtual), event location, and if the organization booking them is a non profit, association, government department/government agency or business/corporation. The speakers we work with are flexible with their fees, and it is important for us to learn more about your event before we approach them, as it is our role to work for you, and to help you find a speaker within budget. 
Please contact Speakers Bureau of Canada and provide us with your event details so that we can contact Monique MacKinnon to check availability or confirm the pricing and associated costs to hire a great speaker like Monique MacKinnon for your event. As Monique MacKinnon's agent and as a Canadian top speaker bureau and talent agency for speakers, we are able to propose each event opportunity from each host organization's behalf to try to help you get in touch with Monique MacKinnon and confirm them for your in person or online meeting/event. We can also provide and advise on the booking process and potentially negotiate their fee. Speakers Canada is a client focused speaker agency, and we work for you in finding good speakers for your team meetings and booking processes.
Monique MacKinnon Disclaimer
Speakers Bureau Canada assists companies and event planning teams seeking to hire talent like

Monique MacKinnon

for speaking engagements, virtual meetings, conference appearances, training sessions and workshops facilitations. Our Canadian speakers bureau does not claim to exclusively represent

Monique MacKinnon

, however they are represented by Speakers Canada, and we work with them closely for their Canadian speaking opportunities and bookings. As Canada's top speaker bureau, we represent Canadian motivational keynote speakers and professional guest speakers that will be available on your upcoming events date and location that are withing the budget. Our talented bureau speaker booking agency can help find business speakers or celebrity speakers that aligns with each organization, audience, event theme and the topic themes you hope for the speaker to address in their presentation. 
When SBC receives a request to book Monique MacKinnon we provide you with their speaker fees, travel costs and check their schedules. We work closely with the host organization's event planning team and the speaker to handle the logistics and to relay or negotiate associated costs. Our talented team members then will work with our talent directly or their agent/manager/assistant to confirm the Canadian speaker fee and travel expenses, so that event planning teams can receive an official quote for the speaker appearing at the event. Speaker fees and travel costs vary per speaker and our role is to contact Monique MacKinnon about your event, after we have connected with the event organizers to learn all the event details and/or conference program. Each booking request is unique since session durations and audience sizes can vary which may affect the speaker's fees. If you are looking to hire Monique MacKinnon, we recommend filling out the booking request form so a booking agent from Speakers Bureau Canada can get in touch with our talent to help you coordinate with your team to engage the speaker for a successful event.