Vancouver, British Columbia
Renowned Travel Writer, Bestselling Author & TV Host
Robin Esrock is a keynote speaker, global adventurer, bestselling author, travel writer & TV host for the world's bucket list experiences & adventures. Having travelled to over 110 countries on 7 continents, his stories and photography have appeared in major publications on five continents, including National Geographic Traveler, The Guardian, The Chicago Tribune, South China Morning Post and Sydney Morning Herald. Robin spent years scouring every province and territory for Canada's most unique experiences, recording his journey in the bestseller The Great Canadian Bucket List. He has also written two bestselling travel books about Australia.
Health & Wellness
Leadership
Mental Health
Personal Growth
Resilience & Adversity
Adventurers
Campus & University Speakers
Conference
Corporate Entertainers
Education & Teachers
Finance & Insurance
Healthcare
Inspirational
ROBIN ESROCK BIOGRAPHY
Robin Esrock's success as a global adventurer, travel writer, bestselling author and international TV personality is no accident, although it did start with one. Struck down on his bike at a Vancouver intersection, Robin hobbled away with a broken kneecap, and one year later, a modest $20,000 insurance settlement. It was just enough for him to pack up his things, quit his job, and set off on a one-year solo round-the-world backpacking adventure to 24 countries. Committed to record his year of living dangerously, he uploaded weekly reports, photography, videos, reviews, and interviews with every person he met. In doing so, he pioneered a new era of multi-platform, switched-on and wired-in travel journalism, leading to adventures beyond his wildest dreams.
Robin Esrock could look back on several careers before stumbling upon this exciting new one. He rode the new media boom in the late 1990′s, working in London for the Sunday Times, BBC, Reuters and FilmFour. Immigrating to Canada, he founded a Vancouver record label before working for a music agency with clients including Coldplay, Norah Jones and Bryan Adams. Once he discovered travel writing, his own star took the spotlight as a writer and then eventually a motivational speaker. Robin's stories have been published in over a dozen major publications worldwide, including National Geographic Traveler, The Guardian, Chicago Tribune, Sydney Morning Herald, Toronto Star, Readers Digest, Escape Magazine, and the South China Morning Post.
He has been featured on 60 Minutes, CNN, The Wall Street Journal, Forbes Travel, MSNBC, Travel+Leisure, Huffington Post, ABC, the CBC, CTV, Global, Breakfast Television, and many others, consulting regularly as a travel expert. Robin Esrock has written regular columns for The Globe and Mail, Vancouver Sun, MSN, Outpost, Matador, and Pakistani fashion magazine She (because, why not?).
Noticing the fascination and misconceptions surrounding the profession of travel writing, Robin conceived what became the first TV series to show the truth behind the byline. Word Travels took Robin and co-host Julia Dimon to 36 countries on 6 continents, filming 40 action-packed half-hour episodes. In addition to hosting, Robin developed, wrote, and co-produced the show. Nominated for a Best Documentary Series Gemini Award, the show airs on National Geographic International and Travel Channel International in over 100 countries and 21 languages. In Canada, it is a popular fixture on OLN, FX, and CityTV, also airing on TVB in China, and Outside TV, Hulu, Amazon Prime Video, and PBS in the USA.
Robin created the award-winning adventure-culinary show Get Stuffed (OLN/Nat Geo Adventure), has produced award-winning multimedia projects for Destination Canada, and has written creative copy for clients including Ford Motors, Intercontinental Holiday Inn, Jetstar, and Bell. He was honoured as Master of Ceremonies at the prestigious Explorer's Club Annual Dinner at the Waldorf Hotel in New York City, sharing the stage with the likes of Buzz Aldrin and Ken Burns.
Writer and TV host, Robin Esrock also spoke about the wonderful lessons of travel with a TEDx talk that has over one million views online. Robin was named as one of Gear Junkies Outdoor Ambassadors, a list of adventurers, inventors and athletes from the past 110 years that includes Ernest Shackleton, Eddie Bauer, Robert Baden-Powell and Steve Irwin.
Robin's first book The Great Canadian Bucket List: One-of-a-Kind Travel Experiences – garnered critical acclaim and extensive media coverage offering insights and strategies for Canadians for one-of-a-kind travel experiences around the world. It quickly became a 20x national bestseller, topping Amazon's Travel, History, and Guidebook categories for years. He is also the bestselling author of The Great Global Bucket List, The Great Australian Bucket List and 75 Must-See Places to Take the Kids (before they don't want to go).
Robin has served as the Executive Director of the Greater Vancouver Media Association, Vice President of the Travel Media Association of Canada (BC Chapter), and he is a Fellow of the Royal Canadian Geographic Society. He currently writes a column called Bucket Listed for Canadian Geographic. Scuba diving in Papua New Guinea, racing Lamborghinis in Italy, volcano boarding in Nicaragua – it's all in a day's work. Having visited over 110 countries on 7 continents, Robin continues to write, blog, share, and film his ongoing adventures. He lives in Vancouver with his wife, two children and their pet rats.
Robin Esrock

Topic Presentations
life on the edge - a wild look at managing risk and dreaming big
Virtual Presentation

Keynote Presentation

Workshop Session

Over the course of his career, renowned travel journalist, TV host, and bestselling author Robin Esrock has dived with giant crocs and great white sharks; sand-boarded an active volcano; visited war zones; leaped the world's highest bungee jump; biked jungle death roads; swum with piranha, and even been set on fire. With hard-won insights from a lifetime of adventure, Robin demonstrates that staying safe on the road follows the same principles as managing risk with our careers, projects, investments, and life in general.  Illustrated with eye-popping photography, incredible experiences, and engaging storytelling, Life on the Edge invites everyone to dream big, overcome both personal and professional challenges, and build a better bucket list.

Audience: Keynote, Corporate, Finance, Education Length: 1 Hour
breaking boundaries - how to overcome the impossible
Virtual Presentation

Keynote Presentation

Workshop Session

With the world as his canvas, Robin Esrock reflects on the unique life experiences that have enabled him to break through the personal, professional and organizational boundaries that stand in our way. This entertaining talk helps audiences recognize, respect and ultimately hurdle over their own limitations. Incorporating themes of transformation, intention, instinct, and curiosity, Breaking Boundaries distils hard-won, often hilarious takeaways into inspiring strategies for future success.

Audience: Keynote, Corporate, Education, Government, Medical, Real Estate Length: 1 Hour
refill the canadian bucket list - a celebration of the great white north
Virtual Presentation

Keynote Presentation

Workshop Session

Across every province and territory, Canada's top travel personality introduces us to Canada's most unique and fascinating destinations and activities. There's something here for everyone: nature, food, history, thrills, culture and plenty of ideas to fill up your bucket list.  Packed with inspiring insights, engaging storytelling, and stunning visuals, join us for a one-of-a-kind virtual adventure.

Length: 1 Hour
refill the global bucket list - big dreams and better travel
Virtual Presentation

Keynote Presentation

Workshop Session

It's time to dream big! From pole to pole and in-between, renowned travel personality Robin Esrock takes us to some of the world's most stunning destinations and activities, in this fun, punchy, and inspiring presentation. There's  something here for everyone: thrills, food, history, nature, beaches, and plenty of ideas to fill up your bucket list.

Length: 1 Hour
finish the sentence
Virtual Presentation

Keynote Presentation

Workshop Session

Technology stitches our world together, even as uncertainty pulls us apart at the seams. It's too easy to forget just how similar we all are, and how every voice has something to say. Robin once asked thousands of people from every conceivable background, to answer the same three questions. Shared along with his own unique background, the results are poignant, funny, and thought-provoking, shining a much-needed light on universal passions and challenges.

Length: 45 mins
seasonal for halloween - the world's spookiest places
Virtual Presentation

Keynote Presentation

Workshop Session

To celebrate Halloween, we've asked renowned travel writer, bestselling travel author, and National Geographic TV host Robin Esrock to explore the world's creepiest destinations. Having reported from over 100 countries on 7 continents, Robin has personally visited enough weird and spooky destinations to make our goosebumps crawl, including the ghost city outside of Chernobyl, a bizarre bone church, underground catacombs, a medieval museum of torture, haunted prison hotels, and ghostly Civil War mansions.  Illustrated with stunning images and fun storytelling, we invite you to join Robin for a spook-tacular virtual event.

Length: 50 mins
Robin Esrock can deliver customized presentations within the following topic themes.
Robin was able to transport our team through a visual journey across Canada, inspiring us to discover more of our own backyards than we thought possible. Robin is an incredibly engaging speaker and presenter – we definitely recommend having him host your next event!
ScotiaMcLeod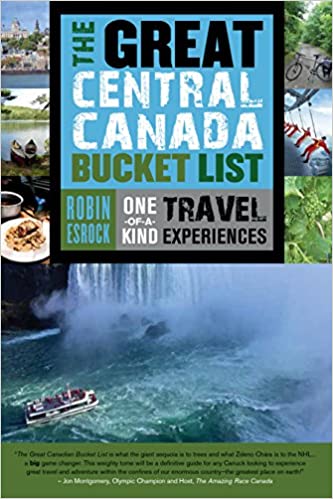 The Great Central Canada Bucket List: One-of-a-Kind Travel Experiences (The Great Canadian Bucket List, 2)
The Great Central Canada Bucket List: One-of-a-Kind Travel Experiences (The Great Canadian Bucket List, 2)
How to book Robin Esrock for an event?
Robin Esrock keynote speaker is an expert presenter and has a wide range of experience speaking to a wide variety of audiences and organizations. Robin Esrock delivers keynotes, workshops & training sessions. They may also host or emcee events. Hire Robin Esrock from Vancouver, British Columbia for your event to inspire the audience to take action and make change in their work and their lives. Your workplace will benefit from our keynote speaker and their keynote talks and speeches will shift the mindsets or behaviours for the audience members in Canada. 
Interested in booking Robin Esrock for an event?
Are you looking to hire Robin Esrock for your event? Robin Esrock Vancouver, British Columbia is a dynamic and engaging speaker that offers audiences researched content paired with expertise and a dynamic speaking ability. Robin Esrock is also a Canadian corporate consultant and coach and facilitates workshops and training sessions for a corporate audience. Robin Esrock is an expert keynote presenter and speaks on wide variety of topics. Hiring a great speaker for your event is important and working with a thought leader like Robin Esrock from Speakers Canada's roster will engage audiences into the content of the presentation to bring awareness and a fresh perspective for their approach to their work and their lives. Book Robin Esrock to educate, motivate and activate the audience through an interactive and entertaining presentation at corporate meetings and gatherings.
Known as a popular key note speaker in Canada, Robin Esrock creates life changing experiences for the participants with practical insights and strategic advice they can implement right after the session. Working with a one our leading expert speaker like Robin Esrock from Vancouver, British Columbia offers organizations a fresh perspective to assist the people of the organization. No matter if it is a government, association, or business crowd, Robin Esrock is a perfect speaker for your event. Through unique practical insights for trending topics and years experience speaking to different organizations, Robin Esrock focuses on changing individuals to make better decisions at work and their lives. No matter if you are holding an in person or virtual event, having an influential speaker such as Robin Esrock will engage, motivate, and activate the audience to make a change in their lives and inspire action for results to meet organizational goals. Your workforce will benefit from Robin Esrock's presentations and speeches, with measurable results set to shift the people of the organization and core direction of the company. Book Robin Esrock speaker for your annual general meeting, conference, summit, or convention in Canada.
How much does it cost to hire Robin Esrock for a keynote presentation or virtual event?
Robin Esrock is an expert professional key note speaker with a lot of experience speaking and delivering engaging talks to organizations and audiences in Canada. Each of Speaker Bureau Canada's talent have different ways to assess their fees, and Robin Esrock speaker fee ranges depending on the size of the audience, event format (in person or virtual), event location, and if the organization booking them is a non profit, association, government department/government agency or business/corporation. The speakers we work with are flexible with their fees, and it is important for us to learn more about your event before we approach them, as it is our role to work for you, and to help you find a speaker within budget. 
Please contact Speakers Bureau of Canada and provide us with your event details so that we can contact Robin Esrock to check availability or confirm the pricing and associated costs to hire a great speaker like Robin Esrock for your event. As Robin Esrock's agent and as a Canadian top speaker bureau and talent agency for speakers, we are able to propose each event opportunity from each host organization's behalf to try to help you get in touch with Robin Esrock and confirm them for your in person or online meeting/event. We can also provide and advise on the booking process and potentially negotiate their fee. Speakers Canada is a client focused speaker agency, and we work for you in finding good speakers for your team meetings and booking processes.
Robin Esrock Disclaimer
Speakers Bureau Canada assists companies and event planning teams seeking to hire talent like

Robin Esrock

for speaking engagements, virtual meetings, conference appearances, training sessions and workshops facilitations. Our Canadian speakers bureau does not claim to exclusively represent

Robin Esrock

, however they are represented by Speakers Canada, and we work with them closely for their Canadian speaking opportunities and bookings. As Canada's top speaker bureau, we represent Canadian motivational keynote speakers and professional guest speakers that will be available on your upcoming events date and location that are withing the budget. Our talented bureau speaker booking agency can help find business speakers or celebrity speakers that aligns with each organization, audience, event theme and the topic themes you hope for the speaker to address in their presentation. 
When SBC receives a request to book Robin Esrock we provide you with their speaker fees, travel costs and check their schedules. We work closely with the host organization's event planning team and the speaker to handle the logistics and to relay or negotiate associated costs. Our talented team members then will work with our talent directly or their agent/manager/assistant to confirm the Canadian speaker fee and travel expenses, so that event planning teams can receive an official quote for the speaker appearing at the event. Speaker fees and travel costs vary per speaker and our role is to contact Robin Esrock about your event, after we have connected with the event organizers to learn all the event details and/or conference program. Each booking request is unique since session durations and audience sizes can vary which may affect the speaker's fees. If you are looking to hire Robin Esrock, we recommend filling out the booking request form so a booking agent from Speakers Bureau Canada can get in touch with our talent to help you coordinate with your team to engage the speaker for a successful event.