Leadership, Change and Transformation Expert
George Ayee is an organizational effectiveness, corporate change leader, business transformation, coach, professional speaker & consultant and best-selling author. George Ayee inspires, equips, energizes, and enables leaders to lead successfully through change, adversity, disruption, tough times, and transformation.
Change Management
Employee Management
Leadership
Peak Performance
Personal Growth
Business Growth
Business Management
Conference
Corporate Entertainers
Finance & Insurance
Philanthropy & Giving Back
DR. GEORGE AYEE BIOGRAPHY
Dr. George Ayee has over 25 years of experience in leadership, change and transformation, organizational development, talent management, sales and marketing. He has carried out assignments in Africa, Europe and North America. George's experience working with leaders, and professionals from various industries and organizations led him to conclude that successful change and transformation is a precondition for business results. He believes that when leaders change, their results change; and when organizations change their culture and collective paradigms, maximum results will be the outcome.
George Ayee is a bestselling author, transformation speaker, coach and trainer. He helps his clients to unleash the full power of change and transformation for optimal results. George's passionate, inspirational, and high-energy call for action liberates and engages his clients and audiences for effective action, change and transformation. His electrifying seminars on Leading Successful Change and Transformation; Resilience in Change; Transformational Leadership for Optimal Results motivates his audience to take immediate action to achieve their vision, objectives and goals.
George Ayee has a Doctorate in Business Administration, an MBA in International Business, a BSc in Finance/Accounting and decades of experience helping leaders achieve their goals. He works with world-class companies, oil and gas, financial institutions, non-profits, government institutions and professionals. Ayee inspires change and transformation in professionals and business organizations for maximum results. As a consultant and speaker, George Ayee is sought after by companies and financial institutions, as well as non-profit and government institutions.
George Ayee is an organizational development/effectiveness, change enablement and business transformation consultant, professional speaker, corporate trainer, facilitator, and certified coach. He worked with Price Waterhouse as a Senior Consultant, Deloitte as an Associate Consultant, Managing Consultant with Achievement Motivation Group in East Africa, as International Director of Media Productions, as Deputy Vice-Chancellor of Kampala International University and as Director of Kampala University in East Africa.
George has facilitated various meetings including the International Conference for International Union for Conservation of Nature (IUCN), World Bank, Ecotrust, African Wildlife Foundation, Financial Institutions, The Ministry of Water, Lands and Environment, Oxfam, Kisoro District Local Administration, Care International, ActionAid, on-site and off-site meeting for Senior Leadership teams, Boards, and many others. George spends his time facilitating change and transformation programs, coaching leaders to work through change and transformation successfully. George has facilitated meetings in Canada, Australia, USA, England, Uganda, Kenya, Tanzania, Rwanda, Malawi, Zimbabwe, and Ghana.
George was the architect behind the setup of the Change Management and Business Transformation office at Husky Energy where he led the function and provided oversight for all change and business transformation initiatives. He also led the organizational change management function at the Calgary Board of Education explicitly ensuring the successful rollout of the Enterprise Portal.
George holds a Doctor of Business Administration degree from Australia, a Master of Business Administration (MBA) from London, England, and a Bachelor of Science in International Business from the USA.
Dr. George Ayee

Topic Presentations
leading successful change & transformation
Virtual Presentation

Keynote Presentation

Workshop Session

Half Day Training

Full Day Training

Successful change and transformation is the vehicle for extraordinary results. For leaders and companies to be successful now and in the future, it is imperative to develop the capability of changing quickly and successfully – not just reacting to waves of change. Leaders will have to develop the ability to shape and lead change with strategic intent and excellence. Leaders need to manage change in difficult and challenging times; develop change agility, challenge current norms, develop the mental toughness to weather the storm, and be creative through inspiring action. George Ayee will help you navigate change and transformation faster and more successfully.
transformational leadership for optimal results
Virtual Presentation

Keynote Presentation

Workshop Session

Half Day Training

Full Day Training

To achieve peak performance and high productivity, maximum results require authentic and transformational leadership. Leaders with emotional intelligence, the capacity to inspire massive action, decisive, and with capability to execute flawlessly are the ones who lead their organizations to achieve phenomenal results. George has a way with leaders that inspires massive action; causes them to dig deep; shift their paradigms; and lead their people and organizations to achieve results.
resilience in change
Virtual Presentation

Keynote Presentation

Workshop Session

Half Day Training

Full Day Training

Contrary to popular opinion, people like change. This is why we all pursue personal development to be more, earn more, do more, and give more. Change forced on people is what brings resistance. Change done with people has buy-in, ownership, commitment and engages the hearts and minds of people. George gives you ideas on inspiring your employees to embrace change, exploit change; be resilient through change and achieve the goals of change.
design the life you want – live the life you imagine
Virtual Presentation

Keynote Presentation

Workshop Session

Half Day Training

Full Day Training

You can design the life you want and live the life you imagine. George will equip and inspire you to design the life you want by removing your excess baggage, self-imposed limitations and showing you how to change your paradigms for phenomenal results. Designing the life you want is not for a privileged few but for all who care to take action on their goals; follow through with their decisions, commitment and ideas. This presentation is based on George's book Design the Life You Want – Live the Life You Imagine
the power to have it all – the dna for massive success
Virtual Presentation

Keynote Presentation

Workshop Session

Half Day Training

Full Day Training

Do you have talents that you are not leveraging or a passion to change people's lives and yet you find yourself stuck? Do you feel like you have hit the wall? Millions around the world are looking for the code to success, achievement and advancement. You can and will achieve massive results beyond your imagination when you break out of the mold you are encased in to bring value to the marketplace. This presentation will empower you to achieve massive results through learning proven strategies, cutting-edge concepts, principles, and practices for massive action. This presentation is based on George's bestseller book 'The Power to Have it All – The DNA for Massive Success.
George is energetic and passionate about what he does. You can see it in his eyes, through his stories and engages the audience to take positive action.
George is great at what he does. He spoke to our leadership team and our members, and his topic was the talk of the year.
George is an engaging, spirited, passionate speaker. His presentation on Transformational Leadership re-fired our leadership team for maximum results.
Your stories and challenges through change have inspired us to look at change in a different way and to embrace change.
Your presentation got me thinking about change. I am inspired to succeed and finish well and strong. I have never been inspired this way for a long time. I am leaving the conference with a new resolve to achieve and impact my generation.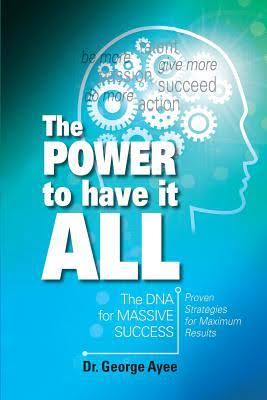 The Power To Have It All: The DNA for Massive Success
The Power To Have It All: The DNA for Massive Success
How to book Dr. George Ayee for an event?
Dr. George Ayee keynote speaker is an expert presenter and has a wide range of experience speaking to a wide variety of audiences and organizations. Dr. George Ayee delivers keynotes, workshops & training sessions. They may also host or emcee events. Hire Dr. George Ayee from Calgary, Alberta for your event to inspire the audience to take action and make change in their work and their lives. Your workplace will benefit from our keynote speaker and their keynote talks and speeches will shift the mindsets or behaviours for the audience members in Canada. 
Interested in booking Dr. George Ayee for an event?
Are you looking to hire Dr. George Ayee for your event? Dr. George Ayee Calgary, Alberta is a dynamic and engaging speaker that offers audiences researched content paired with expertise and a dynamic speaking ability. Dr. George Ayee is also a Canadian corporate consultant and coach and facilitates workshops and training sessions for a corporate audience. Dr. George Ayee is an expert keynote presenter and speaks on wide variety of topics. Hiring a great speaker for your event is important and working with a thought leader like Dr. George Ayee from Speakers Canada's roster will engage audiences into the content of the presentation to bring awareness and a fresh perspective for their approach to their work and their lives. Book Dr. George Ayee to educate, motivate and activate the audience through an interactive and entertaining presentation at corporate meetings and gatherings.
Known as a popular key note speaker in Canada, Dr. George Ayee creates life changing experiences for the participants with practical insights and strategic advice they can implement right after the session. Working with a one our leading expert speaker like Dr. George Ayee from Calgary, Alberta offers organizations a fresh perspective to assist the people of the organization. No matter if it is a government, association, or business crowd, Dr. George Ayee is a perfect speaker for your event. Through unique practical insights for trending topics and years experience speaking to different organizations, Dr. George Ayee focuses on changing individuals to make better decisions at work and their lives. No matter if you are holding an in person or virtual event, having an influential speaker such as Dr. George Ayee will engage, motivate, and activate the audience to make a change in their lives and inspire action for results to meet organizational goals. Your workforce will benefit from Dr. George Ayee's presentations and speeches, with measurable results set to shift the people of the organization and core direction of the company. Book Dr. George Ayee speaker for your annual general meeting, conference, summit, or convention in Canada.
How much does it cost to hire Dr. George Ayee for a keynote presentation or virtual event?
Dr. George Ayee is an expert professional key note speaker with a lot of experience speaking and delivering engaging talks to organizations and audiences in Canada. Each of Speaker Bureau Canada's talent have different ways to assess their fees, and Dr. George Ayee speaker fee ranges depending on the size of the audience, event format (in person or virtual), event location, and if the organization booking them is a non profit, association, government department/government agency or business/corporation. The speakers we work with are flexible with their fees, and it is important for us to learn more about your event before we approach them, as it is our role to work for you, and to help you find a speaker within budget. 
Please contact Speakers Bureau of Canada and provide us with your event details so that we can contact Dr. George Ayee to check availability or confirm the pricing and associated costs to hire a great speaker like Dr. George Ayee for your event. As Dr. George Ayee's agent and as a Canadian top speaker bureau and talent agency for speakers, we are able to propose each event opportunity from each host organization's behalf to try to help you get in touch with Dr. George Ayee and confirm them for your in person or online meeting/event. We can also provide and advise on the booking process and potentially negotiate their fee. Speakers Canada is a client focused speaker agency, and we work for you in finding good speakers for your team meetings and booking processes.
Dr. George Ayee Disclaimer
Speakers Bureau Canada assists companies and event planning teams seeking to hire talent like

Dr. George Ayee

for speaking engagements, virtual meetings, conference appearances, training sessions and workshops facilitations. Our Canadian speakers bureau does not claim to exclusively represent

Dr. George Ayee

, however they are represented by Speakers Canada, and we work with them closely for their Canadian speaking opportunities and bookings. As Canada's top speaker bureau, we represent Canadian motivational keynote speakers and professional guest speakers that will be available on your upcoming events date and location that are withing the budget. Our talented bureau speaker booking agency can help find business speakers or celebrity speakers that aligns with each organization, audience, event theme and the topic themes you hope for the speaker to address in their presentation. 
When SBC receives a request to book Dr. George Ayee we provide you with their speaker fees, travel costs and check their schedules. We work closely with the host organization's event planning team and the speaker to handle the logistics and to relay or negotiate associated costs. Our talented team members then will work with our talent directly or their agent/manager/assistant to confirm the Canadian speaker fee and travel expenses, so that event planning teams can receive an official quote for the speaker appearing at the event. Speaker fees and travel costs vary per speaker and our role is to contact Dr. George Ayee about your event, after we have connected with the event organizers to learn all the event details and/or conference program. Each booking request is unique since session durations and audience sizes can vary which may affect the speaker's fees. If you are looking to hire Dr. George Ayee, we recommend filling out the booking request form so a booking agent from Speakers Bureau Canada can get in touch with our talent to help you coordinate with your team to engage the speaker for a successful event.