Leadership and Team Building Coach | Sales Empowerment Consultant | Best-selling Author
Mike Lipkin is known as The Potentiator, a catalyst for creating breakthroughs and enabling others to reach their highest potential. In the past year alone, he has engaged with over one hundred thousand individuals across nineteen countries, delivering 150 impactful programs both in-person and online. As the motivation and sales empowerment Coach, Mike leverages the insights gained from interacting with a million people in forty-three countries. Mike Lipkin has authored eight best-selling books, with his latest work titled "The Potentiator - How to Create Breakthroughs with Others in a Post-Pandemic World." This book serves as a guiding light for individuals and organizations seeking to navigate the challenges brought about by the global pandemic, offering practical strategies and insights to foster transformative relationships and unlock untapped potential. His dynamic presence and ability to connect on a personal level captivate audiences, leaving them inspired, motivated, and empowered to take action. Whether it's optimizing meetings or elevating personal and professional growth, Mike Lipkin's expertise and profound impact have made him a sought-after figure in the realm of motivation and sales empowerment.
Communications
Employee Management
Leadership
Mental Health
Peak Performance
Personal Growth
Teamwork
Business Growth
All Staff Meeting
Annual General Meetings
Associations & Unions
Board Meetings & Strategic Advisory
Conference
Conferences & Summits
Consultant & Coach
Corporate Audience
MIKE LIPKIN BIOGRAPHY
Mike Lipkin is an exceptional individual who has established himself as a renowned figure in the realms of motivational speaking, leadership, and personal development. With his unique approach and magnetic presence, he has earned the title of "The Potentiator," reflecting his ability to create breakthroughs and empower others to perform at their best. As the president of a sales company, the motivation and sales empowerment practice, Mike Lipkin has utilized his expertise to help individuals and organizations achieve preeminence one conversation at a time.
With a remarkable track record spanning over the years, Mike Lipkin has left an indelible impact on countless individuals and businesses worldwide. Having spoken to more than a million people in forty-three countries, his insights and experiences are truly unparalleled. Through his extensive interactions, Mike Lipkin has gained a deep understanding of human behavior, motivation, and the dynamics of effective communication.
One of Mike's key areas of expertise lies in meetings. Mike Lipkin has immersed himself in the art of conversation and understands its transformative power. Mike's life can be described as one long conversation, as he continuously engages with audiences, either in-person or through online platforms. His commitment to sharing knowledge and helping others reach their potential is evident in his dedication to speaking engagements, where Mike Lipkin addresses thousands of people each year.
As the president of a research company, Mike Lipkin combines his insights with the renowned Environics social values research conducted by the Environics Research Group, one of Canada's leading research houses. This powerful blend enables him to offer his clients a comprehensive approach to personal and professional growth. By incorporating ideas, principles, and observations derived from his interactions with diverse individuals and cultures, Mike Lipkin provides a unique perspective that resonates deeply with his audience.
In addition to his work as a motivational speaker, Mike Lipkin is also a prolific author. With eight bestselling books to his name, he has solidified his reputation as an authority in the field of personal development and leadership. His latest book, "The Potentiator – How to Create Breakthroughs with Others in a Post-Pandemic World," serves as a guide for individuals and organizations navigating the challenges brought about by the global pandemic. In this book, Mike Lipkin shares practical strategies and insights on how to foster transformative relationships and unleash untapped potential in a rapidly changing world.
What sets Mike Lipkin apart is his innate ability to connect with people on a personal level. He possesses a charismatic presence that captivates audiences, making his message both relatable and impactful. Through his engaging speaking style, Mike Lipkin creates an environment where individuals feel inspired, motivated, and empowered to take action.
Furthermore, Mike Lipkin's emphasis on the power of conversations sets him apart from other motivational speakers. He understands that meaningful and purposeful dialogue lies at the heart of personal and professional growth. By equipping individuals with the tools and strategies to navigate conversations effectively, Mike Lipkin empowers them to build strong relationships, drive innovation, and achieve their goals.
Mike Lipkin

Topic Presentations
rebound in the year of the rabbit
Virtual Presentation

Keynote Presentation

Workshop Session

Half Day Training

Full Day Training

We're coming into 2023 with eyes wide open. We expect it to be hard. We expect a recession. We expect the war to continue. We expect interest rates to rise further. We expect a pause before we hit fast-forward again. We're girding ourselves for the grind. The good news is that the bad news is already baked in. The prevailing mindset is pessimistic. Difficulty is easier to handle when it's anticipated. I would rather anticipate hardship and prepare for good fortune than anticipate good fortune and be unprepared for hardship.

Here are Mike Lipkin's Seven Ways To Rebound In The Year of The Rabbit:

Choose Courage.
Pace Yourself. Achieve internal equilibrium.
Believe In Your Impact. If not you, then who?
Focus On Your Prize
Trade Certainty For Speed
Cultivate Close Connections.
Express Your Joie De Vivre.
be the safe bet
Virtual Presentation

Keynote Presentation

Workshop Session

Half Day Training

Full Day Training

Here are Mike Lipkin's 7 steps to being The Safe Bet:

Tell people what you're doing to do for them with clarity and conviction just like I'm doing with you now.
Make good on your promises. Hold yourself to a higher standard than anyone else will.
Communicate how well you've done for others with tact and discretion.
Ask people how likely they would be to recommend you to a colleague or a friend. If they don't respond, give yourself a 0.
Keep raising your game. Aspire to being a GOAT in your domain.
When you stumble or fumble, acknowledge your failure and publicly commit to growing from it.
Do it now. Perfect is whatever you can achieve today so you can make it even more perfect tomorrow.
convert your anxiety into excitement
Virtual Presentation

Keynote Presentation

Workshop Session

Half Day Training

Full Day Training

Ask yourself these questions through the never-ending crises: Why is this the best thing that could have happened right now? How could I have pre-empted the problem? How can I become better and stronger? What must I focus on to achieve my desired outcome? What do I need to let go of? Why will I laugh about this in a month's time? How do I become more valuable to the people who are valuable to me? How must I show up to relieve other people of their anxiety?

Here's Mike Lipkin's secret of success in the new world disorder: Become the source of other people's joy and optimism and they will literally find more time for you. Train people to expect you to be always on for them. If you lift others up, they will help you rise above your own fears. Act the part if you want to win the role.
winning in the contradiction economy
Virtual Presentation

Keynote Presentation

Workshop Session

Half Day Training

Full Day Training

The difference between panic and power is your belief in your ability to control your circumstances. The greater your confidence, the more actions you'll take to tilt the world in your favour.  Expectations are self-fulfilling prophecies.

So here is Mike Lipkin's Recipe For Winning In The Contradiction Economy:

Step back to step forward. Look for pattern recognition. See beyond your everyday. Form your perspective by studying the data and talking to the people who really know. Take the time to reflect on your experience. Express your opinion. Lose your fear of sounding stupid – we're all rookies in the new reality. Practice being vocal. Make space for new ideas by letting go of what doesn't serve you anymore.
Live on purpose. Get clear on how you're bringing value to your communities, colleagues and customers. Make a big promise that explicitly declares how you will help them win. Here's mine: I will help you achieve remarkable results with proven insights that inspire you into highly effective actions.
Plan your work and work your plan. Decide on the actions you need to take, then take them – with discipline and conviction. Course correct as you go along. Be intentional. Focus on what matters – say no to what doesn't count so you can say yes to what does.
Get out there – both virtually and physically. Redefine your relationship with risk. Reach out and touch someone with your words and wisdom. Use all the resources and media available to you. Cultivate your connections with people who can mobilize opportunities on your behalf. Be generous with your gifts. The best people will always reciprocate
Remember: you are built for this. Wherever you are is where you're meant to be because that's where you are. You cannot change how you got here. You can change where you go from here. It's always your next move. Other people are counting on you to make it.
the 5 explicit success trends that will enable you to create breakthroughs this summer
Virtual Presentation

Keynote Presentation

Workshop Session

Half Day Training

Full Day Training

The world is heating up in every way. From actual climate change to geopolitical instability to supply chain disruption to economic volatility to food and energy insecurity to labour shortages to rising interest rates and inflation to recessionary slowdowns, we're facing an unprecedented convergence of crises and fear. Hooah, this summer is going to be a doozy.

In his role as a social researcher and leadership coach, Mike is seeing Five Explicit Success Trends that differentiate the winners from the strugglers. Here they are:

Prepare for Perma-Chaos: Black Swans are flying in flocks. So prepare for a permanent surprise – to the upside, downside and all sides. It's not just about tolerance for ambiguity and fluidity; it's about developing a passion for them.
Form Alliances with Champion Partners. In the New Abnormal, the winners are multiplying their expertise, enriching their perspectives and expanding their influence by aligning with the best players in their category..
Build Personal Evidence-Based Optimism. There are always reasons to believe in the future, no matter what the immediate situation. Winners are continually building their case for optimism. They're doing their learning and learning by doing.
Do The Right Thing On Purpose. Talent follows vision. Trust comes from executing on one's vision. Making a difference is how winners make their money.
Show Joy and Compassion. For many people, work is a source of stress and unhappiness.
dancing with disruption
Virtual Presentation

Keynote Presentation

Workshop Session

Half Day Training

Full Day Training

Embrace the boundless opportunities that lie ahead, for they bring both excitement and uncertainty. Regardless of your industry, the rapid advancements in technology hold immense potential for groundbreaking transformations. If you have an appetite for profound shifts, the future is your playground. However, if you resist change, the prospect of irrelevance becomes even more daunting. Disruption is inevitable; there is no safe haven. You must choose to be the disruptor or risk becoming the disrupted. In his compelling moonshot presentation, Mike will guide you on adapting, navigating, and pivoting in a manner that not only inspires and delights others but also leaves them exhilarated. Unlock the seven secrets to thriving amidst monumental change, positioning yourself as the most sought-after collaborator. Through captivating stories of individuals and companies who have rewritten the rules, forged new markets, and redefined the very essence of what lies ahead, Mike Lipkin will illustrate each secret, empowering you to conquer the ever-evolving landscape.
living on the brink of burnout is the cost of creating breakthroughs
Virtual Presentation

Keynote Presentation

Workshop Session

Half Day Training

Full Day Training

Breaking out of a burnout cycle is difficult. First, you must have insight: nothing happens until you recognize you're burned out and something must change. Next, you need to make a plan to change, because finding a path out of burnout takes preparation and patience. As importantly, changing how you think, feel and behave takes time and effort. If you don't change those, you're bound to repeat the cycle. Third, addressing burnout requires system change, as it's a workplace or a lifestyle challenge, not just a one-time problem to be solved.

Here's a crucial truth: the only human being on earth you can control is yourself. Believing this, at a cellular level, takes time and work, but once you've done it, it will be freeing. Once you understand and accept that you can only control yourself, you'll stop trying to change or control anyone else.  You'll use your energy to control what you can – your thoughts, feelings and behaviours.
prepare to be wrong if you really want to get it right
Virtual Presentation

Keynote Presentation

Workshop Session

Half Day Training

Full Day Training

If you're feeling confused, overwhelmed, fatigued or frightened, you're normal. If you don't, you probably don't know what's going on. Courage means being willing to confront your doubts and fears. It means preparing to be wrong so you can embrace what's right. It means constantly exploring and experimenting with new ways of working. Whatever happens next, trial and error will be integral to your progress. Fast fumbling, stumbling and failures will be the hallmarks of those who lead the way for others to follow. Some of your failures will be in private – those are easier to handle. But some will be public – those will be painful. Either way, you must go through them.

So here are Mike Lipkin's 4 steps for Recalibrating Your Mental Model

Think about 3 important situations where you're not achieving the results you want. They could be personal or professional. It's where you feel like you're being blocked, thwarted or frustrated in your endeavours.
Think about your Mental Model regarding each situation. Specifically think about how you are contributing to the breakdown or failure or lack of progress..
Think about the changes you need to make. Decide what to stop doing. Decide what to start doing. Decide how you'll monitor your effectiveness. Decide who can help you stay on track.
Take action. Experiment with different approaches. Be willing to be awkward on yoiur way to being awesome. Be authentic and vulnerable with the people around you. Tell them that you're trying out new ways to increase your effectiveness and contribution to them
Mike shared his proprietary Checklist of Champions. The way the message was delivered and the human nature of the interactions with the audience, were genuine and highly impactful. Fueled by passion and purpose, Mike he is more than a simple motivator he is a true inspirational human being, he is a true "Championator".
AGF Management Limited
Mike Lipkin is a phenomenal motivational speaker. I had the pleasure of working with him on a leadership development program for OLG. He has an innate way of connecting with learners and drawing them out of their shells. His stories are riveting and keep you constantly engaged. As a result, Mikes' evaluations were the highest out of ten sessions offered. If you want to inspire your team to achieve great results, I recommend contacting Mike.
Talent
Results oriented and positive thinker!
The Potentiator: How To Create Breakthroughs With Others In a Post Pandemic World
Every day we're faced with a future that seems more daunting than the day before. The problems appear bigger than ever but so do the opportunities. It's easy to feel overwhelmed and alone in the face of such cataclysmic change. That's why we're only as good as the Potentiators we...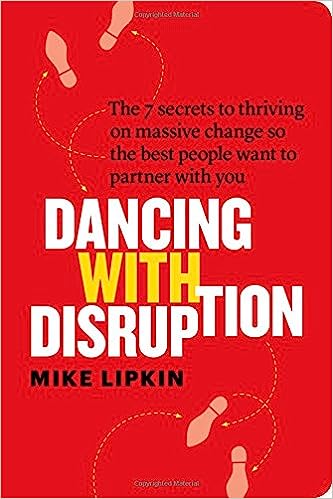 Dancing with Disruption: The 7 secrets to thriving on massive change so the best people want to partner with you
Disruption: radical change that shatters the status quo. We all face a future that is nothing like our past. We can struggle with disruption or we can dance with it. We can each be a disruptor, creating the future one step at a time. Over the past twenty-five years, superstar coach Mike Lipkin has...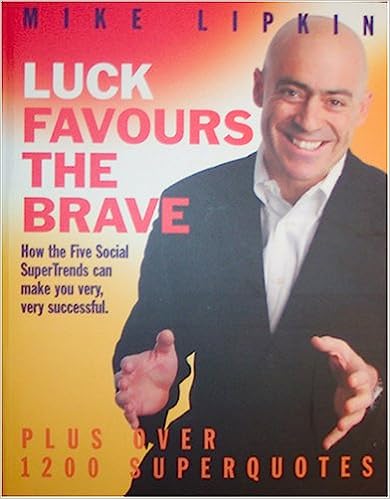 Luck Favours the Brave: How the Five Social Supertrends Can Make You Very, Very Successful
What makes people lucky? How do they stay lucky? What are the trends that create luck? How do you make others lucky? How can you find instant inspiration when you need it most? If you like these questions you'll love this book. It's a unique hybrid that will help you master your future while...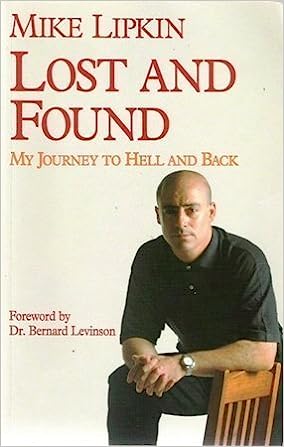 Lost and found: My journey to hell and back
How to book Mike Lipkin for an event?
Mike Lipkin keynote speaker is an expert presenter and has a wide range of experience speaking to a wide variety of audiences and organizations. Mike Lipkin delivers keynotes, workshops & training sessions. They may also host or emcee events. Hire Mike Lipkin from Toronto, Ontario for your event to inspire the audience to take action and make change in their work and their lives. Your workplace will benefit from our keynote speaker and their keynote talks and speeches will shift the mindsets or behaviours for the audience members in Canada. 
Interested in booking Mike Lipkin for an event?
Are you looking to hire Mike Lipkin for your event? Mike Lipkin Toronto, Ontario is a dynamic and engaging speaker that offers audiences researched content paired with expertise and a dynamic speaking ability. Mike Lipkin is also a Canadian corporate consultant and coach and facilitates workshops and training sessions for a corporate audience. Mike Lipkin is an expert keynote presenter and speaks on wide variety of topics. Hiring a great speaker for your event is important and working with a thought leader like Mike Lipkin from Speakers Canada's roster will engage audiences into the content of the presentation to bring awareness and a fresh perspective for their approach to their work and their lives. Book Mike Lipkin to educate, motivate and activate the audience through an interactive and entertaining presentation at corporate meetings and gatherings.
Known as a popular key note speaker in Canada, Mike Lipkin creates life changing experiences for the participants with practical insights and strategic advice they can implement right after the session. Working with a one our leading expert speaker like Mike Lipkin from Toronto, Ontario offers organizations a fresh perspective to assist the people of the organization. No matter if it is a government, association, or business crowd, Mike Lipkin is a perfect speaker for your event. Through unique practical insights for trending topics and years experience speaking to different organizations, Mike Lipkin focuses on changing individuals to make better decisions at work and their lives. No matter if you are holding an in person or virtual event, having an influential speaker such as Mike Lipkin will engage, motivate, and activate the audience to make a change in their lives and inspire action for results to meet organizational goals. Your workforce will benefit from Mike Lipkin's presentations and speeches, with measurable results set to shift the people of the organization and core direction of the company. Book Mike Lipkin speaker for your annual general meeting, conference, summit, or convention in Canada.
How much does it cost to hire Mike Lipkin for a keynote presentation or virtual event?
Mike Lipkin is an expert professional key note speaker with a lot of experience speaking and delivering engaging talks to organizations and audiences in Canada. Each of Speaker Bureau Canada's talent have different ways to assess their fees, and Mike Lipkin speaker fee ranges depending on the size of the audience, event format (in person or virtual), event location, and if the organization booking them is a non profit, association, government department/government agency or business/corporation. The speakers we work with are flexible with their fees, and it is important for us to learn more about your event before we approach them, as it is our role to work for you, and to help you find a speaker within budget. 
Please contact Speakers Bureau of Canada and provide us with your event details so that we can contact Mike Lipkin to check availability or confirm the pricing and associated costs to hire a great speaker like Mike Lipkin for your event. As Mike Lipkin's agent and as a Canadian top speaker bureau and talent agency for speakers, we are able to propose each event opportunity from each host organization's behalf to try to help you get in touch with Mike Lipkin and confirm them for your in person or online meeting/event. We can also provide and advise on the booking process and potentially negotiate their fee. Speakers Canada is a client focused speaker agency, and we work for you in finding good speakers for your team meetings and booking processes.
Mike Lipkin Disclaimer
Speakers Bureau Canada assists companies and event planning teams seeking to hire talent like

Mike Lipkin

for speaking engagements, virtual meetings, conference appearances, training sessions and workshops facilitations. Our Canadian speakers bureau does not claim to exclusively represent

Mike Lipkin

, however they are represented by Speakers Canada, and we work with them closely for their Canadian speaking opportunities and bookings. As Canada's top speaker bureau, we represent Canadian motivational keynote speakers and professional guest speakers that will be available on your upcoming events date and location that are withing the budget. Our talented bureau speaker booking agency can help find business speakers or celebrity speakers that aligns with each organization, audience, event theme and the topic themes you hope for the speaker to address in their presentation. 
When SBC receives a request to book Mike Lipkin we provide you with their speaker fees, travel costs and check their schedules. We work closely with the host organization's event planning team and the speaker to handle the logistics and to relay or negotiate associated costs. Our talented team members then will work with our talent directly or their agent/manager/assistant to confirm the Canadian speaker fee and travel expenses, so that event planning teams can receive an official quote for the speaker appearing at the event. Speaker fees and travel costs vary per speaker and our role is to contact Mike Lipkin about your event, after we have connected with the event organizers to learn all the event details and/or conference program. Each booking request is unique since session durations and audience sizes can vary which may affect the speaker's fees. If you are looking to hire Mike Lipkin, we recommend filling out the booking request form so a booking agent from Speakers Bureau Canada can get in touch with our talent to help you coordinate with your team to engage the speaker for a successful event.