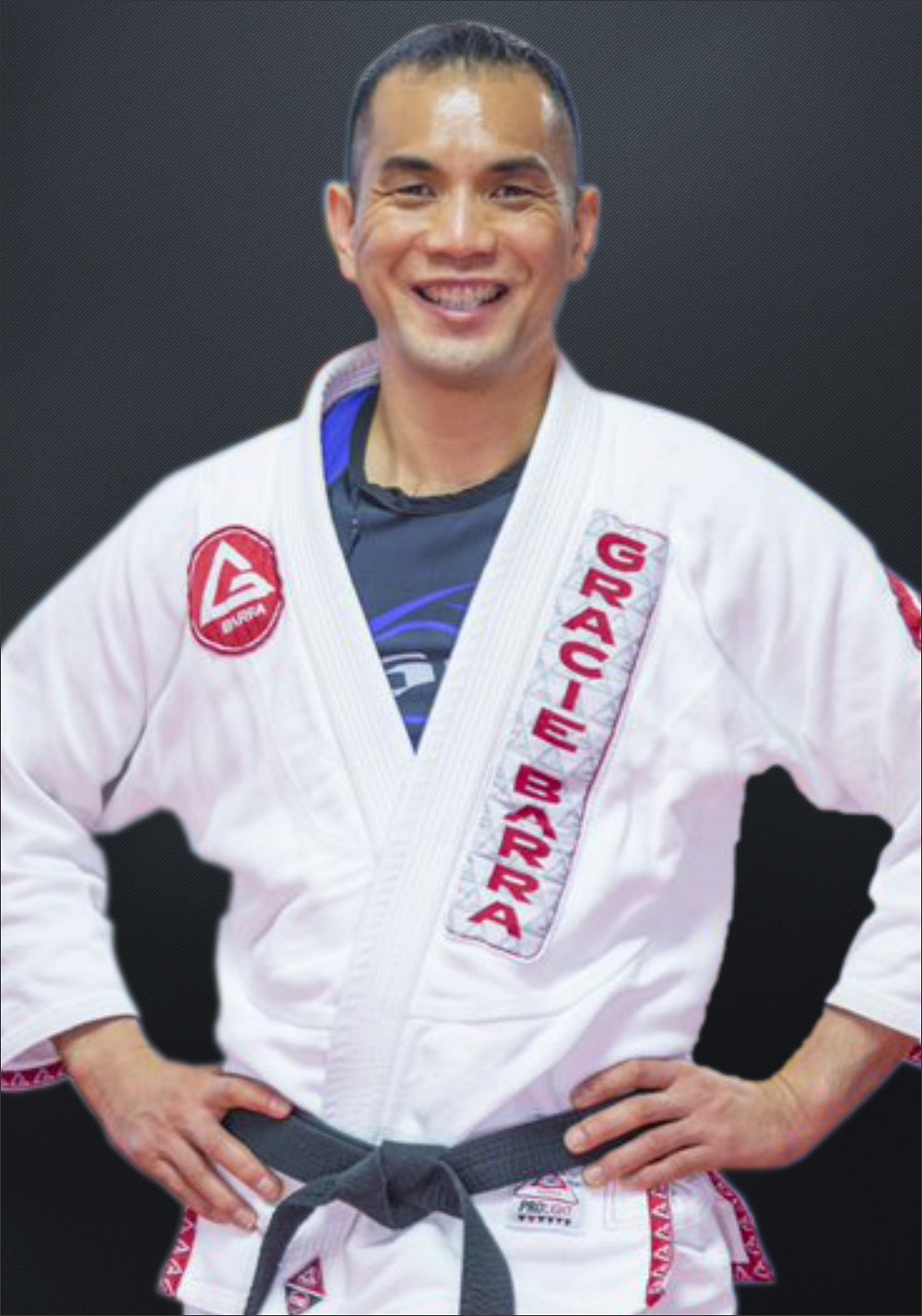 Martial Arts Champion, Performance and Productivity, Resiliency and Stress Management Expert
Travels From:
Vancouver, British Columbia
Raz Chan is a Brazilian jiu-jitsu black belt, an author, and a researcher on mental toughness for athletes who began his martial arts training at the age of 5. Raz Chan inspires the audiences to keep focused on self-improvement, and their goals and to overcome all obstacles to get themselves to where they want to be.
Expertise in
Employee Management
Health and Wellness
Leadership
Mental Health & Mental Wellness
Peak Performance & Productivity
Personal Development & Growth
Resilience & Adversity
Business Growth & Strategy
Speaker Types
Athletes & Sports
Conference
Education & Teachers
Inspirational
Lifestyle & Health
Motivation
RAZ CHAN BIOGRAPHY
Raz Chan is a Brazilian jiu-jitsu black belt, bestselling author, and speaker on mental mastery. As a child, he experienced the power of the martial arts spirit in overcoming adversity when his father lost his family savings to bankruptcy. Instead of giving up on his dream, his father started his tiny bean sprout business in the basement of their home. In the daytime, his father tended to the business and at night he worked as a delivery driver for Kentucky Fried Chicken. Young Raz Chan went to work at the age of 10 to help with the family finances. The family's struggles drifted from barely paying the bills to having almost no money for necessities. Regardless of the circumstances, they remained resilient, doing whatever it took to succeed.
One of the lessons Raz Chan learned from this difficult time, was his father continuing to practice martial arts every day at 5:30 am in the parking lot of K-mart near their tiny home. His father credits this daily practice with helping him clear his mind to focus on transforming failure into success. Consequently, the road to success was a long one taking over 12 years to help build his family business to become a profitable and major player in the food industry. Furthermore, Raz discovered the power of a strong mind and how it relates to success. He continues to use his experience to overcome adversity and achieve his goals.
Recalling this life lesson, Raz Chan began to take an active interest in the area of mental mastery at the age of 26. Inspired by the works of Bruce Lee, and Brian Tracy, and inspirational movies, he delved into studying how successful people in business and martial arts went from struggle to success. From the foods they ate, exercise habits, self-education, and the way they used adversity to build the life they dreamed of. Raz took it upon himself to implement these philosophies for his own success. He brings these strategies forward throughout his presentations.
The positive shift and newfound knowledge transformed Raz Chan's life from a sickly underweight kid lacking confidence to a martial arts master with a life purpose. Since 2005, he has passionately transformed the lives of thousands of individuals through his martial arts teachings. As a result, he has written two books related to personal development, the bestselling "Power Principles for Success" with Brain Tracy and "The Human Excellence Project". Furthermore, his passion to help and inspire others through his story leaves audiences with practical insights on how they can become their own champion in life and work.
Above all, Raz Chan uses practical insights from his story to identify how one person's struggles can help them become a better person and leader. Because of his will for a better life for himself and his family, Raz's hard work and self-determination have led him to become the man he is today. As a result of his presentations, audiences are inspired to keep focused on self-improvement, and their goals and to overcome all obstacles to get themselves to where they want to be.
Leave it All in the Ring
This keynote teaches audience members to reach deep within themselves to step out of their everyday comfort by learning something new to make a difference in their life and the world around them. It encourages audience members to make their life a masterpiece worth remembering.

Known as a great storyteller, Raz Chan draws from his childhood experience of struggling with poverty and fitting in with Canadian culture. Heading down a destructive road, the mixed martial arts provided him with internal guidance to strive to be not only a martial arts champion but a life champion. One does not have to be a black belt in martial arts to take advantage of the success principles it teaches. Anyone struggling to reach the next level of success will surely benefit from his speech. They will gain focus, courage, and discipline to achieve higher levels of success.

Virtual Presentation

Keynote Presentation

Workshop Session

Half Day Training

Full Day Training
C.H.A.M.P - Courage, Honour, Awareness, Mindfulness, Presence
This presentation is based on his book The Human Excellence Project. Using martial arts principles based on both western and eastern cultures, Raz Chan helps transform individuals and teams to harness their hidden potential by improving their mindset, focus, discipline, health, and wellness. Following a plan to optimize human performance both in and outside of the organization.

Virtual Presentation

Keynote Presentation

Workshop Session

Half Day Training

Full Day Training
If you're looking for someone who can lead you directly to success, Raz Chan is your guy. He is a living testament to the fact that your life circumstances don't have to dictate who you become. That power is within you…and Raz can help you find it!
This book shows you how to perform at your best in every area of your life.
Simple, powerful truths and insightful reflections from Raz Chan, whose mastery of martial arts infuses a compelling narrative, tracing a life from a child's wonder and a teenager's insecurity to an adult's realization that ambition should be learned, taught, and celebrated. An inspired man of ideas, Sensei Chan's words are shaped by oral traditions from the East and informed by a Western enthusiasm for stories of personal pursuit. Raz is a warrior, a teacher, and a gentleman.
Highly recommended for executives, parents, and athletes who would like to increase their success and fulfillment.
We are confident in recommending Raz Chan as a speaker. His passionate style engages the audience and he is very informative. He relates directly with the audience through shared experiences and provides great advice that had our youth smiling and nodding and learning! I can highly recommend Raz as a speaker and hope I have the opportunity to hear him again.
Raz Chan CAN DELIVER CUSTOMIZED PRESENTATIONS WITHIN THE FOLLOWING AREAS OF EXPERTISE & TOPIC THEMES
Expertise in
Employee Management
Health and Wellness
Leadership
Mental Health & Mental Wellness
Peak Performance & Productivity
Personal Development & Growth
Resilience & Adversity
Team Building & Teamwork
Business Growth & Strategy
Speaker Types
Athletes & Sports
Conference
Education & Teachers
Inspirational
Lifestyle & Health
Motivation
FAQs ON BOOKING Raz Chan
Raz Chan keynote speaker is an expert presenter and has a wide range of experience speaking to a wide variety of audiences and organizations. Raz Chan delivers keynotes, workshops & training sessions. They may also host or emcee events. Hire Raz Chan from Vancouver, British Columbia for your event to inspire the audience to take action and make change in their work and their lives. Your workplace will benefit from our keynote speaker and their keynote talks and speeches will shift the mindsets or behaviours for the audience members in Canada. 
Interested in Booking Raz Chan for an event?
Are you looking to hire Raz Chan for your event? Raz Chan Vancouver, British Columbia is a dynamic and engaging speaker that offers audiences researched content paired with expertise and a dynamic speaking ability. Raz Chan is also a Canadian corporate consultant and coach and facilitates workshops and training sessions for a corporate audience. Raz Chan is an expert keynote presenter and speaks on wide variety of topics. Hiring a great speaker for your event is important and working with a thought leader like Raz Chan from Speakers Canada's roster will engage audiences into the content of the presentation to bring awareness and a fresh perspective for their approach to their work and their lives. Book Raz Chan to educate, motivate and activate the audience through an interactive and entertaining presentation at corporate meetings and gatherings.
Known as a popular key note speaker in Canada, Raz Chan creates life changing experiences for the participants with practical insights and strategic advice they can implement right after the session. Working with a one our leading expert speaker like Raz Chan from Vancouver, British Columbia offers organizations a fresh perspective to assist the people of the organization. No matter if it is a government, association, or business crowd, Raz Chan is a perfect speaker for your event. Through unique practical insights for trending topics and years experience speaking to different organizations, Raz Chan focuses on changing individuals to make better decisions at work and their lives. No matter if you are holding an in person or virtual event, having an influential speaker such as Raz Chan will engage, motivate, and activate the audience to make a change in their lives and inspire action for results to meet organizational goals. Your workforce will benefit from Raz Chan's presentations and speeches, with measurable results set to shift the people of the organization and core direction of the company. Book Raz Chan speaker for your annual general meeting, conference, summit, or convention in Canada.
HOW MUCH DOES IT COST TO BOOK Raz Chan FOR A VIRTUAL OR KEYNOTE PRESENTATION?
Raz Chan is an expert professional key note speaker with a lot of experience speaking and delivering engaging talks to organizations and audiences in Canada. Each of Speaker Bureau Canada's talent have different ways to assess their fees, and Raz Chan speaker fee ranges depending on the size of the audience, event format (in person or virtual), event location, and if the organization booking them is a non profit, association, government department/government agency or business/corporation. The speakers we work with are flexible with their fees, and it is important for us to learn more about your event before we approach them, as it is our role to work for you, and to help you find a speaker within budget. 
Please contact Speakers Bureau of Canada and provide us with your event details so that we can contact Raz Chan to check availability or confirm the pricing and associated costs to hire a great speaker like Raz Chan for your event. As Raz Chan's agent and as a Canadian top speaker bureau and talent agency for speakers, we are able to propose each event opportunity from each host organization's behalf to try to help you get in touch with Raz Chan and confirm them for your in person or online meeting/event. We can also provide and advise on the booking process and potentially negotiate their fee. Speakers Canada is a client focused speaker agency, and we work for you in finding good speakers for your team meetings and booking processes.
DISCLAIMER:
Speakers Bureau Canada assists companies and event planning teams seeking to hire talent like Raz Chan for speaking engagements, virtual meetings, conference appearances, training sessions and workshops facilitations. Our Canadian speakers bureau does not claim to exclusively represent Raz Chan, however they are represented by Speakers Canada, and we work with them closely for their Canadian speaking opportunities and bookings. As Canada's top speaker bureau, we represent Canadian motivational keynote speakers and professional guest speakers that will be available on your upcoming events date and location that are withing the budget. Our talented bureau speaker booking agency can help find business speakers or celebrity speakers that aligns with each organization, audience, event theme and the topic themes you hope for the speaker to address in their presentation. 
When SBC receives a request to book Raz Chan we provide you with their speaker fees, travel costs and check their schedules. We work closely with the host organization's event planning team and the speaker to handle the logistics and to relay or negotiate associated costs. Our talented team members then will work with our talent directly or their agent/manager/assistant to confirm the Canadian speaker fee and travel expenses, so that event planning teams can receive an official quote for the speaker appearing at the event. Speaker fees and travel costs vary per speaker and our role is to contact Raz Chan about your event, after we have connected with the event organizers to learn all the event details and/or conference program. Each booking request is unique since session durations and audience sizes can vary which may affect the speaker's fees. If you are looking to hire Raz Chan, we recommend filling out the booking request form so a booking agent from Speakers Bureau Canada can get in touch with our talent to help you coordinate with your team to engage the speaker for a successful event.
Speakers Similar to Raz Chan
Contact 
SPEAKERS BUREAU OF CANADA