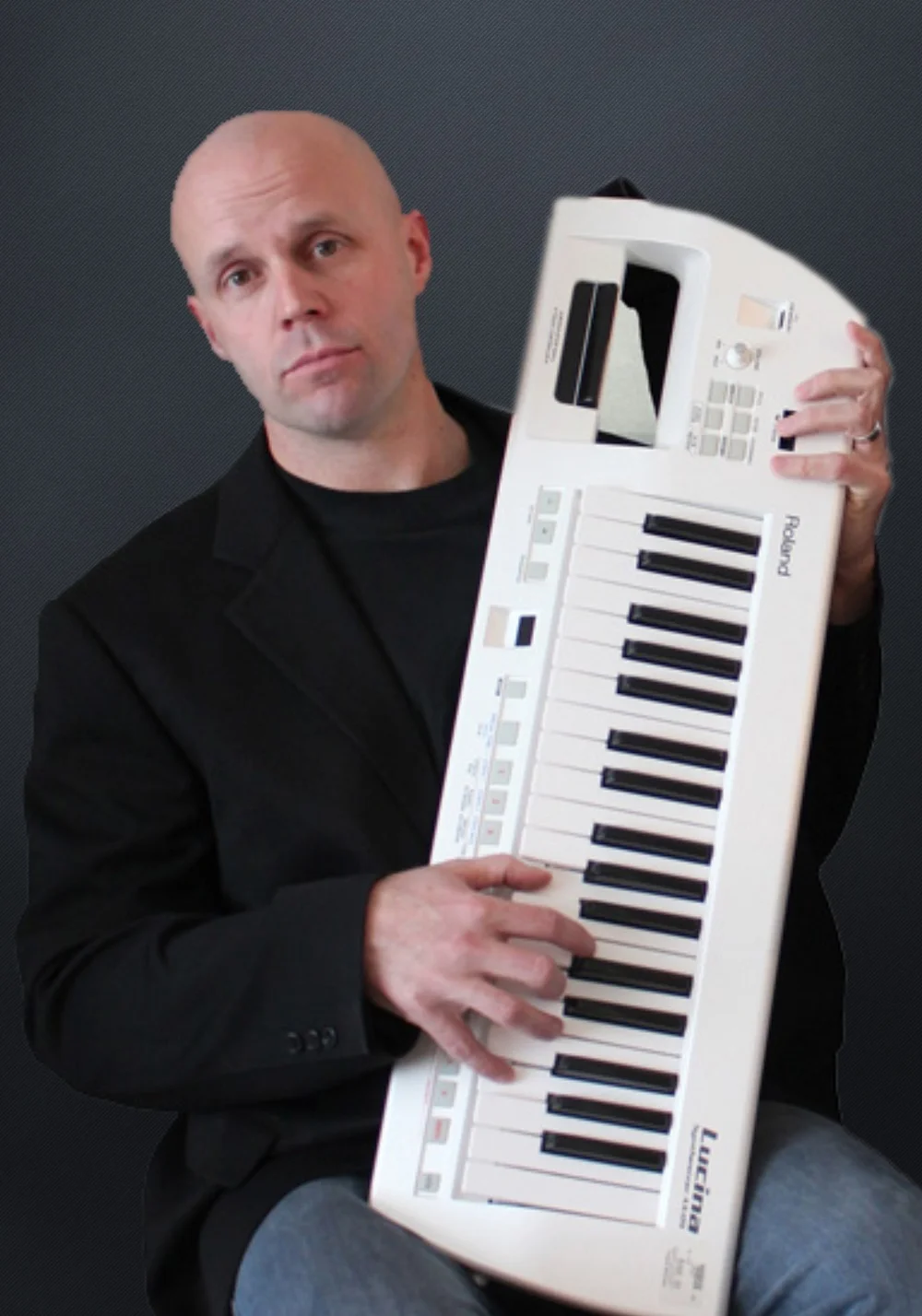 An Inspirational Speaker, Professional Emcee, Musician & Music Care Facilitator
Matt Day is a professional musician and speaker, connecting with leading organizations to inspire teams through the constantly changing, stress-filled environment that is now the norm in our world. His diverse client list includes Alberta Health Services, Enbridge, Fairmont, Covenant Health, AAP, Epcor, SASBO, AUPE, Alberta Medical Association and more.
Peak Performance
Personal Growth
Resilience & Adversity
Teamwork
Academia
Annual General Meetings
Associations & Unions
Award Gala's & After Dinner
Campus & University Speakers
Conferences & summits
Corporate Entertainers
Department Meeting
MATT DAY BIOGRAPHY
Matt Day is a professional musician, speaker and music-in-healthcare provider with experience presenting to industry leaders and organizations. His background in music, live events, speaking and healthcare inform his mindful and enthusiastic approach to communication.
Matt Day is fuelled by his passion for understanding what people need to move forward in life and business. He considers himself a 'constant learner' eager to both build on his academic foundations in music and stay connected to current changes through continued professional development and innovative projects.
Matt's hunger for knowledge and his determination to turn the power of music into a catalyst for improving the lives of others contributes to his success as a speaker and patient ally. Whether inspiring hundreds on a stage or bringing hope and tools to a patient in a rehabilitation hospital, Matt is always looking for new ways to present powerful ideas.
Hope is a value guiding Matt's communication. He enjoys finding creative ways to bring hope to his world. Matt Day believes that mindfulness and personal growth are key to success – a tenet he lives out through his interests in cold therapy training, biking, golfing, music, cooking and learning new languages.
Matt has emceed many wonderful events. Some examples are the City of Edmonton New Year's Galas, The Canadian Home Builders Awards of Excellence, the Alberta Chamber of Resources, The Rainbow Gala, and The Edmonton Realtor's Ball. What is clear is that clients value Matt's creativity and flexibility. When requested, Matt adds a musical flair to his emcee services. As a benefit, Matt is a great way to include live music at your event.
Matt Day currently works as a freelance musician and speaker and is always interested in discussing how to make sure you hire what your company or team requires to stay resilient and innovative.
Matt Day

Topic Presentations
the crescendo effect - using the habits of professional musicians help our journeys to wholeness.
Virtual Presentation

Keynote Presentation

Workshop Session

Half Day Training

Full Day Training

Matt has many powerful stories about the effects of music.  His experience as a professional musician creates a refreshing and powerful presentation. The Crescendo Effect is one of Matt's most popular presentations. The Crescendo Effect looks at the habits of professional musicians and invites the audience to adopt them. A positive audience results; doors of opportunity can open when we apply these new learnings.
raising the bar for online delivery options
Virtual Presentation

Keynote Presentation

Workshop Session

Half Day Training

Full Day Training

In 2020, Matt went virtual. To accomplish this, he sold his motorcycle and built a studio. Because of this, he is able to achieve a new standard of excellence. Above all, this means meeting his client's virtual presentation needs.
professional emcee and musical humorist
Virtual Presentation

Keynote Presentation

Workshop Session

Half Day Training

Full Day Training

Matt has emceed many wonderful events. Some examples are the City of Edmonton New Year's Galas, The Canadian Home Builders Awards of Excellence, the Alberta Chamber of Resources, The Rainbow Gala, and The Edmonton Realtor's Ball. What is clear is that clients value Matt's creativity and flexibility. When requested, Matt adds a musical flair to his emcee services. As a benefit, Matt is a great way to include live music at your event.

Is laughter a value for you?  If so, as a musical humorist, Matt will have your audience laughing and engaged. This is a natural result of his fun and interactive style.
Matt Day can deliver customized presentations within the following topic themes.
I wanted to send a note to say thank you again for all you did to make Leaders Forum a success! The time you offered on the day leading up to Thursday is so appreciated! The feedback we have received on your inspiring keynote so far has been amazing. I sneaked a peak at the evaluations and literally, almost every single one said "More Matt Day!" or "Matt was wonderful"!
Thank you again for all your hard work in supporting our people through an inspiring and educational day!
Matt Day made my "Day" as a professional speaker for over 20 years, Matt was our MC for a large event and he handled every conceivable detail upfront with class and care. Not only did he wow the audience with his ability to inject humour, but he was also able to get the audience's attention at a moment's notice and keep us all on time. As a speaker, I felt he handled the show perfectly. There are not many MC's that I'd highly recommend, however, I would highly recommend Matt Day.
Canadian Association of Professional Speakers (CAPS)
I hired Matt Day in 2016 to emcee our Canada Day event at City Hall, he had previously done other events at City Hall and was highly recommended. I was so pleased with his performance that we hired Matt to emcee the Grand Opening of the Downtown Arena in September 2016, New Year's Eve Downtown 2016 and Family Day 2017. He will be returning to City Hall to emcee our Canada Day event this year.
Matt Day is a true professional, an outstanding emcee and a multi-talented artist and musician. It has been a pleasure getting to know him and working with him.
In my 27 years with the City, your presentation, without a doubt, was the best I've witnessed at a City AGM. I was not aware of all the places you've performed until I read your bio – and then was more than impressed.  Your voice and expertise with the piano are, in my opinion, second to none — yes, that includes Elton John!!  The way you interwove information about the City into "The Crescendo Effect" was brilliant … the message, itself, would be valuable to anyone – either at work or in their personal life!  This was one of those good experiences that will remain in our memories forever!
Matt Day's lunch performance at one of our NAIT teaching events was a big hit. We had told our instructors to stay in the room for a surprise performance. From the very video announcement of Matt, right to the group song at the end, the audience was just ecstatic. Matt was very inventive with self-created songs, video clips, a slide show, and many jokes. Comments on the evaluation forms included 'The lunch entertainment was awesome' and 'Matt Day was just hilarious'.
The performance was completely customized to NAIT, highlighting very NAIT-specific pet peeves, NAIT-isms, and oddities of NAIT's executives. Besides causing a great amount of laughter, this also contributed to a very welcoming sense of 'belonging at NAIT' amongst instructors. I very much recommend Matt Day to perform at your event, especially if you are looking to celebrate and bond with your staff.
Matt Day– thank you so much for your contribution to the CPA's National Conference in Edmonton in June. You made such a significant impact at the Opening Ceremonies—from your exciting introduction to the custom song lyrics that showed you'd done your research on what was important to both the Association and the delegates, to your unique humour—all of this made for a meaningful and memorable kick-off.
When you re-appeared as the surprise MC at the Awards Banquet the next night, the delegates reacted with such enthusiasm and your professionalism, musical talent and humour added much to the success of the evening. It was my particular pleasure to work with you throughout the planning and execution of these events. I look forward to future collaborations
Canadian Payroll Association
How to book Matt Day for an event?
Matt Day keynote speaker is an expert presenter and has a wide range of experience speaking to a wide variety of audiences and organizations. Matt Day delivers keynotes, workshops & training sessions. They may also host or emcee events. Hire Matt Day from Edmonton, Alberta for your event to inspire the audience to take action and make change in their work and their lives. Your workplace will benefit from our keynote speaker and their keynote talks and speeches will shift the mindsets or behaviours for the audience members in Canada. 
Interested in booking Matt Day for an event?
Are you looking to hire Matt Day for your event? Matt Day Edmonton, Alberta is a dynamic and engaging speaker that offers audiences researched content paired with expertise and a dynamic speaking ability. Matt Day is also a Canadian corporate consultant and coach and facilitates workshops and training sessions for a corporate audience. Matt Day is an expert keynote presenter and speaks on wide variety of topics. Hiring a great speaker for your event is important and working with a thought leader like Matt Day from Speakers Canada's roster will engage audiences into the content of the presentation to bring awareness and a fresh perspective for their approach to their work and their lives. Book Matt Day to educate, motivate and activate the audience through an interactive and entertaining presentation at corporate meetings and gatherings.
Known as a popular key note speaker in Canada, Matt Day creates life changing experiences for the participants with practical insights and strategic advice they can implement right after the session. Working with a one our leading expert speaker like Matt Day from Edmonton, Alberta offers organizations a fresh perspective to assist the people of the organization. No matter if it is a government, association, or business crowd, Matt Day is a perfect speaker for your event. Through unique practical insights for trending topics and years experience speaking to different organizations, Matt Day focuses on changing individuals to make better decisions at work and their lives. No matter if you are holding an in person or virtual event, having an influential speaker such as Matt Day will engage, motivate, and activate the audience to make a change in their lives and inspire action for results to meet organizational goals. Your workforce will benefit from Matt Day's presentations and speeches, with measurable results set to shift the people of the organization and core direction of the company. Book Matt Day speaker for your annual general meeting, conference, summit, or convention in Canada.
How much does it cost to hire Matt Day for a keynote presentation or virtual event?
Matt Day is an expert professional key note speaker with a lot of experience speaking and delivering engaging talks to organizations and audiences in Canada. Each of Speaker Bureau Canada's talent have different ways to assess their fees, and Matt Day speaker fee ranges depending on the size of the audience, event format (in person or virtual), event location, and if the organization booking them is a non profit, association, government department/government agency or business/corporation. The speakers we work with are flexible with their fees, and it is important for us to learn more about your event before we approach them, as it is our role to work for you, and to help you find a speaker within budget. 
Please contact Speakers Bureau of Canada and provide us with your event details so that we can contact Matt Day to check availability or confirm the pricing and associated costs to hire a great speaker like Matt Day for your event. As Matt Day's agent and as a Canadian top speaker bureau and talent agency for speakers, we are able to propose each event opportunity from each host organization's behalf to try to help you get in touch with Matt Day and confirm them for your in person or online meeting/event. We can also provide and advise on the booking process and potentially negotiate their fee. Speakers Canada is a client focused speaker agency, and we work for you in finding good speakers for your team meetings and booking processes.
Matt Day Disclaimer
Speakers Bureau Canada assists companies and event planning teams seeking to hire talent like

Matt Day

for speaking engagements, virtual meetings, conference appearances, training sessions and workshops facilitations. Our Canadian speakers bureau does not claim to exclusively represent

Matt Day

, however they are represented by Speakers Canada, and we work with them closely for their Canadian speaking opportunities and bookings. As Canada's top speaker bureau, we represent Canadian motivational keynote speakers and professional guest speakers that will be available on your upcoming events date and location that are withing the budget. Our talented bureau speaker booking agency can help find business speakers or celebrity speakers that aligns with each organization, audience, event theme and the topic themes you hope for the speaker to address in their presentation. 
When SBC receives a request to book Matt Day we provide you with their speaker fees, travel costs and check their schedules. We work closely with the host organization's event planning team and the speaker to handle the logistics and to relay or negotiate associated costs. Our talented team members then will work with our talent directly or their agent/manager/assistant to confirm the Canadian speaker fee and travel expenses, so that event planning teams can receive an official quote for the speaker appearing at the event. Speaker fees and travel costs vary per speaker and our role is to contact Matt Day about your event, after we have connected with the event organizers to learn all the event details and/or conference program. Each booking request is unique since session durations and audience sizes can vary which may affect the speaker's fees. If you are looking to hire Matt Day, we recommend filling out the booking request form so a booking agent from Speakers Bureau Canada can get in touch with our talent to help you coordinate with your team to engage the speaker for a successful event.