Victoria, British Columbia
Psychosocial Wellness Expert for busy professionals | Revitalization Specialist | Coach | Author
Stephanie Staples is a renowned motivational speaker, coach, and multi-titled author with more than 20 years of experience in personal and professional development. Her diverse healthcare, communications, fitness and entrepreneurship background allows her to connect with almost anyone. Steph's dynamic and energetic speaking style, combined with her practical, easily actionable tools and inspiring stories, has earned her a reputation as a must-see speaker on conference programs.
Change Management
Communications
Employee Management
Health & Wellness
Leadership
Mental Health
Peak Performance
Personal Growth
Business Management
All Staff Meeting
Annual General Meetings
Award Galas & After Dinner
Awareness Days
Certified Speakers
Certified Speaking Professionals (CSP)
Conference
Corporate Audience
STEPHANIE STAPLES BIOGRAPHY
Stephanie Staples is a force to be reckoned with! As a revitalization specialist & psychosocial wellness expert for busy professionals who are 'nice for a living', this motivational speaker, coach, and multi-titled author has spent over two decades helping people achieve personal and professional growth. With a background in healthcare, communications, fitness, and entrepreneurship she is relatable to anyone seeking positive change.
As a nurse & mom of three who thought she could 'do it all', Stephanie Staples experienced firsthand the impact that stresses and burnout can have on one's well-being and that of their family. Her struggles inspired her to seek out new ways to help herself and others find more time, energy, and motivation to improve their quality of life, sustainably. This led her to pursue a career as a coach and motivational speaker, where Stephanie Staples could use her expertise to help others find balance and increase happiness in their lives.
Steph's speaking style is fun, engaging, and edutaining, making her programs not only informative but also enjoyable. Stephanie Staples is known for her ability to connect with audiences of all backgrounds and inspire them to take action towards achieving their goals and perhaps, equally as important, helping them believe positive change for themselves is achievable.
Her passion for helping others has earned her numerous awards and a reputation as a catalyst for positive change. Stephanie Staples is sought after by organizations looking to promote happiness, inspiration, and positivity in the workplace. As a reWired nurse and psychosocial wellness expert, Stephanie Staples has a deep understanding of the importance of mental and emotional well-being. Her custom tributes, down-to-earth delivery style, and easily actionable strategies are proven to statistically increase feelings of happiness, hopefulness, control, and empowerment. Stephanie Staples uses her expertise and experience to help individuals and organizations see what is possible.
Stephanie Staples is also a serial entrepreneur who has started and run multiple successful businesses. Stephanie Staples is a multi-titled author who offers practical advice and inspiring stories to help readers be the best version of themselves.
In addition to her speaking engagements and coaching services, Stephanie Staples also hosts a podcast called Talk Reel, writes monthly magazine columns and walks her talk of contribution, connection and quality of life, daily.
It is worth mentioning that if you want a power-pointy, didactic speaker, Stephanie Staples is probably not your girl; but if you want to move the needle with a real, genuine, authentic human who has a sincere desire to serve others in a fun and engaging way, schedule a call with her.
Overall, Stephanie Staples is a must-see speaker for event organizers looking to create a memorable in-person or virtual conference experience for their attendees.
Her empowering message of living a more fulfilling and balanced life is more relevant now than ever, and her ability to connect with audiences and inspire positive change makes her a valuable asset to any conference or event.
Stephanie Staples

Topic Presentations
bring your 'a' game to work and life
Virtual Presentation

Keynote Presentation

Workshop Session

Half Day Training

Full Day Training

Have you ever been tired, overwhelmed, or stressed and it's not even lunchtime yet? Do you have staff members, colleagues or even loved ones that seem disengaged and determined to find negative in even the best news? Are you thinking that there must be something more, but can't quite put your finger on what it is?

Never fear… help has arrived!

"Bring your 'A' game to work and life!" is a series of keynotes and workshops that are bringing rave reviews from both meeting planners and participants alike. Follow Stephanie's five strategic 'A' strategies for a life of success and significance and learn not only what it takes to "W.I.N"., but how specifically to do it!
when enlightening strikes - creating a mindset for uncommon success
Virtual Presentation

Keynote Presentation

Workshop Session

Half Day Training

Full Day Training

What to do when it does…and when it doesn't!

To encourage, support and guide you as you navigate the challenges of moving from merely surviving to absolutely thriving.
inspired leadership - how to keep yourself & others motivated and inspired
Virtual Presentation

Keynote Presentation

Workshop Session

Half Day Training

Full Day Training

In our busy world, it is easy to lose not only momentum but the spark that keeps us going through the tough times. Spending an hour in Inspired Leadership will leave you with immediately actionable ideas to implement both at work and home to increase hope, happiness, and feelings of being valued and appreciated.

Get your group on your side, inspired to work together for the good of the team.
the "try" angle - encouraging curiosity to enhance your life & the world around you
Virtual Presentation

Keynote Presentation

Workshop Session

Half Day Training

Full Day Training

This presentation is perfect for ​everyone who has a heartbeat, puts their socks on one at a time and secretly (or publicly) wants a little more in their work & home life! The audience Experience The "Try" Angle philosophy.  To encourage others to explore ways, reasons and benefits of thinking of things from an angle that encourages curiosity overcomes barriers and reaps unthinkable rewards. If you want your team to think bigger, wonder more, and question their first negative response when it comes to trying new things, challenging new experiences and/or meeting new people, this will be a great investment!
your life, unlimited - the ultimate quest for your personal best
Virtual Presentation

Keynote Presentation

Workshop Session

Half Day Training

Full Day Training

To recognize, reinspire, reengage and reconnect you with your purpose and value.
rock your next event with a one-of-a-kind master of ceremonies.
Virtual Presentation

Keynote Presentation

Workshop Session

Half Day Training

Full Day Training

Far more than just introducing the next speaker as a professional Emcee, Stephanie Staples will set the stage for success from the first promotion of the event until the last person leaves with a smile on their face.

Panel moderation is also available!
revitalization at work
Virtual Presentation

Keynote Presentation

Workshop Session

Half Day Training

Full Day Training

If you have ever been tired, overwhelmed, or stressed and it's not even lunchtime yet, you will need to hear this presentation. Stephanie Staples has burnt out and bounced back and she knows firsthand that we can only do good if we feel good and we can only feel good if we are willing to look at our lives beyond our work. Journey on this high-energy, no holds barred presentation as Stephanie peels the layers back and exposes not only what you need to do to achieve uncommon success in your life and livelihood, but how to do it!
inspired leadership
Virtual Presentation

Keynote Presentation

Workshop Session

Half Day Training

Full Day Training

Have you been searching for inspiration to lead, but don't know where to find it? Do you have relationships you would like to improve personally and/or collegially? Would having a more engaged, proactive and positive culture impact your life? You will find answers, insight and inspiration in this Keynote that will take your leadership level into a whole different sphere. Make the world a better place, get concrete ideas to grow yourself personally and professionally and learn how to take relationships, personal growth and gratitude to the next level in this uplifting, fun and game-changing program.  Your heart will be full and your mind will be racing with actionable ideas to implement immediately.  You may never be the same. 
Stephanie was our keynote speaker for Pediatric Nurse's Week. Her presentation on resiliency was REAL – uplifting and practical, she shared strategies to help us cope with the challenges of working in healthcare today. Her message is engaging and fun. I definitely recommend Steph for your next speaking event!
Children's Hospital & Medical Center Omaha
Stephanie is a funny, knowledgeable, energetic and dynamic speaker. She is thought-provoking, motivating, and pragmatic; she has the ability to talk at your level. You leave her session inspired, happy and content, with a number of ideas and small steps to focus on your attitude and make your life more fulfilling.
The Canadian National Institute for the Blind
I would highly recommend Stephanie Staples as a motivational speaker. Stephanie exudes energy, engages the audience, is thought-provoking and leaves everyone with great takeaways for dealing with stress in this hectic world of juggling too many priorities. Stephanie is a "must see" if your organization is looking at reducing absenteeism due to stress, providing tips on balancing work-life issues, and believes in investing in its employees well being for a more energized workforce.
Canada Drugs
Stephanie shared her passion, energy, and wisdom to the Spark Women's Leadership Conference. Stephanie went the extra mile for our team and the attendees at a time when we needed her energy and strategies. We would recommend her to any group that needs an authentic, honest, and insightful lift-up that filled with laughter based on experiences we can all relate to." Jennifer Moore, Spark Conference Chair
Spark Conference Chair
She was phenomenal! Steph was also funny, down to earth, and inspirational. She reached out to me several times during the planning phase, just to make sure that she understood our audience well.  I highly recommend Stephanie to anyone and hope to work with her again!
Tennessee Public Health
Stephanie Staples ROCKED the HOUSE as our motivational speaker for our annual team days in Calgary and Edmonton last week (June 2017). I left feeling energized, motivated, and excited about what I could do to elevate my life both personally and professionally. More importantly, I left with a full set of useful tools to immediately implement the insights of the day. We received excellent ratings from our 100+ professional staff and associates attending this event. Anyone looking to recharge, reward and revitalize their employees and associates must consider Stephanie for their corporate events!
CMA Dental Choice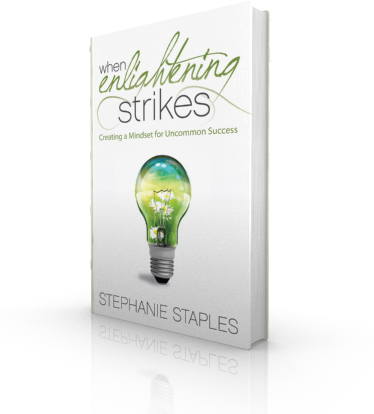 When Enlightening Strikes
Stephanie Staples has created a book that balances laugh out loud humor with excellent insights into human psycho-social growth and behaviour. Readers will not only be entertained by Stephanie's stories, they will be invited to examine their own "enlightening strikes," while learning concrete,...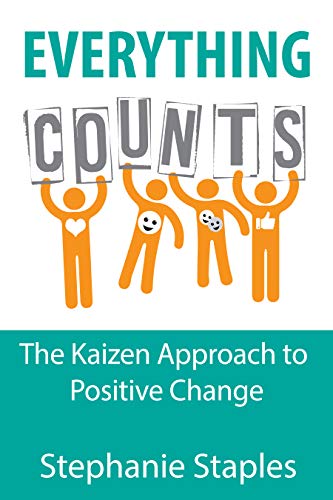 Everything Counts: The Kaizen Approach to Positive Change
Personal development just got a whole lot easier! Combining the power of Kaizen and the capability of cues, Everything Counts, will be your guide as you enhance your relationships, shift your mindset and are empowered to live your life better than ever before. Hop on this steady train heading to a...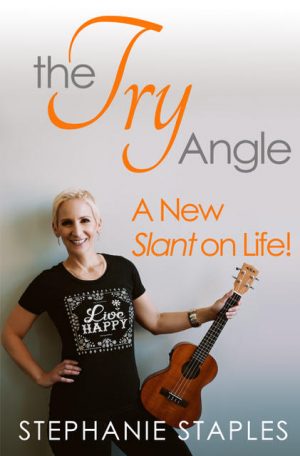 The Try Angle: A New Slant on Life!
When Stephanie Staples' big birthday was coming, she decided to meet the year in a very unique fashion. She created a 50/50 list, fifty challenges (Try's) in her fiftieth year. Covering all areas of her life including physical, emotional, spiritual, intellectual, community and even (gasp) sexual,...
How to book Stephanie Staples for an event?
Stephanie Staples keynote speaker is an expert presenter and has a wide range of experience speaking to a wide variety of audiences and organizations. Stephanie Staples delivers keynotes, workshops & training sessions. They may also host or emcee events. Hire Stephanie Staples from Victoria, British Columbia for your event to inspire the audience to take action and make change in their work and their lives. Your workplace will benefit from our keynote speaker and their keynote talks and speeches will shift the mindsets or behaviours for the audience members in Canada. 
Interested in booking Stephanie Staples for an event?
Are you looking to hire Stephanie Staples for your event? Stephanie Staples Victoria, British Columbia is a dynamic and engaging speaker that offers audiences researched content paired with expertise and a dynamic speaking ability. Stephanie Staples is also a Canadian corporate consultant and coach and facilitates workshops and training sessions for a corporate audience. Stephanie Staples is an expert keynote presenter and speaks on wide variety of topics. Hiring a great speaker for your event is important and working with a thought leader like Stephanie Staples from Speakers Canada's roster will engage audiences into the content of the presentation to bring awareness and a fresh perspective for their approach to their work and their lives. Book Stephanie Staples to educate, motivate and activate the audience through an interactive and entertaining presentation at corporate meetings and gatherings.
Known as a popular key note speaker in Canada, Stephanie Staples creates life changing experiences for the participants with practical insights and strategic advice they can implement right after the session. Working with a one our leading expert speaker like Stephanie Staples from Victoria, British Columbia offers organizations a fresh perspective to assist the people of the organization. No matter if it is a government, association, or business crowd, Stephanie Staples is a perfect speaker for your event. Through unique practical insights for trending topics and years experience speaking to different organizations, Stephanie Staples focuses on changing individuals to make better decisions at work and their lives. No matter if you are holding an in person or virtual event, having an influential speaker such as Stephanie Staples will engage, motivate, and activate the audience to make a change in their lives and inspire action for results to meet organizational goals. Your workforce will benefit from Stephanie Staples's presentations and speeches, with measurable results set to shift the people of the organization and core direction of the company. Book Stephanie Staples speaker for your annual general meeting, conference, summit, or convention in Canada.
How much does it cost to hire Stephanie Staples for a keynote presentation or virtual event?
Stephanie Staples is an expert professional key note speaker with a lot of experience speaking and delivering engaging talks to organizations and audiences in Canada. Each of Speaker Bureau Canada's talent have different ways to assess their fees, and Stephanie Staples speaker fee ranges depending on the size of the audience, event format (in person or virtual), event location, and if the organization booking them is a non profit, association, government department/government agency or business/corporation. The speakers we work with are flexible with their fees, and it is important for us to learn more about your event before we approach them, as it is our role to work for you, and to help you find a speaker within budget. 
Please contact Speakers Bureau of Canada and provide us with your event details so that we can contact Stephanie Staples to check availability or confirm the pricing and associated costs to hire a great speaker like Stephanie Staples for your event. As Stephanie Staples's agent and as a Canadian top speaker bureau and talent agency for speakers, we are able to propose each event opportunity from each host organization's behalf to try to help you get in touch with Stephanie Staples and confirm them for your in person or online meeting/event. We can also provide and advise on the booking process and potentially negotiate their fee. Speakers Canada is a client focused speaker agency, and we work for you in finding good speakers for your team meetings and booking processes.
Stephanie Staples Disclaimer
Speakers Bureau Canada assists companies and event planning teams seeking to hire talent like

Stephanie Staples

for speaking engagements, virtual meetings, conference appearances, training sessions and workshops facilitations. Our Canadian speakers bureau does not claim to exclusively represent

Stephanie Staples

, however they are represented by Speakers Canada, and we work with them closely for their Canadian speaking opportunities and bookings. As Canada's top speaker bureau, we represent Canadian motivational keynote speakers and professional guest speakers that will be available on your upcoming events date and location that are withing the budget. Our talented bureau speaker booking agency can help find business speakers or celebrity speakers that aligns with each organization, audience, event theme and the topic themes you hope for the speaker to address in their presentation. 
When SBC receives a request to book Stephanie Staples we provide you with their speaker fees, travel costs and check their schedules. We work closely with the host organization's event planning team and the speaker to handle the logistics and to relay or negotiate associated costs. Our talented team members then will work with our talent directly or their agent/manager/assistant to confirm the Canadian speaker fee and travel expenses, so that event planning teams can receive an official quote for the speaker appearing at the event. Speaker fees and travel costs vary per speaker and our role is to contact Stephanie Staples about your event, after we have connected with the event organizers to learn all the event details and/or conference program. Each booking request is unique since session durations and audience sizes can vary which may affect the speaker's fees. If you are looking to hire Stephanie Staples, we recommend filling out the booking request form so a booking agent from Speakers Bureau Canada can get in touch with our talent to help you coordinate with your team to engage the speaker for a successful event.