Futurist Speaker - Business Innovation, Business Strategy & Industry Trends Expert
Nikolas Badminton is an award-winning, dynamic and innovative virtual keynote speaker and international futurist consultant, researcher and media producer. Nikolas Badminton is a master of igniting curiosity in the changing world & shares an awe-inspiring vision of trends that shape the future to world-leading organizations and governments.
Change Management
Employee Management
Leadership
Business Growth
Business Management
Business Technology
Future Trends
Agriculture & Farming
Campus & University Speakers
Community Engagement Events
Conference
Economic Development
Education & Teachers
Environment & Climate Change
Finance & Insurance
NIKOLAS BADMINTON BIOGRAPHY
Nikolas Badminton is a world-renowned futurist who mentors leaders to create more connected, curious and creative teams that embrace futures design to imagine desirable futures, anticipate unforeseen risks, and strengthen strategic planning. He provides expertise in new technologies and promotes exponential thinking that equips executives and business leaders to imagine new thinking, strengthen strategic planning, and anticipate unforeseen risks.
Futurist speaker, Nikolas Badminton continues to work with some of the world's leading companies and organizations to bring new concepts and new ways of thinking to audiences around the globe. He is a Fellow of the Royal Society for Arts, Manufactures and Commerce (The RSA), and the futurist who the world's most impactful companies and filmmakers turn to for big ideas on our collective futures.
Nikolas Badminton Chief Futurist and Think Tank leader is a member of Chatham House and is a Fellow of the Royal Society for Arts, Manufactures and Commerce (The RSA), and has worked with over 300 of the world's most impactful companies to awaken curiosity and create incredible futures, including NASA, United Nations, Google, Microsoft, Intel, United Way, Bayer, Corteva, Bank of Canada, American Express, AT&T, Thales International, Rolls Royce, Heineken, Procter & Gamble, Government of Canada, UK Home Office, Government of Cayman Islands, IDEO, and many more.
Nikolas has been a mainstay in the media for the past decade talking about our futures. He was an advisor to the 'Age of AI' series with Robert Downley Jr and appears in two upcoming series – 'The Secrets of Big Data' and 'Deadly Science'. He appears regularly on SIRIUSXM, and on CTV's Future Friday talking about future trends. In addition, his essential research has also been featured by the BBC, VICE, The Atlantic, Fast Company, Techcrunch, Business Insider, Huffington Post, Forbes, Sputnik, Venturebeat, and Global News.
He was invited to pen the opening chapter for the new book 'The Future Starts Now', released in 2021. In February 2023 his new book 'Facing Our Futures' is released and provides executives and organizations with the foundations for future design and the tools to imagine new futures, create bolder visions, anticipate unforeseen risks, and strengthen strategic planning. The book aims to equip world leaders and executives with the tools to design brave new futures while gaining a holistic view of all possibilities.
Facing Our Futures: How foresight, futures design and strategy creates prosperity and growth – is Nikolas' number one best selling book and has been selected for the Next Big Idea Club and as the 'Next Gen Pick' for JP Morgan Private bank's 2023 Summer Reading List to guide new leaders to ignite curiosity and embrace futures thinking.
As the Chief Futurist and Think Tank leader of a group of futurists who consult, Nikolas Badminton and his team of leading consultants for the future facilitate meetings and empower business leaders through a critical yet optimistic vision of the future. Nikolas Badminton has over 25 years of expertise working with organizations in government, urban planning and city administration, banking and finance, telecommunications, high tech, engineering, agriculture and food supply, automotive, aerospace, retail, marketing and advertising, HR and recruitment, privacy and cybersecurity, and other industries
Nikolas Badminton has advised the world's most impactful and progressive companies that require to learn and prepare their businesses for technology, industry and market trends to futureproof their organization. Nikolas Badminton is a master of igniting curiosity in the changing world. He inspires audiences in thinking creatively about the impact of exponential technologies including from 2030 to 2040, and beyond.
Nikolas Badminton

Topic Presentations
facing our futures - looking to 2030 and beyond
Keynote Presentation

Nikolas Badminton will deliver an energetic and inspiring keynote that ignites curiosity, shifts your mindset from what is to what if, and teaches you how to think like a futurist. He will share stories of cultural shifts, insights into new disruptive technologies, and rethink how you establish winning strategies in your organization by deploying foresight.

As always, the keynote is built in collaboration with clients to create the most impact possible and help you…

Understand the value of foresight – foresight is the missing link between strategic planning, disruption and our futures. See how it supercharges your organization by exploring positive and challenging futures.

Understand global megatrends shaping geopolitical dynamics – economic power, population growth, water-energy-food, waste, climate change and energy.

Know the trends that will change your industry – Future of Work, Artificial Intelligence and automation, Smart Cities and Urban Planning, Metaverse and Web3, Privacy and Security, Agriculture, Aerospace, Engineering and Manufacturing, Transportation and Logistics, Finance and Insurance.

Unlock a sustainability mindset – ESG policy, United Nations SDGs, and circular economy

Learn how to explore futures and operationalize foresight – how we can write scenarios and tell stories of our futures
facing our futures
Keynote Presentation

In this new in-depth and essential keynote from trusted futurist Nikolas Badminton illustrates pathways ahead on the mega trends that will shape our world, and shape your business over the next 20+ years. Attendees will never see the world in the same way again. And, that will lead to an incredible shift in thinking towards our positive futures.
the exponential technology revolution
Keynote Presentation

The world will change in the next 20 years more than it has in the previous 100. At the heart of that are technologies that are advancing at a pace never seen before – exponentially. Nikolas will provide a deep dive into the key exponentially developing and growing technologies that are changing the world, including Artificial Intelligence (A.I.) and Robotics, Computational Systems, 3D Printing, Medicine/Neurosystems, Cybersecurity and Bioinformatics, Renewable Energy, Nanotechnology, and Quantum Computing.

He will highlight the 'signals of change' that show how quickly the world is changing across industries – finance, agriculture, medicine, media, transportation and logistics, construction, and many more. Nikolas will also provide a view on ethical implications and insights on how these technologies affect planning, policies, and regulations at both the federal and state levels.
brave new world
Keynote Presentation

The world will change in the next 20 years more than it has in the previous 100. At the heart of that are technologies that are advancing at a pace never seen before – exponentially. Nikolas will provide a deep dive into the key exponentially developing and growing technologies that are changing the world, including Artificial Intelligence (A.I.) and Robotics, Computational Systems, 3D Printing, Medicine/Neurosystems, Cybersecurity and Bioinformatics, Renewable Energy, Nanotechnology, and Quantum Computing.
the world in 2030 & the impact of articial intelligence
Keynote Presentation

We are seeing the 4th industrial revolution take place with advances never seen before across the digitized communications, renewable energy, and automated transportation Internet. At the heart of all of these is Artificial Intelligence (A.I.). Nikolas draws on his 25+ years of experience in big data, analytics and A.I. to look at how this revolution is starting and changing society, business, and personal life. The insights he provides gives to you deeper understanding of what he world will look like in 2030 by showing you the techniques, research, and systems that are being deployed across industries, cities, and transportation. He also looks at wider societal implications and the ethics around data, privacy, and how we are all going to be affected.
smart cities, smarter citizens
Keynote Presentation

Over 1000 smart city pilot projects are in progress today and with this comes the implementation and rollout of renewable energy (solar, wind, hydro), self-driving vehicles (autonomous truck fleets, municipal transport, on-demand taxis, and personal vehicles), electric vehicles, the internet of things, with Big Data and Data Science at the heart of operations. Nikolas will look at how city planning is changing along with the core technologies being deployed and will profile the global cities that are embracing this approach.
the impact of big data, social media & privacy on society
Keynote Presentation

The Internet surrounds us, binds us together as a society, and helps us with almost all aspects of our lives. Everything seems to be in its place and useful. But, in 2019 the world is changing. Social media is both the amplifier and controller of our emotions as we go about our daily lives. Algorithms optimize every aspect of lives, and ubiquitous connections across billions of devices capture our every move. Nikolas will help you look deeper into this new world and realize how the normal function of childhood, family and community is being altered and manipulated for profit. And, with our full permission.
the future of work
Keynote Presentation

We are seeing a revolution. Businesses can be created in a minute with a cellphone and a credit card. The ubiquity of Internet access and the sharing economy has revolutionized how we hire, grow our businesses, operate in our cities and change the world. This talk looks at the opportunities for businesses and workers when harnessing the power of online platforms and looks to how we will survive in the future 'under the API'.
the sharing economy
Keynote Presentation

Online platforms, big data and new business practices are revolutionizing businesses, individuals and how society works. Education, transport, accommodation, fundraising, health, food, and many other industries are being revolutionized every day. This talk looks at the new world of the sharing economy, the macroeconomic and societal effect that will enables and how to take advantage and thrive as in business.
2030: the future of
Keynote Presentation

AGRICULTURE

New ways of sustainable and innovative agricultural practices have never been needed more than they are today. In addition to farmers aiming to grow more crops, raise more livestock, and diversify we have big tech entering the game with billions of dollars of investment. The result? DIVERSITY and DISRUPTION! Nikolas will look at where we are today, the signals of change he sees, and the innovations that will change the world. We will see a world where there will be exponential farming in the lab, field and beyond.

TRANSPORATION & LOGISTICS

What does the world look like in 2030? What are the tipping points that will disrupt the transportation industry? What will likely be successful and widely adopted? How will sectors and companies adapt and who will be left behind? These are some of the core questions Nikolas will grapple with in this context-setting presentation.

AUTOMOTIVE AND ELECTRIC VEHICLES

Cars are hot news these days and the industry is at an inflection point. From self-driving to electric vehicles that upgrade automatically without recall, from the Internet of Cars to the
challenges of changing city infrastructures, we are seeing innovation disrupt one of the stalwart industries of the world. This evening presents some opinions and kick starts the discussion.

HUMAN RESOURCES

Why will automation change the HR profession forever? True disruption will come from unbiased computers and artificial intelligence.

EDUCATION

Nikolas look at how the education sector must change, and how that change will mean we encourage our children to be radical freethinkers.

MEDIA & ADVERTISING

Nikolas will talk about how media and advertising is changing at an exponential pace and is leaving agencies, marketing professionals, and brands with some tough decisions to make. Disruption through channel diversity, platform hijacking, and immersive experiences. The talk will cover; the ages of advertising, innovation, the new channel mix and the future of consumer connection, immersion, and brand affinity.
Nikolas Badminton can deliver customized presentations within the following topic themes.
Nikolas Badminton is not just an incredible presenter. He grabs the audience's attention and doesn't let go. So many of our partners told us they had never examined the future of their business in such a thought-provoking way – to expose our partners to something new is the highest value we can provide to our partners. Nikolas Badminton brought that value.
INTEL
Nikolas Badminton gave a high-energy and stimulating romp through some frontiers of the future, in parts eye-opening, confusing, motivating, and disturbing. The intention was to lift our group of health professionals out of their normal day-to-day perspective and offer a glimpse of different worlds, ones that may or may not come to pass. The point was to help us see differently and think differently. Judging by the conversation afterwards, Nikolas Badminton definitely succeeded. The 'end-of-life care robot' was a particular talking point!
Marketing, Global Merchant & Network Services, American Express
Opening keynotes that engage an audience and leave them wanting to hear more is challenging. At our 2018 AutoTech Symposium, we struck gold with futurist Nikolas Badminton. Participants were referring to Nik's presentation throughout the event and in the days following. Our organizing committee was equally impressed with the quality of custom content, ease of delivery and unprompted 'only positive' feedback from attendees. Highly recommended.
University of Waterloo Centre for Automotive Research (WatCAR)
Nikolas Badminton illustrations were helpful in pointing out the constant change in urban areas over recorded history and the even higher rates of change affecting mobility, housing, food and energy now. Your presentation stimulated creative thoughts across a wide array of municipal service providers in attendance and was a helpful catalyst to inspire more progressive outlooks.
Regional Municipality of York
Looking for a Keynote that will engage every single person in the room?  You are looking for Nikolas Badminton  I have been responsible for speakers at education conferences for many years.  Too often educators hear from presenters within a very limited area of focus.  Nikolas's connections are fresh and applicable to every area of education from the finances and the buildings to the students in Kindergarten to grade 12. Whether it is education or another area of expertise, it is a tough situation to get the right person. The topic of "The Future" pertains to every single organization out there; further, the state of our world to come is of interest to every human, so you can't lose!  But, there is more to it.
A good speaker can rework their material in advance to prepare, but a phenomenal speaker can rework their material at the moment – that is Nik!   His information is relevant and informed; he is extremely easy to work with and his content relates to everyone. I have truly never had such consistent and positive feedback regarding a speaker at a conference. Book Nikolas Badminton, I promise, you will NOT be disappointed.
Halton District School Board
The Pear Healthcare Solutions team had the pleasure of collaborating with Nikolas Badminton on a special event that we developed and executed for community pharmacists practising in Saskatchewan, Canada. He was part of a multi-expert panel that was tasked with shining a light on the opportunities that exist for pharmacists to evolve and grow their businesses amidst never-ending changes and challenges. Nikolas Badminton was FULL of energy and enthusiasm and worked closely with our team to ensure he fully understood our audience, so he could meet them where they are…BUT push them into thinking about some really novel approaches. He was positive, and engaging, and delivered a fantastic virtual performance. His concepts were truly thought-provoking. Our client was happy and we were happy. Would highly recommend Nikolas Badminton as an addition to any event where you need a lens on the future…and how to get there!
Pear Healthcare Solutions Inc.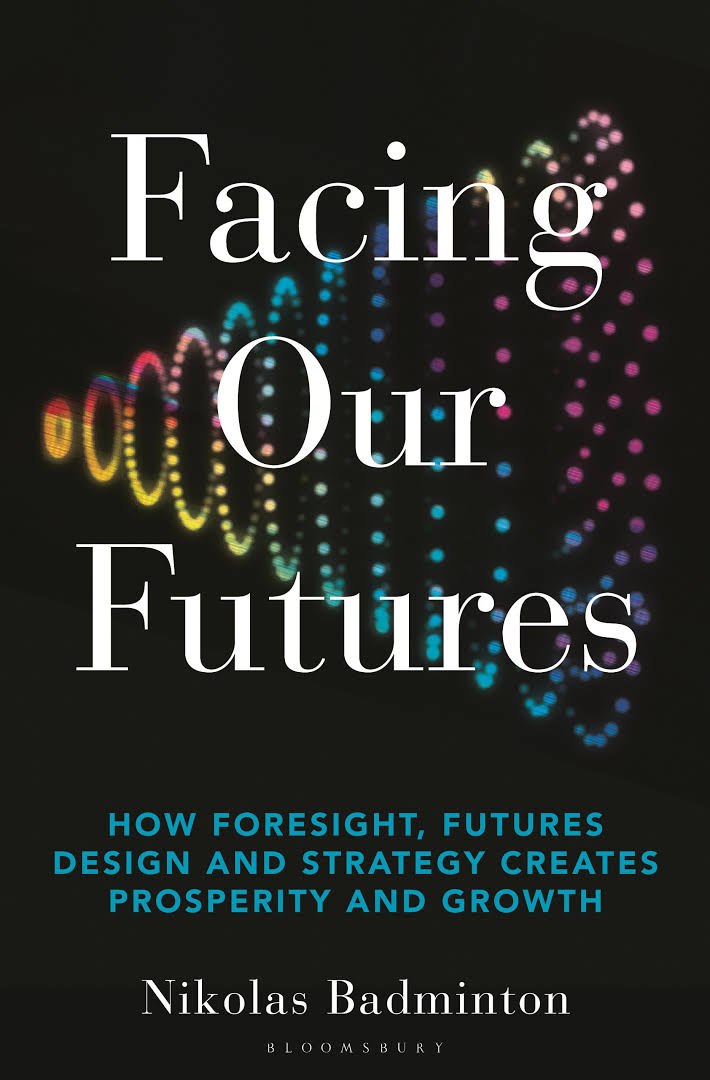 Facing Our Futures
How to book Nikolas Badminton for an event?
Nikolas Badminton keynote speaker is an expert presenter and has a wide range of experience speaking to a wide variety of audiences and organizations. Nikolas Badminton delivers keynotes, workshops & training sessions. They may also host or emcee events. Hire Nikolas Badminton from Toronto, Ontario for your event to inspire the audience to take action and make change in their work and their lives. Your workplace will benefit from our keynote speaker and their keynote talks and speeches will shift the mindsets or behaviours for the audience members in Canada. 
Interested in booking Nikolas Badminton for an event?
Are you looking to hire Nikolas Badminton for your event? Nikolas Badminton Toronto, Ontario is a dynamic and engaging speaker that offers audiences researched content paired with expertise and a dynamic speaking ability. Nikolas Badminton is also a Canadian corporate consultant and coach and facilitates workshops and training sessions for a corporate audience. Nikolas Badminton is an expert keynote presenter and speaks on wide variety of topics. Hiring a great speaker for your event is important and working with a thought leader like Nikolas Badminton from Speakers Canada's roster will engage audiences into the content of the presentation to bring awareness and a fresh perspective for their approach to their work and their lives. Book Nikolas Badminton to educate, motivate and activate the audience through an interactive and entertaining presentation at corporate meetings and gatherings.
Known as a popular key note speaker in Canada, Nikolas Badminton creates life changing experiences for the participants with practical insights and strategic advice they can implement right after the session. Working with a one our leading expert speaker like Nikolas Badminton from Toronto, Ontario offers organizations a fresh perspective to assist the people of the organization. No matter if it is a government, association, or business crowd, Nikolas Badminton is a perfect speaker for your event. Through unique practical insights for trending topics and years experience speaking to different organizations, Nikolas Badminton focuses on changing individuals to make better decisions at work and their lives. No matter if you are holding an in person or virtual event, having an influential speaker such as Nikolas Badminton will engage, motivate, and activate the audience to make a change in their lives and inspire action for results to meet organizational goals. Your workforce will benefit from Nikolas Badminton's presentations and speeches, with measurable results set to shift the people of the organization and core direction of the company. Book Nikolas Badminton speaker for your annual general meeting, conference, summit, or convention in Canada.
How much does it cost to hire Nikolas Badminton for a keynote presentation or virtual event?
Nikolas Badminton is an expert professional key note speaker with a lot of experience speaking and delivering engaging talks to organizations and audiences in Canada. Each of Speaker Bureau Canada's talent have different ways to assess their fees, and Nikolas Badminton speaker fee ranges depending on the size of the audience, event format (in person or virtual), event location, and if the organization booking them is a non profit, association, government department/government agency or business/corporation. The speakers we work with are flexible with their fees, and it is important for us to learn more about your event before we approach them, as it is our role to work for you, and to help you find a speaker within budget. 
Please contact Speakers Bureau of Canada and provide us with your event details so that we can contact Nikolas Badminton to check availability or confirm the pricing and associated costs to hire a great speaker like Nikolas Badminton for your event. As Nikolas Badminton's agent and as a Canadian top speaker bureau and talent agency for speakers, we are able to propose each event opportunity from each host organization's behalf to try to help you get in touch with Nikolas Badminton and confirm them for your in person or online meeting/event. We can also provide and advise on the booking process and potentially negotiate their fee. Speakers Canada is a client focused speaker agency, and we work for you in finding good speakers for your team meetings and booking processes.
Nikolas Badminton Disclaimer
Speakers Bureau Canada assists companies and event planning teams seeking to hire talent like

Nikolas Badminton

for speaking engagements, virtual meetings, conference appearances, training sessions and workshops facilitations. Our Canadian speakers bureau does not claim to exclusively represent

Nikolas Badminton

, however they are represented by Speakers Canada, and we work with them closely for their Canadian speaking opportunities and bookings. As Canada's top speaker bureau, we represent Canadian motivational keynote speakers and professional guest speakers that will be available on your upcoming events date and location that are withing the budget. Our talented bureau speaker booking agency can help find business speakers or celebrity speakers that aligns with each organization, audience, event theme and the topic themes you hope for the speaker to address in their presentation. 
When SBC receives a request to book Nikolas Badminton we provide you with their speaker fees, travel costs and check their schedules. We work closely with the host organization's event planning team and the speaker to handle the logistics and to relay or negotiate associated costs. Our talented team members then will work with our talent directly or their agent/manager/assistant to confirm the Canadian speaker fee and travel expenses, so that event planning teams can receive an official quote for the speaker appearing at the event. Speaker fees and travel costs vary per speaker and our role is to contact Nikolas Badminton about your event, after we have connected with the event organizers to learn all the event details and/or conference program. Each booking request is unique since session durations and audience sizes can vary which may affect the speaker's fees. If you are looking to hire Nikolas Badminton, we recommend filling out the booking request form so a booking agent from Speakers Bureau Canada can get in touch with our talent to help you coordinate with your team to engage the speaker for a successful event.