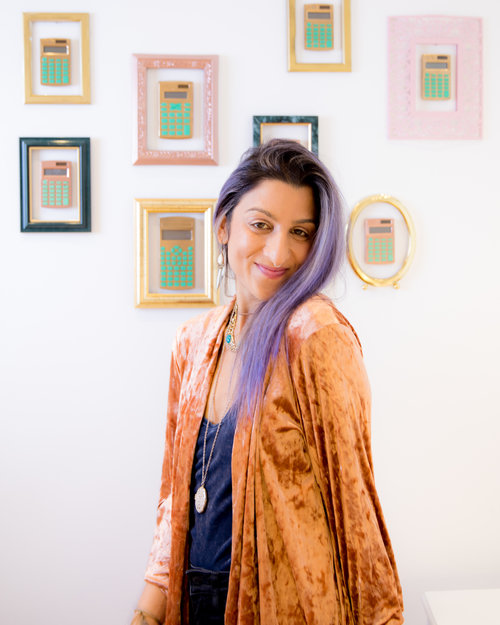 Teacher & Educator - STEM & Student Engagement Expert
Travels From:
Toronto, Ontario
Vanessa Vakharia is the Founder and Chief Inspiration Officer of a company and a super cool boutique math & science tutoring studio in Toronto, Canada. Vanessa Vakharia appears regularly on national television and news outlets as an expert in math education and speaks globally at conferences about re-inventing the classroom to help students engage in overcoming roadblocks faced within math, science and STEM. Vanessa is known for her skillsets in encouraging STEM in the classroom, and for helping teachers embrace teaching skillsets that will enable students to be prepared for the future.
Speaker Types
Career Development
Conference Keynote
Education & Teachers
Motivation
Youth Leadership & Students
VANESSA VAKHARIA BIOGRAPHY
Vanessa Vakharia is the founder and director of a math and science-related super cool boutique and tutoring studio in Toronto. She is also the author of Math Hacks, a new book that totally makes math fun, stress-free and relatable for young kids and parents, and the host of Math Therapy, a podcast that works through guests' math trauma. Vanessa Vakharia has her Bachelor of Commerce, Teaching Degree, and Masters of Math Education.
Vanessa Vakharia appears regularly on national television and news outlets as an expert in math education, and speaks globally at conferences about re-inventing media representations of women in "STEM". Her #goals are to be Lady-Gaga-famous and to totally change math culture so that "STEM" is finally as cool and accessible as basically every single Taylor Swift song ever. She failed Grade 11 math twice, which was the best thing that ever happened to her. Sidenote but totally relevant: Vanessa is a founding member of Toronto indie-rock band Goodnight, Sunrise. Mindy Kaling is her idol and Vanessa believes that she should be yours too.
Stop freaking out - Get a grip on math anxiety
Okay, let's be real. Do your students (or you!) freak out at the sight of numbers? Dissolve into a pile of tears at the thought of a math test? Throw a minor tantrum when they (or you!) can't figure out their math homework? It's called math anxiety and yes, it's a real thing. This workshop will explore what math anxiety actually IS, how to spot it, prevent it, and manage it when it rears its ugly, icky, panicky head!

Keynote Presentation
Math Therapy - A crash course in becoming a math therapist
Did you know that pretty much anyone who thinks they're "not a math person" has math trauma they simply haven't worked through yet? Look, we've all had math teachers before…but how many of you have had a math therapist?! If you're ready to dig deep, this crash course in math therapy is for you! This workshop will teach you the art of math therapy and empower you with the tools you need to add "math therapy" to your list of teachables. Through teaching math, we can empower our students to believe that they are capable of anything and that everything is possible. That is the greatest gift we can give our students, and THAT is what being a math therapist is all about!

Keynote Presentation
Raising kids who aren't scared of math - The 5 most valuable things you can teach your students
Let's be honest. Math can be super stressful for kids, parents AND teachers these days. Feeling like you can't do math leads to a lack of confidence, a feeling of hopelessness, and…a LOT of tears (from everyone involved)! But guess what? You don't have to be a math genius in order to inspire one! These 5 super-secret (and super easy!) tips are guaranteed to turn that math frown upside down – for parents, teachers, AND their kids! This workshop emphasizes the idea that through teaching math, teachers can help students see themselves as creative, confident, and capable of anything. Ready to transform the way you approach teaching math? Let's do this!

Keynote Presentation
Imagining a World Where Kim Kardashian Loves Math
Despite the fact that girls and boys achieve the same level of success in math class, girls are disproportionately represented in post-secondary STEM programs and what's crazier is that despite increasing test scores, young women still profess in large numbers to be BAD at math! This workshop explores the force exerting the most influence on teenage students: popular culture and mass media. Together we will discuss how we might change math culture so that girls grow up with the understanding that math is just as cool as Kim K's butt, and DEFINITELY way more empowering!


*In addition to parents and educators,  this is offered to students

Keynote Presentation
Making Failure Your New Fave F-Word
Okay, let's be real. Does the fear of failure prevent you from trying new things? From speaking up in class? From asking questions you REALLY want answers to? From supporting your friends instead of being totally jealous of them (cough cough social media envy)? If you nodded YES to any of these questions, you're not alone! At the root of all anxiety, lies the fear of failure – and the good news? Giving your mindset a makeover can make ALL the difference! During this workshop, we will explore 3 major ways that failure can be a total buzzkill and come up with simple strategies to change our perception of failure so that we can all get out there, support one another, and live our BEST lives!

*This is offered exclusively to students!

Keynote Presentation
"Entertaining, intelligent, and hilarious, Vanessa brings a powerful voice to groundbreaking conversations surrounding our kids, their education, and above all – our future."
Vanessa Vakharia CAN DELIVER CUSTOMIZED PRESENTATIONS WITHIN THE FOLLOWING AREAS OF EXPERTISE & TOPIC THEMES
Speaker Types
Career Development
Conference Keynote
Education & Teachers
Motivation
Youth Leadership & Students
FAQs ON BOOKING Vanessa Vakharia
Vanessa Vakharia keynote speaker is an expert presenter and has a wide range of experience speaking to a wide variety of audiences and organizations. Vanessa Vakharia delivers keynotes, workshops & training sessions. They may also host or emcee events. Hire Vanessa Vakharia from Toronto, Ontario for your event to inspire the audience to take action and make change in their work and their lives. Your workplace will benefit from our keynote speaker and their keynote talks and speeches will shift the mindsets or behaviours for the audience members in Canada. 
Interested in Booking Vanessa Vakharia for an event?
Are you looking to hire Vanessa Vakharia for your event? Vanessa Vakharia Toronto, Ontario is a dynamic and engaging speaker that offers audiences researched content paired with expertise and a dynamic speaking ability. Vanessa Vakharia is also a Canadian corporate consultant and coach and facilitates workshops and training sessions for a corporate audience. Vanessa Vakharia is an expert keynote presenter and speaks on wide variety of topics. Hiring a great speaker for your event is important and working with a thought leader like Vanessa Vakharia from Speakers Canada's roster will engage audiences into the content of the presentation to bring awareness and a fresh perspective for their approach to their work and their lives. Book Vanessa Vakharia to educate, motivate and activate the audience through an interactive and entertaining presentation at corporate meetings and gatherings.
Known as a popular key note speaker in Canada, Vanessa Vakharia creates life changing experiences for the participants with practical insights and strategic advice they can implement right after the session. Working with a one our leading expert speaker like Vanessa Vakharia from Toronto, Ontario offers organizations a fresh perspective to assist the people of the organization. No matter if it is a government, association, or business crowd, Vanessa Vakharia is a perfect speaker for your event. Through unique practical insights for trending topics and years experience speaking to different organizations, Vanessa Vakharia focuses on changing individuals to make better decisions at work and their lives. No matter if you are holding an in person or virtual event, having an influential speaker such as Vanessa Vakharia will engage, motivate, and activate the audience to make a change in their lives and inspire action for results to meet organizational goals. Your workforce will benefit from Vanessa Vakharia's presentations and speeches, with measurable results set to shift the people of the organization and core direction of the company. Book Vanessa Vakharia speaker for your annual general meeting, conference, summit, or convention in Canada.
HOW MUCH DOES IT COST TO BOOK Vanessa Vakharia FOR A VIRTUAL OR KEYNOTE PRESENTATION?
Vanessa Vakharia is an expert professional key note speaker with a lot of experience speaking and delivering engaging talks to organizations and audiences in Canada. Each of Speaker Bureau Canada's talent have different ways to assess their fees, and Vanessa Vakharia speaker fee ranges depending on the size of the audience, event format (in person or virtual), event location, and if the organization booking them is a non profit, association, government department/government agency or business/corporation. The speakers we work with are flexible with their fees, and it is important for us to learn more about your event before we approach them, as it is our role to work for you, and to help you find a speaker within budget. 
Please contact Speakers Bureau of Canada and provide us with your event details so that we can contact Vanessa Vakharia to check availability or confirm the pricing and associated costs to hire a great speaker like Vanessa Vakharia for your event. As Vanessa Vakharia's agent and as a Canadian top speaker bureau and talent agency for speakers, we are able to propose each event opportunity from each host organization's behalf to try to help you get in touch with Vanessa Vakharia and confirm them for your in person or online meeting/event. We can also provide and advise on the booking process and potentially negotiate their fee. Speakers Canada is a client focused speaker agency, and we work for you in finding good speakers for your team meetings and booking processes.
DISCLAIMER:
Speakers Bureau Canada assists companies and event planning teams seeking to hire talent like Vanessa Vakharia for speaking engagements, virtual meetings, conference appearances, training sessions and workshops facilitations. Our Canadian speakers bureau does not claim to exclusively represent Vanessa Vakharia, however they are represented by Speakers Canada, and we work with them closely for their Canadian speaking opportunities and bookings. As Canada's top speaker bureau, we represent Canadian motivational keynote speakers and professional guest speakers that will be available on your upcoming events date and location that are withing the budget. Our talented bureau speaker booking agency can help find business speakers or celebrity speakers that aligns with each organization, audience, event theme and the topic themes you hope for the speaker to address in their presentation. 
When SBC receives a request to book Vanessa Vakharia we provide you with their speaker fees, travel costs and check their schedules. We work closely with the host organization's event planning team and the speaker to handle the logistics and to relay or negotiate associated costs. Our talented team members then will work with our talent directly or their agent/manager/assistant to confirm the Canadian speaker fee and travel expenses, so that event planning teams can receive an official quote for the speaker appearing at the event. Speaker fees and travel costs vary per speaker and our role is to contact Vanessa Vakharia about your event, after we have connected with the event organizers to learn all the event details and/or conference program. Each booking request is unique since session durations and audience sizes can vary which may affect the speaker's fees. If you are looking to hire Vanessa Vakharia, we recommend filling out the booking request form so a booking agent from Speakers Bureau Canada can get in touch with our talent to help you coordinate with your team to engage the speaker for a successful event.
Speakers Similar to Vanessa Vakharia
Contact 
SPEAKERS BUREAU OF CANADA