Health and Wellness, Stress Management and Music Therapy Expert
Jennifer Buchanan is a multi-award-winning Canadian music therapist, author and keynote speaker who has been nominated thrice for the Community Impact Award. Jennifer Buchanan inspires the audience on how music fosters connections, focus, & feeling better by combining powerful personal stories, cutting-edge clinical research, and straightforward strategies.
Employee Management
Health & Wellness
Leadership
Mental Health
Peak Performance
Personal Growth
Resilience & Adversity
Conference
Education & Teachers
Inspirational
Lifestyle & Health
JENNIFER BUCHANAN BIOGRAPHY
Jennifer Buchanan is the Founder and Visionary Architect of JB Music Therapy (JBMT), a music therapy company that has been instrumental in the implementation of hundreds of music therapy programs throughout Canada for 30 years and that has been thrice nominated for the Community Impact Award by her local Chamber of Commerce.  JBMT currently employs a diverse team of 18 Certified Music Therapists (MTAs) serving all ages in medical, education and community care settings.
As the author of two award-winning books – Tune In and Wellness, Incorporated Jennifer Buchanan has become a trusted source for many television media outlets across North America and has been featured in publications such as The Guardian and The Huffington Post. Her latest book, Wellness, Well played: The Power of a Playlist was written for all of us who love to make the biggest impact possible while getting the most out of life – it equips busy, mindful people with tools and supports to engage with music in a deeper way.
As an invited keynote speaker at national and international conventions, Jennifer Buchanan speaks on music and mental health, music therapy, and health entrepreneurship to a wide variety of education, healthcare, government, small business, and corporate wellness audiences.
Combining her music therapy experience with her MBA, Jennifer Buchanan is the Executive Director of the Canadian Association of Music Therapists. The Canadian music therapy community presented Jennifer with their two most prestigious awards – the Norma Sharpe Award for lifetime achievement and the Frani Award, named after her long-time mentor and friend – and the pioneer of music therapy in Canada.
Jennifer Buchanan

Topic Presentations
tune in - how music can transform organizations and lives one note at a time
Virtual Presentation

Keynote Presentation

Workshop Session

Half Day Training

Full Day Training

In our age of unyielding distractions and persistent disruptions, often to the detriment of our health, there is a simple yet incredibly powerful tool that we have not fully leveraged – music. As one of Canada's leading trailblazers and experts in music therapy, Jennifer Buchanan bridges the gap between academic research and the public in a humorous, warm and insightful way. She believes that when we experience the right music, in the right way, transformation can happen –  improved productivity, a boost in mood, enhanced performance, reduction in stress and stronger team engagement.

Like music, Jennifer's "TUNE IN' message is universal – it reaches people worldwide regardless of age, gender, ethnicity, or location. No matter what kind of organization—a private practice, a small company or a large corporation—managers and employees at all levels will learn to "Tune In" to a better organization by becoming more collaborative, creative and productive. This "keynote" experience is sure to open or close your meeting on a high note.
wellness incorporated – leading a business that makes a difference
Virtual Presentation

Keynote Presentation

Workshop Session

Half Day Training

Full Day Training

This inspirational and trailblazing story reveals how Jennifer Buchanan built a successful social purpose business that makes money and makes a significant community impact, despite being told it was impossible. Based on over 25 years of owning and operating an award-winning company, Jennifer presents her most moving stories to convey the following key strategies to help you build greater impact and meaning into your business, regardless of your company's age or size:

Jennifer Buchanan imparts her front-line experience and infectious energy, speaking directly to every member of the audience. She brings her real-world experience of starting her company with just one client and scaling it to maximize community impact. Her first accountant said the market would never buy in…..over a quarter of a century later (and with a new accountant), Jennifer has built a company that proves good work can still make a difference.
harmony at work - improve creativity and productivity in the workplace
Virtual Presentation

Keynote Presentation

Workshop Session

Half Day Training

Full Day Training

The truth is that we can all feel overwhelmed, inefficient, and not connecting as well as we would like with our team. The solution? Putting tools, strategies, and mindsets in place to turn that experience around. Jennifer Buchanan's experience as a music therapist has given her the gift of learning how to leverage music to reach such goals.

Many have witnessed the benefits of playing music to enhance performance — for the employer, it may be improving engagement, boosting efficiency, expediting projects, or working with greater enthusiasm. For the staff member, it may be sparking creativity, or help for working through a barrier in a project. For others, it may be feeling better connected to others or getting motivated for their next half marathon.  Regardless of the goal – music has been proven to help.

In a practical yet inspiring session, Jennifer educates audiences on how to effectively leverage music in their personal and work environments to enhance their creativity, productivity and team collaboration.  The result? More innovative contributors are also happier and less stressed. The kind of things that make for incredible organizations.
blisspoint – the art of securing your health
Virtual Presentation

Keynote Presentation

Workshop Session

Half Day Training

Full Day Training

For many, being good at their job can give them a sense of achievement or satisfaction. But what happens when you are no longer satisfied and feel burned out?  This presentation will help you find the perfect bliss point, the values junction that will help you fulfil your purpose and support your desired outcomes in work and life.
wellness, wellplayed - how to activate your people, unite your teams, and engage your entire organization
Virtual Presentation

Keynote Presentation

Workshop Session

Half Day Training

Full Day Training

If, as studies suggest, music can help improve an athlete's performance by as much as 15%, imagine what music could do in your workplace.

Jennifer Buchanan, the author of Wellness, Well played: The Power of a Playlist, will share fascinating insights and inspiring stories from her cutting-edge work as one of North America's most acclaimed music therapists.

In her 30-year journey working with incarcerated adults, at-risk youths, seniors living with dementia, and business leaders, Jennifer understand the power of music to make a real difference in the lives of so many people and a real difference in your workplace.

You'll discover how using music and tools like creating a purposeful playlist can help you and your team manage stress, be more resilient, improve memory, and inspire you and your team to be more productive. And yes, you'll learn how music can create a more harmonious workplace.

You won't want to miss this fun, inspiring, and interactive keynote that promises to not only be memorable but a much-needed tonic! Yes, it's a keynote all about keynotes!

When words are not enough (or easy), let the music start the conversation.
Jennifer Buchanan can deliver customized presentations within the following topic themes.
Thank you, Jennifer Buchanan, for giving me and all those that have had the benefit of your work, one of the most heartwarming experiences of our lives. May you continue your work and touch the hearts and souls of many in the years to come.
The Eagles
Jennifer Buchanan is a fantastic storyteller. She guides us through the importance of music, how our brains respond, and how we can harness its power at different points of the day—to feel energized and connected. The information is truly enlightening. Long live the mixtape!
Microsoft
For the past 15 years, I have watched in amazement as Jennifer Buchanan has shared her knowledge, skill, and sheer passion for music and its power to help change lives. The mind and soul can be reached through music in ways otherwise impossible, and Jennifer has allowed so many people to live a more fulfilling life by opening their hearts and letting the music in.
Live Nation Canada
Your keynote presentation was a perfect "end-note" at our recent conference. Right from the start your energy, inspiring content, and musical interludes engaged and captivated the audience. Your unique closing was a real hit! Putting together a customized song that included participant comments on what they learned at the conference, was brilliant and the "icing on the cake". BRAVO!
Canadian Society of Professional Event Planners
Jennifer has an amazing ability to connect with her audience in an engaging, motivational and thought-provoking way. She was able to take our conference theme and incorporate it into her presentation in a creative and relevant way. We continue to receive excellent feedback from our delegates. Jennifer is a truly inspirational speaker who is also an absolute pleasure to work with. Thank you, Jennifer.
Canadian Institutional Research and Planning Association
Jennifer brings an insight into creating space for music, allowing us to reconnect with our internal values. It gives us the chance to remember with the warmth of experience and the ability to draw us out. This book is necessary, perhaps even on a daily basis.
Toyota North America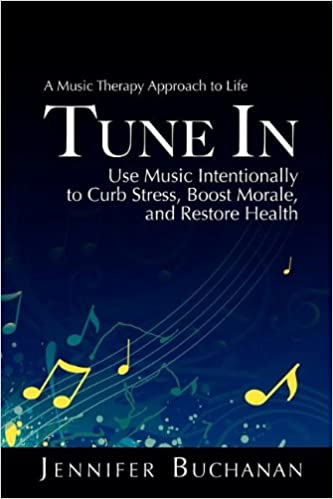 TUNE IN
TUNE IN
How to book Jennifer Buchanan for an event?
Jennifer Buchanan keynote speaker is an expert presenter and has a wide range of experience speaking to a wide variety of audiences and organizations. Jennifer Buchanan delivers keynotes, workshops & training sessions. They may also host or emcee events. Hire Jennifer Buchanan from Calgary, Alberta for your event to inspire the audience to take action and make change in their work and their lives. Your workplace will benefit from our keynote speaker and their keynote talks and speeches will shift the mindsets or behaviours for the audience members in Canada. 
Interested in booking Jennifer Buchanan for an event?
Are you looking to hire Jennifer Buchanan for your event? Jennifer Buchanan Calgary, Alberta is a dynamic and engaging speaker that offers audiences researched content paired with expertise and a dynamic speaking ability. Jennifer Buchanan is also a Canadian corporate consultant and coach and facilitates workshops and training sessions for a corporate audience. Jennifer Buchanan is an expert keynote presenter and speaks on wide variety of topics. Hiring a great speaker for your event is important and working with a thought leader like Jennifer Buchanan from Speakers Canada's roster will engage audiences into the content of the presentation to bring awareness and a fresh perspective for their approach to their work and their lives. Book Jennifer Buchanan to educate, motivate and activate the audience through an interactive and entertaining presentation at corporate meetings and gatherings.
Known as a popular key note speaker in Canada, Jennifer Buchanan creates life changing experiences for the participants with practical insights and strategic advice they can implement right after the session. Working with a one our leading expert speaker like Jennifer Buchanan from Calgary, Alberta offers organizations a fresh perspective to assist the people of the organization. No matter if it is a government, association, or business crowd, Jennifer Buchanan is a perfect speaker for your event. Through unique practical insights for trending topics and years experience speaking to different organizations, Jennifer Buchanan focuses on changing individuals to make better decisions at work and their lives. No matter if you are holding an in person or virtual event, having an influential speaker such as Jennifer Buchanan will engage, motivate, and activate the audience to make a change in their lives and inspire action for results to meet organizational goals. Your workforce will benefit from Jennifer Buchanan's presentations and speeches, with measurable results set to shift the people of the organization and core direction of the company. Book Jennifer Buchanan speaker for your annual general meeting, conference, summit, or convention in Canada.
How much does it cost to hire Jennifer Buchanan for a keynote presentation or virtual event?
Jennifer Buchanan is an expert professional key note speaker with a lot of experience speaking and delivering engaging talks to organizations and audiences in Canada. Each of Speaker Bureau Canada's talent have different ways to assess their fees, and Jennifer Buchanan speaker fee ranges depending on the size of the audience, event format (in person or virtual), event location, and if the organization booking them is a non profit, association, government department/government agency or business/corporation. The speakers we work with are flexible with their fees, and it is important for us to learn more about your event before we approach them, as it is our role to work for you, and to help you find a speaker within budget. 
Please contact Speakers Bureau of Canada and provide us with your event details so that we can contact Jennifer Buchanan to check availability or confirm the pricing and associated costs to hire a great speaker like Jennifer Buchanan for your event. As Jennifer Buchanan's agent and as a Canadian top speaker bureau and talent agency for speakers, we are able to propose each event opportunity from each host organization's behalf to try to help you get in touch with Jennifer Buchanan and confirm them for your in person or online meeting/event. We can also provide and advise on the booking process and potentially negotiate their fee. Speakers Canada is a client focused speaker agency, and we work for you in finding good speakers for your team meetings and booking processes.
Jennifer Buchanan Disclaimer
Speakers Bureau Canada assists companies and event planning teams seeking to hire talent like

Jennifer Buchanan

for speaking engagements, virtual meetings, conference appearances, training sessions and workshops facilitations. Our Canadian speakers bureau does not claim to exclusively represent

Jennifer Buchanan

, however they are represented by Speakers Canada, and we work with them closely for their Canadian speaking opportunities and bookings. As Canada's top speaker bureau, we represent Canadian motivational keynote speakers and professional guest speakers that will be available on your upcoming events date and location that are withing the budget. Our talented bureau speaker booking agency can help find business speakers or celebrity speakers that aligns with each organization, audience, event theme and the topic themes you hope for the speaker to address in their presentation. 
When SBC receives a request to book Jennifer Buchanan we provide you with their speaker fees, travel costs and check their schedules. We work closely with the host organization's event planning team and the speaker to handle the logistics and to relay or negotiate associated costs. Our talented team members then will work with our talent directly or their agent/manager/assistant to confirm the Canadian speaker fee and travel expenses, so that event planning teams can receive an official quote for the speaker appearing at the event. Speaker fees and travel costs vary per speaker and our role is to contact Jennifer Buchanan about your event, after we have connected with the event organizers to learn all the event details and/or conference program. Each booking request is unique since session durations and audience sizes can vary which may affect the speaker's fees. If you are looking to hire Jennifer Buchanan, we recommend filling out the booking request form so a booking agent from Speakers Bureau Canada can get in touch with our talent to help you coordinate with your team to engage the speaker for a successful event.