Thought Leader, Strategy Advisor, Expert Digital Innovator, Global Keynote Speaker & Author
Sean Moffitt is well-known on a global scale as a business thought leader, strategist, digital pioneer, keynote speaker and author. Sean's guiding principles in everything he does are Business transformation, customer and brand engagement, technology, innovation, and "the future". After holding a number of executive strategy and marketing positions at Fortune 500 companies such as Procter & Gamble, Molson Coors, and Diageo, he created Agent Wildfire in 2005 and Wikibrands in 2011 to provide consulting and marketing services in the rapidly evolving digital sector.
Change Management
Communications
Leadership
Business Growth
Business Management
Business Technology
Future Trends
Academia
Board Meetings & Strategic Advisory
Campus & University Speakers
Conference
Conferences & Summits
Consultant & Coach
Corporate Audience
Corporate Entertainers
SEAN MOFFITT BIOGRAPHY
Sean Moffitt is globally recognized as a business thought leader, strategy advisor, digital innovator, keynote speaker and author. The common thread? Sean lives and breathes business transformation, customer and brand engagement, technology, innovation and "the future".
After a number of executive strategy and marketing positions at Fortune 500 firms Procter & Gamble, Molson Coors and Diageo, he founded Wikibrands in 2011 (www.wiki-brands.com) and Agent Wildfire in 2005, to deliver both consultancy and marketing services in a fast-changing digital marketplace.
He recently launched The North Collective – a global, futureproofing solutions firm partnering with change-driven organizations and CSW2 – a services group connecting the dots of the crowd economy.
Sean has worked with hundreds of companies on digital strategy, culture and marketing challenges and acts as an executive advisor on a number of boards. As one of Canada's leading thinkers and practitioners on the digital marketplace, Sean keynotes and delivers workshops at 45+ events annually and has spoken in over 20+ countries. He uses his voice of experience, signature humour and fresh, bold insights to guide audiences on how to create real value in the new economy.
Sean has written an award-winning and globally-acclaimed book "Wikibrands – Reinventing Your Business in a Customer-Controlled Marketplace (McGraw-Hill)", authors four studies on business, technology and cultural trends annually and leads a global youth leader digital accelerator, He also makes frequent appearances in media, is highly active in social media and Canada's startup community, acts as an executive curator for Crowdsourcing Week, and is a strong supporter of cause- and education-driven organizations.
When not staying up to speed with the many facets of the new economy, Sean can be seen around Toronto either cycling, running, travelling, enjoying a finely crafted beer, sifting through a page-turning book, rooting for his favourite sports teams, chewing on classic films and Netflix's hidden gems and playing ice hockey (it's a Canadian patriotic ritual). And yes, he does have a passing resemblance to Matt Damon.
Sean Moffitt

Topic Presentations
emerging trends - profiling shifts and imagining futures
Virtual Presentation

Keynote Presentation

Workshop Session

Half Day Training

Full Day Training

It's a fast-moving world  – Invite Sean to map out the brand, business, cultural, customer, media, societal and technology trends and implications for your organization.
new business models & strategies
Virtual Presentation

Keynote Presentation

Workshop Session

Half Day Training

Full Day Training

Technology and fast-moving customer shifts are redistributing wealth quickly – be the winner not the loser – invite Sean and his team to look at viable breakout business models for your organization, find opportunities to tap and roadblocks to overcome, and help deliver tangible business value beyond this quarter.
startups, entrepreneurship and incubators
Virtual Presentation

Keynote Presentation

Workshop Session

Half Day Training

Full Day Training

Bridge the distance between established large organizations and fast-moving startups – lean on Sean and his team to learn the principles of hungry innovation cultures and ecosystems, and apply the practices used by entrepreneurs worldwide across large corporates, government ecosystems, accelerators and fundable startups.
marketing & brand engagement
Virtual Presentation

Keynote Presentation

Workshop Session

Half Day Training

Full Day Training

The marketplace is awash with choice and media clutter and your consumer have extremely low levels of time, attention and trust, what's a brand to do?  Connect with global brand and marketing expert Sean to reinvent your brand and marketing in a customer-driven marketplace.
customer experience & insights
Virtual Presentation

Keynote Presentation

Workshop Session

Half Day Training

Full Day Training

Great customer experience involves a complex series of customer interactions with your brands, services and various touch points, many efforts fail  — involve Sean and his team to deliver actionable, collaborative and pragmatic design and interventions that drive customer transactions, satisfaction, word of mouth and ultimately business performance.
branded content & social business
Virtual Presentation

Keynote Presentation

Workshop Session

Half Day Training

Full Day Training

If your customer is king, then content is queen – Invite Sean and his team to plan, design, schedule, curate, syndicate and resource your brand content, inbound marketing and social media.
technology & new media
Virtual Presentation

Keynote Presentation

Workshop Session

Half Day Training

Full Day Training

Technology has grown to be the #1 C-Suite concern  – Invite Sean and his team to accelerate your organization's digital maturity to troubleshoot your gaps, drive competitive advantage, optimize your customer experience, transform your talent and drive future innovation.
product & service innovation
Virtual Presentation

Keynote Presentation

Workshop Session

Half Day Training

Full Day Training

Nearly half your revenues should be coming from your recent product or service innovation  – stop thinking and start doing with Sean and his team to help your team design, validate, prototype and deploy new, radical products and services.
culture & leadership for the connected age
Virtual Presentation

Keynote Presentation

Workshop Session

Half Day Training

Full Day Training

Getting your outside right means getting your inside right  – the rules of the game have changed in a faster, connected world, engage Sean and his group to understand the culture of doing business in a world of higher stakes and shorter timespans, and learn the implications for inside your organization.
the crowd, sharing & on-demand economy
Virtual Presentation

Keynote Presentation

Workshop Session

Half Day Training

Full Day Training

New people-centred economic segments have flourished around the world in the last decade – Invite global expert Sean Moffitt to address what's really changing, inspire you on how to participate and educate you on ways to tap value out of this world.
social innovation & transforming better worlds
Virtual Presentation

Keynote Presentation

Workshop Session

Half Day Training

Full Day Training

The world has large challenges in creating a sustainable, happier and fairer world – Invite Sean Moffitt to provide evidence on how the world has large pools of untapped potential and ways to unlock this social innovation for the greater good.
digiball - the intersection of sports & technology
Virtual Presentation

Keynote Presentation

Workshop Session

Half Day Training

Full Day Training

Technology is changing how we watch, play and follow our favourite sports like never before – Invite Sean Moffitt to explore the future of all facets of sports through the lens of technology and new media.
This is an important, perhaps seminal book. It was inspired by a multi-million research program,  Sean Moffitt as our outstanding thought leader and produced some profound new thinking about the "brand". I encouraged them to write a book to develop their findings, and the result is a profound and stimulating work with far-reaching implications for anyone who cares about marketing.
Global Solutions Networks, Wikinomics & World Economic Forum
Over the past 7 years, I have witnessed Sean Moffitt's research and thought leadership, bringing a new light to the future of collaboration, innovation and social media used to drive high performance step changes in marketing. The path forward he presented to us is bright, helping change the landscape in an area ready for consumer driven, open innovation.
Accenture
The World Alliance of YMCAs is in full support of Sean Moffitt's effort on the YMCA Global Digital Accelerator. Thanks to Sean Moffitt for leading this brilliant project that is a real ticket to the future and will help us to reach more young people engaging them in modern technologies worldwide.
World Alliance of YMCAs
Thank you very much for contributing to the success of the event with your knowledge, insight and passion for this important new economy topic. I have received numerous comments about how inspired people felt after your keynote and there was a lot of talk about needing to do a "part 2". We couldn't have dreamt up a better person for this topic. Sean Moffitt – thanks for providing a wonderfully energizing and motivating presentation.
Calgary Economic Development
In hindsight, Sean Moffitt was fundamental to bringing citizen engagement and social media understanding and expertise to the BC government. Most staff were apprehensive and uncomfortable with engaging more directly with citizens. We approached Sean Moffitt to lead our strategy, education and resources to support staff as they embarked on this new way of doing business. Sean Moffitt went above and beyond to prepare superior leadership, counsel, content and several high quality resources that...
British Columbia Provincial Government
Before North America had fully adopted Movember, Sean Moffitt was there helping shape our thinking around digital engagement and fundraising, key local hubs of passion, social media promotion, online influencer engagement and sponsorship. From a handful of people and some smart ideas, we've now grown a cause that has led to millions of men living healthier, happier lives and thank Sean Moffitt for his pioneering passion, vision and digital expertise.
The Movember Foundation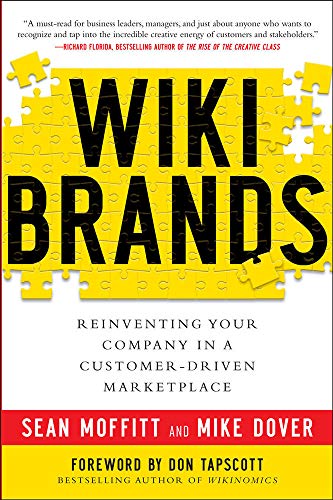 WIKIBRANDS: Reinventing Your Company in a Customer-Driven Marketplace
What's it All About In "Wikibrands", acclaimed media marketing experts Sean Moffitt show you how to take advantage of the exciting new models of business and technologies–and enthusiastic online communities–one click at a time. Built on continuing research from Don Tapscott's trailblazing...
How to book Sean Moffitt for an event?
Sean Moffitt keynote speaker is an expert presenter and has a wide range of experience speaking to a wide variety of audiences and organizations. Sean Moffitt delivers keynotes, workshops & training sessions. They may also host or emcee events. Hire Sean Moffitt from Toronto, Ontario for your event to inspire the audience to take action and make change in their work and their lives. Your workplace will benefit from our keynote speaker and their keynote talks and speeches will shift the mindsets or behaviours for the audience members in Canada. 
Interested in booking Sean Moffitt for an event?
Are you looking to hire Sean Moffitt for your event? Sean Moffitt Toronto, Ontario is a dynamic and engaging speaker that offers audiences researched content paired with expertise and a dynamic speaking ability. Sean Moffitt is also a Canadian corporate consultant and coach and facilitates workshops and training sessions for a corporate audience. Sean Moffitt is an expert keynote presenter and speaks on wide variety of topics. Hiring a great speaker for your event is important and working with a thought leader like Sean Moffitt from Speakers Canada's roster will engage audiences into the content of the presentation to bring awareness and a fresh perspective for their approach to their work and their lives. Book Sean Moffitt to educate, motivate and activate the audience through an interactive and entertaining presentation at corporate meetings and gatherings.
Known as a popular key note speaker in Canada, Sean Moffitt creates life changing experiences for the participants with practical insights and strategic advice they can implement right after the session. Working with a one our leading expert speaker like Sean Moffitt from Toronto, Ontario offers organizations a fresh perspective to assist the people of the organization. No matter if it is a government, association, or business crowd, Sean Moffitt is a perfect speaker for your event. Through unique practical insights for trending topics and years experience speaking to different organizations, Sean Moffitt focuses on changing individuals to make better decisions at work and their lives. No matter if you are holding an in person or virtual event, having an influential speaker such as Sean Moffitt will engage, motivate, and activate the audience to make a change in their lives and inspire action for results to meet organizational goals. Your workforce will benefit from Sean Moffitt's presentations and speeches, with measurable results set to shift the people of the organization and core direction of the company. Book Sean Moffitt speaker for your annual general meeting, conference, summit, or convention in Canada.
How much does it cost to hire Sean Moffitt for a keynote presentation or virtual event?
Sean Moffitt is an expert professional key note speaker with a lot of experience speaking and delivering engaging talks to organizations and audiences in Canada. Each of Speaker Bureau Canada's talent have different ways to assess their fees, and Sean Moffitt speaker fee ranges depending on the size of the audience, event format (in person or virtual), event location, and if the organization booking them is a non profit, association, government department/government agency or business/corporation. The speakers we work with are flexible with their fees, and it is important for us to learn more about your event before we approach them, as it is our role to work for you, and to help you find a speaker within budget. 
Please contact Speakers Bureau of Canada and provide us with your event details so that we can contact Sean Moffitt to check availability or confirm the pricing and associated costs to hire a great speaker like Sean Moffitt for your event. As Sean Moffitt's agent and as a Canadian top speaker bureau and talent agency for speakers, we are able to propose each event opportunity from each host organization's behalf to try to help you get in touch with Sean Moffitt and confirm them for your in person or online meeting/event. We can also provide and advise on the booking process and potentially negotiate their fee. Speakers Canada is a client focused speaker agency, and we work for you in finding good speakers for your team meetings and booking processes.
Sean Moffitt Disclaimer
Speakers Bureau Canada assists companies and event planning teams seeking to hire talent like

Sean Moffitt

for speaking engagements, virtual meetings, conference appearances, training sessions and workshops facilitations. Our Canadian speakers bureau does not claim to exclusively represent

Sean Moffitt

, however they are represented by Speakers Canada, and we work with them closely for their Canadian speaking opportunities and bookings. As Canada's top speaker bureau, we represent Canadian motivational keynote speakers and professional guest speakers that will be available on your upcoming events date and location that are withing the budget. Our talented bureau speaker booking agency can help find business speakers or celebrity speakers that aligns with each organization, audience, event theme and the topic themes you hope for the speaker to address in their presentation. 
When SBC receives a request to book Sean Moffitt we provide you with their speaker fees, travel costs and check their schedules. We work closely with the host organization's event planning team and the speaker to handle the logistics and to relay or negotiate associated costs. Our talented team members then will work with our talent directly or their agent/manager/assistant to confirm the Canadian speaker fee and travel expenses, so that event planning teams can receive an official quote for the speaker appearing at the event. Speaker fees and travel costs vary per speaker and our role is to contact Sean Moffitt about your event, after we have connected with the event organizers to learn all the event details and/or conference program. Each booking request is unique since session durations and audience sizes can vary which may affect the speaker's fees. If you are looking to hire Sean Moffitt, we recommend filling out the booking request form so a booking agent from Speakers Bureau Canada can get in touch with our talent to help you coordinate with your team to engage the speaker for a successful event.