TEDx Speaker, Education & Teacher - STEM/STEAM, Technology and Education Innovation Expert
Brian Aspinall is an award-winning educator, bestselling author & one of the brightest STEM & STEAM innovators for teachers, students and the education system. Well known as a thought leader in education and his lifelong dedication to improving the classroom, Brian's programs teach how to engage students and prepare them for the future. Brian Aspinall creates an inclusive, innovative, supportive, and empowering atmosphere that helps students take advantage of technology empowering their ability to create. Brian is an award-winning educator steam innovation expert, technology and education innovation expert & keynote speaker on technology and education innovation for the classroom.
Leadership
Business Growth
Business Technology
Future Trends
Campus & University Speakers
Career Development
Conference
Education & Teachers
Guest Panelist & Guided Q&A
Inspirational
Motivation
Research & Science
BRIAN ASPINALL BIOGRAPHY
Brian Aspinall is a teacher, learner, thinker, author, problem solver, and question asker. He is a seasoned speaker professionally on the topics of 21st century education, assessment and evaluation and he has delivered given three TEDx talks on education reform. A 3x TEDx speaker, Brian knows the stage well and has dedicated his career and successfully made a push for education reform and reinvention to bring STEAM or STEM learning to the classroom.
Brian Aspinall has had a life-long fascination with innovative people and strives to be one himself. In high school, he began writing software for local businesses and was featured in the media as someone to watch. He sometimes still builds web tools, apps and widgets to further progress education or just to share his own learning with others. He is a current ACSE K-8 Representative for the Association for Computer Studies Education (ACSE). ASCE is a non-profit province-wide professional association dedicated to supporting Computer Studies and Computer Technology education in Ontario.
Brian Aspinall was awarded the Prime Minister's Award for Teaching Excellence for his work with coding and computational thinking. Brian Aspinall has worked with ministries, union teams, district school boards, teachers conferences, corporate teams and individuals by providing thought leadership around new pedagogies and best practices. His passions are rooted in the belief that all students can reach their potential if given a fair chance and that technology can be the vehicle to uncover human potential.
Aspinall is a firm believer in portfolios as criteria for assessment and evaluation. Documentation is changing the rules and, as educators, we should be documenting our learning as well as our student's learning. He is an avid blogger and social media personality who has also developed and now offers extracurricular courses for students for online education. He is passionate about inspiring people to create rich, curious-seeking individuals in classrooms built on a community of trust, risk-taking, and the freedom to fail.
He believes that "maker" is more of a culture than a space and he loves watching leaders, teachers, and students engaged in hands-on kinesthetic activities. Brian holds a Bachelor of Education, a Bachelor of Science in Computer Information Systems and a Master of Professional Education from Western University.
Brian Aspinall

Topic Presentations
hacking the classroom
Virtual Presentation

Keynote Presentation

Workshop Session

Half Day Training

Full Day Training

Brian Aspinall is an educator on a mission to expose as many kids as he can to coding and computer science. In this passionate talk, he makes a case for the importance of exposing youth to the principles of coding and computational thinking to prepare them for a rapidly changing future utilizing 21st Century competencies.

This presentation will explore the use of digital tools to engage learners, build knowledge construction and revisit the pedagogical history of Jean Piaget's Constructivist Learning Theory. By enabling the "maker" in all of us, assessment and evaluation become immediate, effective, and ongoing using digital technologies to communicate thinking with staff, students and parents.
code breaker - increase creativity, remix assessment and develop a class of coder ninjas
Virtual Presentation

Keynote Presentation

Workshop Session

Half Day Training

Full Day Training

Twenty first century learning requires students to create, collaborate and think critically. Progress "STEMs" directly from immediate feedback and a personalized learning platform. Coding forces students to problem solve, make mistakes and overcome barriers because programs can only run if written correctly. In this passionate talk, Brian makes a case for the importance of exposing youth to the principles of coding and computational thinking to prepare them for a rapidly changing future.

Crack the code for your student's success! future-ready students need to be creative. They need to know how to communicate their ideas and how to collaborate as problem solvers. And to master these and other twenty-first-century requirements, they will need to be critical thinkers. In this talk, Brian Aspinall shares his insights on how to turn curriculum expectations into skills. Students identify problems, develop solutions, and use coding and computational thinking to apply and demonstrate their learning.
education reform - hacking assessment and evaluation
Virtual Presentation

Keynote Presentation

Workshop Session

Half Day Training

Full Day Training

In 2012, Brian and his colleagues decided to try a new approach to teaching and learning. Just feedback, no grades. With the exception of report cards, students were never given numerical values over the course of their school year. Not only did engagement increase, but so did student interest, curiosity, and learning. Let Brian share the ups and downs of going gradeless as well as how you can start in your school today!
beyond rote learning
Virtual Presentation

Keynote Presentation

Workshop Session

Half Day Training

Full Day Training

We used to attend school because that is where the knowledge was. Rote learning is still relevant, but it is more important for today's students to apply knowledge in a deeper way. In this talk, participants will learn about the history and pedagogy of computer science, its importance for the future as well as how to integrate it into existing curriculums. With a focus on 21st-century competencies, participants will explore assessment and evaluation while engaging in the process of learning.
Brian Aspinall can deliver customized presentations within the following topic themes.
Brian Aspinall is probably the most passionate advocate for computer science in education we have in Ontario. Smart guy, thoughtful guy, and inspires a lot of people!
Thinker About Things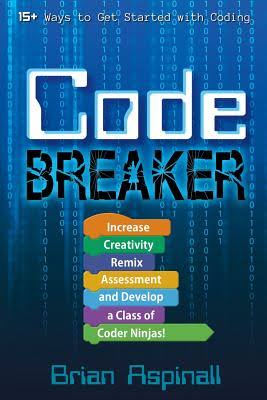 Code BREAKER
How to book Brian Aspinall for an event?
Brian Aspinall keynote speaker is an expert presenter and has a wide range of experience speaking to a wide variety of audiences and organizations. Brian Aspinall delivers keynotes, workshops & training sessions. They may also host or emcee events. Hire Brian Aspinall from London, Ontario for your event to inspire the audience to take action and make change in their work and their lives. Your workplace will benefit from our keynote speaker and their keynote talks and speeches will shift the mindsets or behaviours for the audience members in Canada. 
Interested in booking Brian Aspinall for an event?
Are you looking to hire Brian Aspinall for your event? Brian Aspinall London, Ontario is a dynamic and engaging speaker that offers audiences researched content paired with expertise and a dynamic speaking ability. Brian Aspinall is also a Canadian corporate consultant and coach and facilitates workshops and training sessions for a corporate audience. Brian Aspinall is an expert keynote presenter and speaks on wide variety of topics. Hiring a great speaker for your event is important and working with a thought leader like Brian Aspinall from Speakers Canada's roster will engage audiences into the content of the presentation to bring awareness and a fresh perspective for their approach to their work and their lives. Book Brian Aspinall to educate, motivate and activate the audience through an interactive and entertaining presentation at corporate meetings and gatherings.
Known as a popular key note speaker in Canada, Brian Aspinall creates life changing experiences for the participants with practical insights and strategic advice they can implement right after the session. Working with a one our leading expert speaker like Brian Aspinall from London, Ontario offers organizations a fresh perspective to assist the people of the organization. No matter if it is a government, association, or business crowd, Brian Aspinall is a perfect speaker for your event. Through unique practical insights for trending topics and years experience speaking to different organizations, Brian Aspinall focuses on changing individuals to make better decisions at work and their lives. No matter if you are holding an in person or virtual event, having an influential speaker such as Brian Aspinall will engage, motivate, and activate the audience to make a change in their lives and inspire action for results to meet organizational goals. Your workforce will benefit from Brian Aspinall's presentations and speeches, with measurable results set to shift the people of the organization and core direction of the company. Book Brian Aspinall speaker for your annual general meeting, conference, summit, or convention in Canada.
How much does it cost to hire Brian Aspinall for a keynote presentation or virtual event?
Brian Aspinall is an expert professional key note speaker with a lot of experience speaking and delivering engaging talks to organizations and audiences in Canada. Each of Speaker Bureau Canada's talent have different ways to assess their fees, and Brian Aspinall speaker fee ranges depending on the size of the audience, event format (in person or virtual), event location, and if the organization booking them is a non profit, association, government department/government agency or business/corporation. The speakers we work with are flexible with their fees, and it is important for us to learn more about your event before we approach them, as it is our role to work for you, and to help you find a speaker within budget. 
Please contact Speakers Bureau of Canada and provide us with your event details so that we can contact Brian Aspinall to check availability or confirm the pricing and associated costs to hire a great speaker like Brian Aspinall for your event. As Brian Aspinall's agent and as a Canadian top speaker bureau and talent agency for speakers, we are able to propose each event opportunity from each host organization's behalf to try to help you get in touch with Brian Aspinall and confirm them for your in person or online meeting/event. We can also provide and advise on the booking process and potentially negotiate their fee. Speakers Canada is a client focused speaker agency, and we work for you in finding good speakers for your team meetings and booking processes.
Brian Aspinall Disclaimer
Speakers Bureau Canada assists companies and event planning teams seeking to hire talent like

Brian Aspinall

for speaking engagements, virtual meetings, conference appearances, training sessions and workshops facilitations. Our Canadian speakers bureau does not claim to exclusively represent

Brian Aspinall

, however they are represented by Speakers Canada, and we work with them closely for their Canadian speaking opportunities and bookings. As Canada's top speaker bureau, we represent Canadian motivational keynote speakers and professional guest speakers that will be available on your upcoming events date and location that are withing the budget. Our talented bureau speaker booking agency can help find business speakers or celebrity speakers that aligns with each organization, audience, event theme and the topic themes you hope for the speaker to address in their presentation. 
When SBC receives a request to book Brian Aspinall we provide you with their speaker fees, travel costs and check their schedules. We work closely with the host organization's event planning team and the speaker to handle the logistics and to relay or negotiate associated costs. Our talented team members then will work with our talent directly or their agent/manager/assistant to confirm the Canadian speaker fee and travel expenses, so that event planning teams can receive an official quote for the speaker appearing at the event. Speaker fees and travel costs vary per speaker and our role is to contact Brian Aspinall about your event, after we have connected with the event organizers to learn all the event details and/or conference program. Each booking request is unique since session durations and audience sizes can vary which may affect the speaker's fees. If you are looking to hire Brian Aspinall, we recommend filling out the booking request form so a booking agent from Speakers Bureau Canada can get in touch with our talent to help you coordinate with your team to engage the speaker for a successful event.